3 April, 2023
Welcome to this week's JMP Report
Last week we saw BSP the only stock to trade on the local bourse, trading 129,500 shares at market price of K12.80 (the market this morning is K12.90).
Refer details below
WEEKLY MARKET REPORT | 27 March, 2023 – 31 March, 2023
| | | | | | | | | | | | | |
| --- | --- | --- | --- | --- | --- | --- | --- | --- | --- | --- | --- | --- |
| STOCK  | QUANTITY | CLOSING PRICE | CHANGE | % CHANGE | 2021 FINAL DIV | 2021 INTERIM | YIELD % | EX-DATE | RECORD DATE | PAYMENT DATE | DRP | MARKET CAP |
| BSP | 129,500 | 12.80 | 0.2 | 1.56 | K1.4000 | – | 13.53 | THUR 9 MAR 2023 | FRI 10 MAR 2023 | FRI 21 APR 2023 | NO | 5,317,971,001 |
|  KSL | 0 | 2.50 | – | 0.40 | K0.1610 | – | 9.93 | FRI 3 MAR 2023 | MON 6 MAR 2023 | TUE 11 APR 2023 | NO | 64,817,259 |
| STO | 0 | 19.10 | – | 0.05 | K0.5310 | – | 2.96 | MON 27 FEB 2023 | TUE 28 FEB 2023 | WED 29 MAR 2023 | YES | – |
| KAM  | 0 | 0.80 | – | -18.75 | – | – | – | – | – | – | YES | 49,891,306 |
| NCM  | 0 | 75.00 | – | – | USD$1.23 | – | – | FRI 24 FEB 2023 | MON 27 FEB 23 | THU 30 MAR 23 | YES | 33,774,150 |
| NGP | 0 | 0.69 | – | – | – | – | – | – | – | – | – | 32,123,490 |
| CCP | 0 | 2.00 | – | 5.00 | K0.225 | – | 6.19 | FRI 24 MAR 2023 | WED 29 MAR 2023 | FRI 5 MAY 2023 | YES | 569,672,964 |
| CPL | 0 | 0.95 | – | – | K0.05 | – | 4.20 | WED 22 MAR 2023 | THUR 1 MAR 2023 | THU 30 JUL 2023 | – | 195,964,015 |
Dual Listed Stock PNGX/ASX
BFL – 4.88 +11c
KSL – 745c +3c
NCM – 26.85 +58c
STO – 6.90 +5c
Our order book has us nett buyers of BSP, KSL, STO – email me for further details
Interest rates
There was further easing in the 364 day rates with the auction average at 2.95% with the Bank issuing the offered amount of 303mill leaving the market 112mill oversubscribed. The 273days average @ 2.14% and
the 182days @ 1.99%. I am suspecting that the Bank may be accepting a longer tail in the bids rather than issuing more stock which is allowing the rates to drift out. No 2023 GIS updates.
CCP are the most aggressive Finance Company offering 2.75% for 12mth paper.
Alternatives
Gold – 1987
Oil – 75.70  +1.79%
Silver – 24.24 1.03%
Bitcoin – 28,531 – +3.92%
Ethereum – 1,823 – +4.85%
PAX Gold 1,974 -1.85%
---
What we've been reading this week
Brookfield buys Origin, plans to build a fifth of Australia's renewable needs by 2030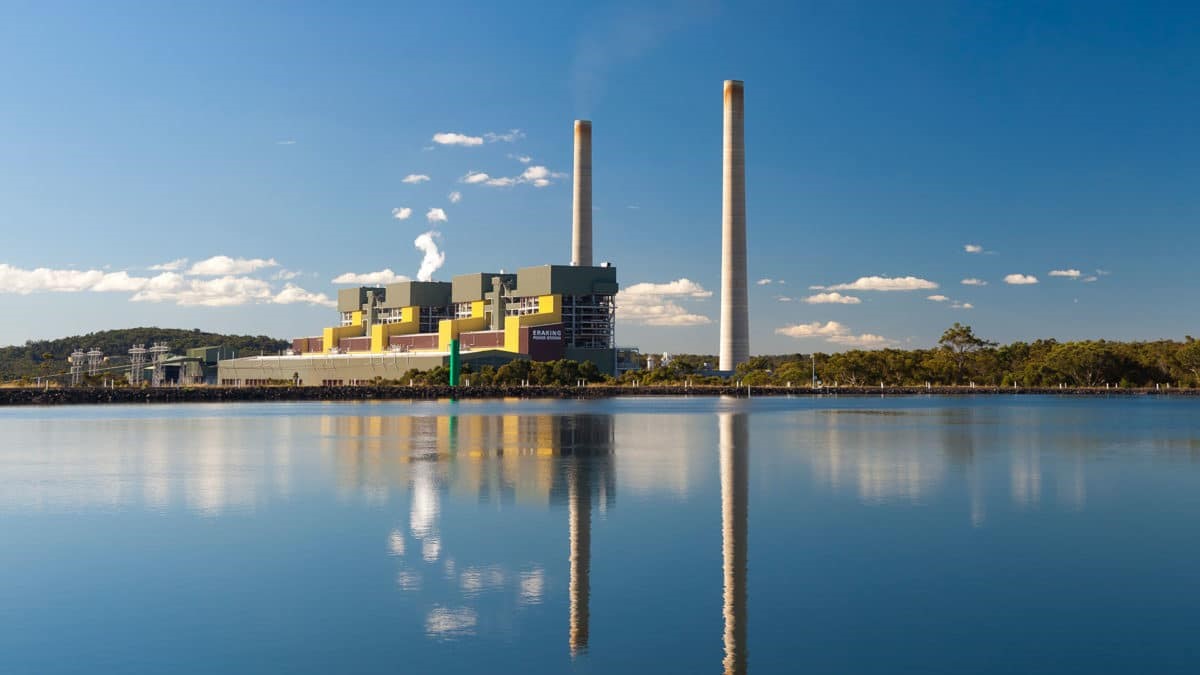 MARCH 28, 2023 BELLA PEACOCK
A $18.7 billion (USD 12.5 billion) takeover deal for Origin Energy has been struck with a consortium led by Canadian giant Brookfield. Brookfield's vision for Origin involves spending "at least" $20 billion to build new renewables and storage, using Origin and 685 .3 customer base as a vehicle for transition.
New South Wales' new Premier, Labor's Chris Minns, opened the door to buying Origin's 2.8 GW Eraring coal-fired power station during his campaign. Brookfield has not closed the door to this proposition, but its Asia Pacific CEO Stewart Upson said such a deal would need to fit into Brookfield's decarbonisation vision. The company aims to reduce Origin's absolute emissions by more than 70% by 2030.
Advancing the 'trojan horse' play Brookfield initiated last year with its bid for AGL, the Canadian giant and its partners have brokered a $18.7 billion deal to buyout Origin Energy, Australia's second largest energy generator and retailer. 
While its target changed from AGL to Origin over the last 12 months, Brookfield's strategy of using a major established energy company to accelerate decarbonisation at a globally significant scale remains the same. 
Under Brookfield and its newly revealed fellow investors, Singapore giants GIC and Temasek, the business plan is to invest "at least" $20 billion in the next decade to construct up to 14 GW of new renewable capacity.
To put those numbers in perspective, this represents about one-fifth of the what the Australian Energy Market Operator (AEMO) says will be needed by 2030 to reach national targets. 
Brookfield also plans to reduce Origin's absolute emissions by more than 70% by 2030. A decent chunk of this reduction will come from the closure of the Eraring coal-fired power station in New South Wales, slated for retirement in 2025 at the earliest.
During his campaign ahead of the NSW election on March 23, then-opposition Labor leader Chris Minns said he would be open to buying back the 2.8 GW coal generator. With Minn's election over the weekend, Brookfield has not closed the door to this proposition, but its Asia Pacific CEO Stewart Upson told the Australian Financial Review that such a deal would need to fit into Brookfield's decarbonisation vision.
The Origin deal
The buyout will see Brookfield, GIC and Temasek take over Origin's retail and generation business, which currently has a 24% market share in Australia's national electricity market. Meanwhile, partner MidOcean Energy, managed by US investment giant EIG Partners, will take control of Origin's gas assets and business.
After months of due diligence and negotiations, the consortium has entered into a Scheme Implementation Deed with Origin to purchase 100% of its shares at $8.91 per share, a premium on current trading prices.
While the deal should be approved by shareholders, it still has to be looked over by both the Foreign Investment Review Board and the Australian Competition and Consumer Commission (ACCC).
Since Brookfield is Canadian-owned, a member country of the Five Eyes security alliance, it is not anticipated to see too many roadblocks from the Foreign Investment Review Board. The ACCC, on the other hand, could prove problematic, especially given Brookfield's recent takeover of Victorian network AusNet Services.
APAC CEO Stewart Upson is expected to make the argument that national interest (in the form of accelerated decarbonisation) should outweigh any competition concerns.
Brookfield is adamant it has the know-how to realise its ambitious seven-year plan. "Brookfield has the capital, expertise, supply chain strength and global track record that's needed to transform Origin's generation fleet to greener sources and accelerate Australia's energy transition while ensuring network security and reliability," Upton said.
Indeed, the acquisition will be made via the Brookfield Global Transition Fund, which claims to be the world's largest private fund focused on the net-zero transition, and is headed up by Mark Carney, one of the world's most influential climate change power brokers.
Next to its capital and political clout, Brookfield also has significant experience with renewables development, claiming a portfolio with 25 GW of generating capacity and a 110 GW development pipeline globally. 
The company says it is also now working with Indian giant Reliance in light of the deal, with the potential for it to come on as a "strategic partner". While this was the extent of details provided, Reliance is major renewable equipment manufacturer, suggesting Brookfield is already looking to secure supplies once the Origin takeover is approved by shareholders and regulators.
Earlier this month, Brookfield acquired the remaining 50% stake in Spain-based renewables developer X-Elio from its joint venture partner, investment firm KKR.
---
Why corporate regulators such as ASIC and the ACCC are taking greenwashing more seriously
By Sophie Kesteven and Damien Carrick for The Law Report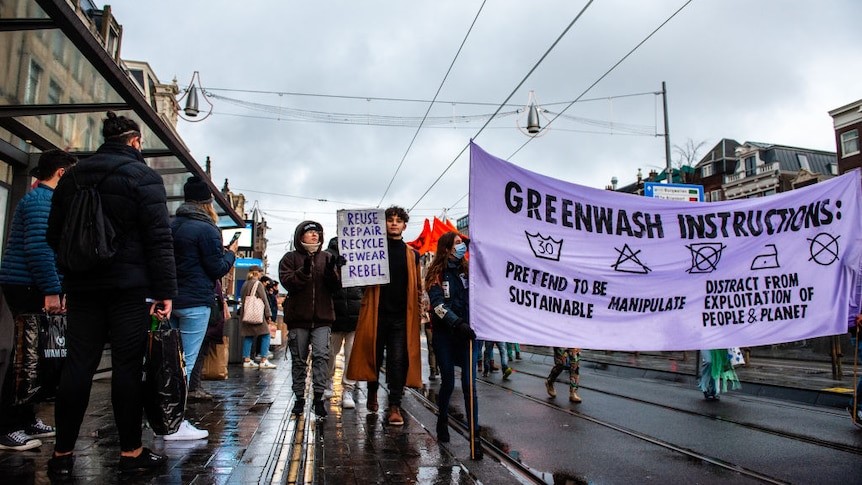 Climate activists in Amsterdam protest the greenwashing practices of fast fashion(Getty: SOPA Images)
Like many Australians, Erin Turner wants to play her part in moving towards a more environmentally sensitive world.
But lately, she's been finding it really hard to shop sustainably with confidence – and she's not alone.
"There's a lot of technical information. There's a lot of jargon. And there's a lot of just green colours but no detail, so it's hard to know [what to trust]," the CEO of the Consumer Policy Research Centre (CPRC) says.
Dodgy claims
In late 2022, the CPRC investigated how much greenwashing – the marketing of products as environmentally sustainable when they're not – was happening in Australia on any given day.  And the news wasn't great.
The researchers looked into how many green claims an Australian sees on an average day, online, offline, at the shops or on public transport.
They saw an average of 122 green claims across 17 sectors in a 24-hour period, but they also found that only 31 per cent of those claims had any supporting evidence or verification. A lot of them just weren't any good, Turner says.
Erin Turner says researchers are referring dodgy eco claims to the ACCC.(Supplied: CPRC )
"I think what businesses can lose sight of is that a dodgy claim, it doesn't just affect their business … there's a real risk that consumers as a whole lose trust in green initiatives from industry," she explains.
"And that is not what we want. What we want is really good quality information that people can put their faith in and they can act on."
So why do some companies slap green labels on their products when there's no substance behind them?
According to Turner, companies know that we shop according to our values, and that around 45 per cent of Australians are often looking for sustainable options when they shop.
"What worries me is that while some businesses are doing great things, some businesses are taking advantage of that interest — there is definitely greenwashing happening in the market," she says.
"One vague claim that really stood out for me was one we saw in our sweep was, 'Our freezers are greener'. Greener than what? The previous model, the competitors? In what way?" she recalls.
"There was a lot of halo claims and really little follow through."
ASIC clamps down
The good news is that companies making false green claims in Australia are beginning to get penalised by corporate regulators.
Companies who greenwash are risking consumer trust and confidence. (Getty: Parradee Kietsirikul)
In the first case of its kind, the Australian Securities and Investments Commission (ASIC) has launched proceedings against superannuation provider Mercer.
ASIC has alleged that Mercer Superannuation misled their customers with how they represented their sustainable investment options.
"They've basically said, these are options for people who are deeply committed to sustainability, and that they exclude investments in companies involved in carbon intensive fossil fuels, thermal coal, alcohol production and gambling," Christine Parker, a law professor at the University of Melbourne, tells ABC RN's Law Report.
After investigating these claims, ASIC discovered that Mercer hadn't excluded all those companies. As a result, the regulator was seeking to fine the superannuation company for their false claims.
Regulators in the US and the UK have also taken similar steps to crack down on companies who are greenwashing, Dr Parker says.
Last year, the US financial regulator, the Securities and Exchange Commission, fined two financial institutions millions of dollars for making similarly misleading representations. 
Law professor Christine Parker thinks there's likely to be more action on greenwashing.(Supplied: Christine Parker )
"I think this is an area where there's going to be a lot more action in the future," she says.
The Australian Consumer and Competition Commission (ACCC) has also recently published research into the extent of greenwashing in Australia.
"The ACCC targeted industries where these kinds of green claims are quite common. So things like clothing, energy, transport, where various claims about environmental credentials are being made," Dr Parker says.
"They looked at 247 business websites and they found that 57 per cent of the claims made by those 247 businesses as concerning, and that's because there are so many vague, unsubstantiated claims."
Stricter standards
Dr Parker would like to see stricter government standards enforced in this area to improve green claims for consumers in the future.
Turner agrees.
"We want to see three things. The first is strong action from regulators, which we're already starting to see. And it's great. But that will only help get rid of the very worst claims in the market," she explains.
The second thing is that 'good' claims need to be defined. 
"What do we want companies to be positively making claims about?" she says.
"And then we need to make it possible to get more of those good claims in the market, whether that's through mandatory schemes, setting standards, better definitions — what does recyclable or organic mean, for example. There's lots of pieces of the puzzle here."
It's going to involve government action, voluntary industry action and work by the regulators, she explains.
"We are seeing some really constructive measures over in the EU, for example, a push to better define commonly misused terms … and also, a push to ban just unhelpful terms," Turner says.
"Saying something is 'eco' actually isn't very helpful to a consumer, it can imply a lot more than it means. What we're talking about is consumer information, it needs to be easily understood, it needs to help people compare their options.
"We're not there yet in Australia, but we could be."
---
Emissions Trading Worldwide: 2023 ICAP Status Report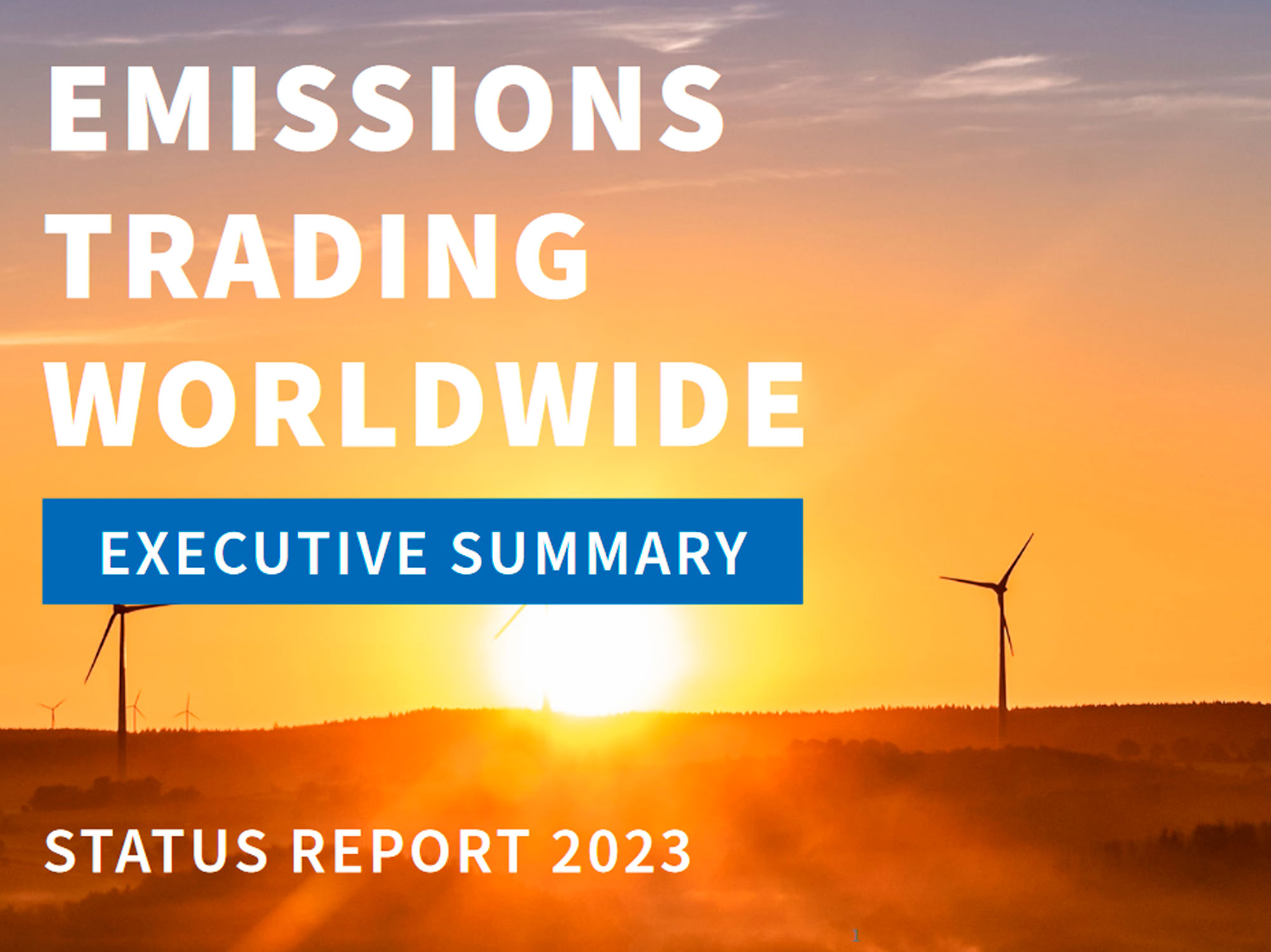 Carbon markets hold steady amid energy cost surges, finds the International Carbon Action Partnership (ICAP)'s Emissions Trading Worldwide Status Report for 2023.
Prices in the world's emissions trading systems ended 2022 largely unchanged on the year
The global energy crisis pushes governments to double-down on decarbonization efforts, with emissions markets playing a key role
Increasing focus on a more equitable transition and addressing burdens on vulnerable communities
ETS auctions raised $63 billion globally in 2022, a new record
The world's emissions trading systems (ETSs) were largely impervious to broader economic shocks in 2022, with allowance prices ending the year largely unchanged from the end of 2021. This came amid a global energy crisis, sparked by Russia's war in Ukraine, which saw energy prices skyrocket and added to broader inflationary pressures.
Instead of retreating from climate ambitions as economic pressures piled up, policymakers around the world doubled down on their commitments and accelerated plans to decarbonize, using their ETSs to help, finds the 10th edition of ICAP's Emissions Trading Status Report. Furthermore, ETSs are generating record level of revenues that can be used to both deliver further GHG reductions and to alleviate the burden on low-income communities and households, either directly via rebates or indirectly, such as funding energy efficiency improvements in state housing.
"Instead of weakening climate ambitions, the energy crisis pushed governments towards ending their fossil fuel dependency quicker, supported by policies like emissions trading," says Stefano De Clara, head of the ICAP Secretariat. "Emissions trading sends an important price signal to direct investment to decarbonization and can also, if designed well, ensure an inclusive and just transition by directing help to those communities which need it the most."
Last year also saw three new ETSs begin, and an additional 20 are under development or consideration, particularly in Latin America and Asia. Of note is 2022 also saw the first concrete steps towards compliance emissions trading in Africa.
Alongside infographics and updated detailed factsheets on the world's carbon markets, this year's Status Report also features an article by Jos Delbeke of the European University Institute and former Director-General of the European Commission's DG for Climate Action looking at if energy security and decarbonization compatible goals. Ottmar Edenhofer and Michael Pahle of the Potsdam Institute for Climate Impact Research write about why the EU needs to integrate all reforms with other policy domains, such as social policy, to protect vulnerable communities and energy security to leverage its synergy with climate policy and foster European solidarity.
Other high-level articles also take in reforms to the EU ETS, how the UK ETS is developing and dealing with higher costs, the evolution of Québec's 10-year old carbon market, the approach to carbon pricing in Chile, and an evaluation of New Zealand's first Emissions Reduction Plan, which sets the course to net zero by 2050 and highlights emissions pricing as a key instrument.
To view and download the full report please click here. Also available are standalone versions of the report's executive summary and infographics. Executive summaries in Spanish, French, and Chinese will be available soon.
To learn more about the ICAP Secretariat and stay up-to-date with current publications and events, please visit website, subscribe to our quarterly newsletter, and follow us on Twitter @ICAPSecretariat.
---
Saudi Arabia megaprojects: 15 massive developments in the making
Here is a look at 15 upcoming megaprojects set to transform Saudi Arabia over the next 10 years
by Arabian Business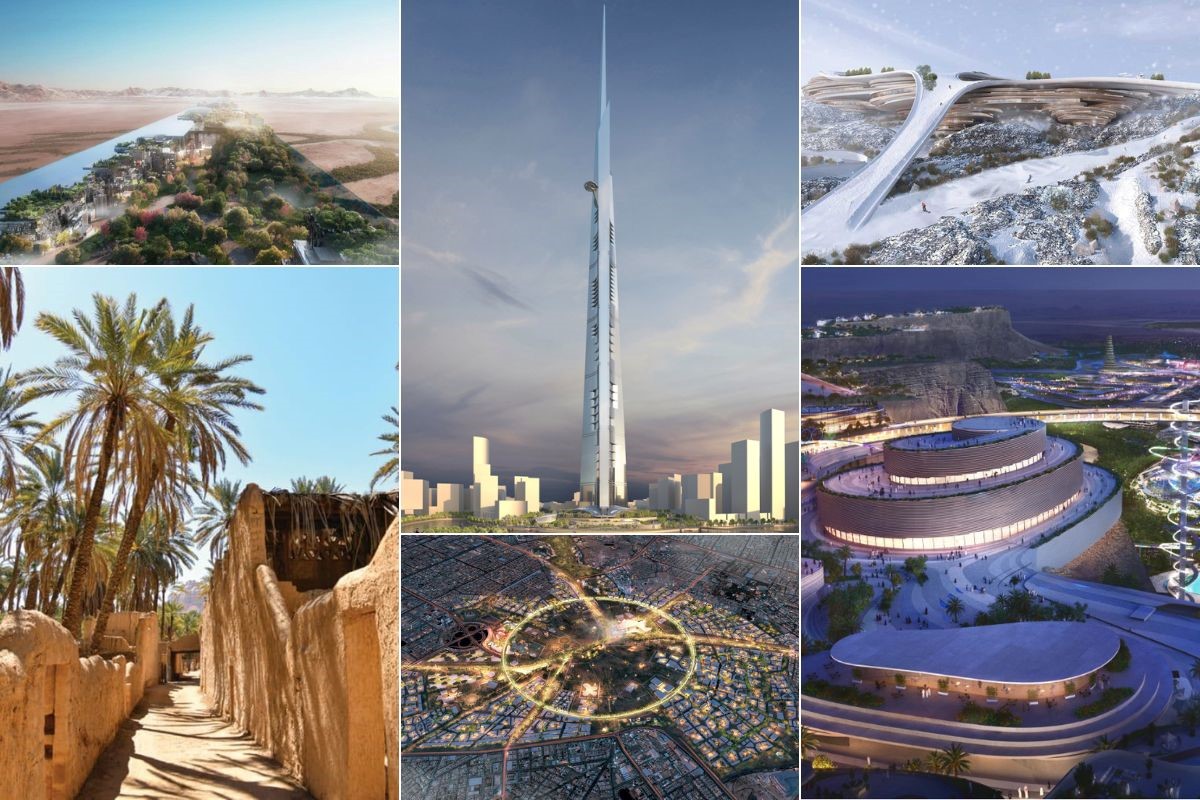 FBTWMAILLN
Saudi Arabia has announced several ambitious plans to launch a wave of megaprojects that are set to transform the country into a global economic powerhouse, as reported by Arabian Business.
With investment totaling billions of dollars, the kingdom is embarking on a journey to diversify its economy away from oil, create jobs, and boost its international standing as a leading hub for trade and tourism.
That being said, here is a look at 15 upcoming megaprojects set to transform the nation:
AlUla
Aheritage site with over 200,000 years of history, Saudi Arabia's AlUla is home to some of the world's ancient cultural sites, sandstone mountains and oases.
However, the kingdom is currently is on the process of transforming the historic site into an international destination through the 'Journey through Time' masterplan – led by Saudi Arabia's Crown Prince Mohammed bin Salman.
The masterplan has made it more accessible for tourists to visit the site.
On completion, it will add to the Royal Commission for AlUla's (RCU) goals of contributing at least $32 billion to the national GDP, opening 38,000 jobs by 2035.
"The masterplan directly contributes to the realisation of Vision 2030 by reinvigorating AlUla as a tourism destination and catalysing economic diversification in the region. Improving quality of life for residents, boosting employment opportunities, and accelerating the development of the region's cultural and tourism infrastructure is built into the plan," RCU said in a statement.
AlUla will also see five districts that span the historic area – AlUla Old Town, Dadan, Jabal Ikmah, Nabataean Horizon and Hegra Historical City.
The districts will be traversed by AlUla's ancient oasis, with a nine-kilometre section at the heart of the Cultural Oasis being fully rejuvenated.
The historical site will also see 15 new cultural areas which include museums, galleries and cultural centres.
AlUla will also feature the Wadi of Hospitality, which connects the five districts by a 20-kilometre-long public realm.
Otherwise, the 22,500 square kilometre heritage site will also feature a 46-kilometre low-carbon tram line connecting the site to AlUla International Airport. Visitors can also travel by car or, if they prefer another immersive option, on foot, by bicycle, or even on horseback.
Moreover, the heritage site will add a total of 5,000 additional room keys to the overall target of 9,400 keys by 2035, with each district offering visitors a variety of living and hospitality options, ranging from hotels and eco-tourism resorts to luxury lodges and canyon farms that are carved into the sandstone rocks.
Recently, the kingdom's AlUla Development Company formally launched operations as the kingdom transforms the AlUla project into a global tourism destination.
AlUla is one of the world's largest and oldest cultural sites located in the kingdom, and the new firm is backed by the kingdom's Public Investment Fund (PIF).
AMAALA
AMAALA, is an upcoming grand project that is set to redefine sustainable development, has been incorporated as a standalone company. AMAALA merged with the Red Sea Development Company to form Red Sea Global (RSG).
"We are not only expanding our footprint to help create massive economic opportunities – valued at hundreds of billions worth of riyals – for the people of Saudi Arabia. We also want to set new global standards in development and inspire the industry to do better," John Pagano, the chief executive of Red Sea Global (RSG) said.
The Public Investment Fund (PIF) giga-project, located in northwest Saudi Arabia along the Red Sea, will offer a vibrant and progressive destination for recreation, wellness, and the celebration of the region's rich cultural heritage.
Spanning across 3,800-square kilometers, AMAALA will form the heart of the Middle Eastern Riviera and is expected to become a leading hospitality destination on the global map.
The project will feature 14 of the world's top hotel brands, more than 800 residential villas, apartments, and estate homes, 200 high-end fashion establishments, an arts academy, and a wide range of galleries, ateliers, and artisan workshops.
The development will also include signature dining experiences, world-class marinas, yacht clubs and sporting venues.
In addition, AMAALA will also feature a "mirage-inspired" airport designed by UK-based architectural and design firm Foster + Partners.
"The structure takes its inspiration from the surrounding environment, resulting in a mesmerising mirage effect. A spacious courtyard will anchor the terminal and will be complemented by contemporary interiors complete with unique artwork and tailored experiences. The airport will reflect AMAALA's ultra-luxury hospitality spirit, providing an exclusive private-club experience perfectly encapsulating AMAALA's pillars of art and culture; wellness and sport; and sea, sun, and lifestyle," AMAALA said in a statement.
AMAALA will blend wellness with creative and social offerings to provide guests with a holistic journey of self-transformation.
The project is situated within the Prince Mohammed bin Salman Natural Reserve, a hidden, untouched, and thriving stretch of the Red Sea. The reserve's beauty and natural resources will be preserved while providing an exceptional destination for guests.
The incorporation of AMAALA as a standalone company is a significant step towards the realization of this grand project.
It will operate independently with its own board of directors, enabling it to implement its strategies and plans efficiently.
The project's focus on sustainable development and preserving the natural environment is a testament to the kingdom's commitment to achieving the United Nations' Sustainable Development Goals.
AMAALA is poised to become a world-class destination and an icon for sustainable development in the Middle East.
With its focus on wellness, creativity, and social offerings, it will undoubtedly be a significant attraction for tourists and a source of pride for Saudi Arabia.
Red Sea Project
A new luxury resort is set to become a major attraction for tourists visiting the Middle East.
The Red Sea Project, located between the coastal cities of Umluj and Al Wajh, will span an impressive 30,000 square kilometres and will comprise a natural archipelago of pristine islands, a vast desert landscape, mountain peaks, and archaeological treasures.
The region boasts 200km of untouched coastline and is set to become one of the world's most successful sustainable tourist resorts.
Designed with a strong focus on heritage, culture, and conservation, the Red Sea Project is being built to attract visitors all year round.
The resort will provide 8,000 new hotel rooms once completed and will be the first fully integrated, luxury, mixed-use resort in the region.
The developers of the Red Sea Project are determined to make it a model for sustainable tourism.
A zero waste-to-landfill-policy, 100 percent carbon neutrality, and a ban on single-use plastics are some of the steps being taken to achieve this goal.
In addition to its impressive sustainability credentials, the Red Sea Project offers visitors a unique experience that combines the natural beauty of the region with its rich cultural heritage.
The resort is set to become a must-see destination for those interested in exploring the historical and archaeological treasures that dot the vast desert landscape.
The Red Sea Project is scheduled for completion by 2030 and is expected to attract visitors from all over the world.
With its focus on heritage, culture, and sustainability, the resort is poised to become one of the most exciting developments in the Middle East, offering a truly unique and unforgettable experience for visitors.
Diriyah
Saudi Arabia's historic city of Diriyah has been renewed as the country's cultural capital, with ambitious plans to transform it into one of the world's foremost lifestyle destinations for culture and heritage, hospitality, retail, and education.
Located just 20 minutes northwest of Riyadh's city center, Diriyah will showcase over 300 years of authentic culture and history, delivering inspiring heritage experiences, educational and cultural opportunities, world-class residential living, and outstanding lifestyle offerings.
At the heart of the development is the At-Turaif UNESCO World Heritage Site, which is an iconic mud-brick city and the home of the First House of the Al Saud family, preserved and restored for future generations.
The project, under the mandate of Diriyah Gate Development Authority and as one of the Public Investment Fund's projects, supports Vision 2030 by targeting 27 million local and international visitors by 2030.
This contributes to the national tourism strategy, which aims to host 100 million worldwide tourists in the Kingdom by 2030.
Combining traditional Najdi architectural typology and new urbanism, Diriyah is designed to emotionally connect with visitors and residents while promoting and celebrating the destination's rich heritage.
It aims to reveal the origins of modern Saudi Arabia and the spiritual values in which it is rooted.
The development offers a range of lifestyle experiences, including shopping, entertainment, and dining. It also includes world-class residential living, providing residents with an exceptional quality of life.
Diriyah will become one of the world's great gathering places, offering a one-of-a-kind destination that celebrates Saudi Arabia's unique culture and history by 2030.
King Salman Energy Park
Known as SPARK, the King Salman Energy Park, is a brand-new industrial ecosystem being developed as a hub for the global energy market.
With the region's reputation for oil and gas resources and a high demand for energy goods and services, SPARK is in the perfect position to offer unparalleled access to growth opportunities, world-class support services, and supply chain efficiencies.
SPARK's strategic location is what sets it apart, providing tenants and investors with a gateway to access energy players across the world, not just locally but throughout the wider Gulf region as well.
Additionally, with easy access to King Fahd International Airport, King Abdul-Aziz Seaport, and the GCC highway, tenants and investors are sure to enjoy maximum convenience.
SPARK's development is in line with the Saudi Arabia Vision 2030 plan, which aims to diversify the Kingdom's revenue streams by building a strong economy.
This ambitious project is set to contribute over $6 billion to the country's GDP annually and create up to 100,000 jobs in the long run.
SPARK's vision is to be a leading industrial ecosystem with sustainability at its core, serving as a platform for the energy sector.
By providing world-class infrastructure and services, SPARK aims to help investors grow their businesses, while also bringing sustained value to the communities it serves.
As SPARK prepares for its grand opening, energy sector players are encouraged to take advantage of this exceptional opportunity to expand their businesses and take advantage of the many benefits SPARK has to offer.
From its excellent location to its top-notch support services, SPARK is set to become a 21st-century platform for the energy sector, fostering excellence and innovation, and propelling the industry into a bright future.
King Salman Park
King Salman Park, is proposed to be the largest urban park in the world, and was launched by the Custodian of the Two Holy Mosques, King Salman Bin Abdulaziz, on March 19, 2019.
The park, which is set to be located in Riyadh, Saudi Arabia, covers more than 16km², is part of the Saudi Vision 2030 initiative aimed at improving the quality of life in the city.
The park will offer a wide range of cultural, artistic, recreational and sports options, making it a hub for residents and visitors alike.
It will feature vast open green spaces, including an Islamic-style garden, vertical gardens, a maze garden, and a bird and butterfly sanctuary.
The park also includes a 7.2km circular pedestrian walkway, a valley area surrounded by art and water features, and various water features covering over 300,000 square meters.
The Royal Arts Complex, one of the park's main attractions, occupies an area of over 400,000 square meters and includes a national theater with a seating capacity of 2,500, 5 museums of different sizes, an outdoor theater with a capacity of 8,000, and a complex with 3 cinema halls, 4 art academies, and an educational center for children.
The park also includes 7 different museums, plazas to host different events, artworks, and landmarks.
Other features of the park include a royal golf course covering an area of 850,000 square meters, a sports complex over an area of 50,000 square meters, a virtual reality court, a sky diving center, an equestrian center, running and biking routes, a 100,000 square meter amusement park, a 140,000 square meter aquapark, a family amusement center, a tower and a skybridge. The park also has an environmental, cultural, and educational center covering 80,000 square meters.
The park will be easily accessible through several main roads and is linked to the King Abdulaziz Public Transport Project through five stations on the Green Line of Riyadh Metro, and 10 stations of Riyadh Bus network.
The park will also include residential compounds providing 12,000 housing units, 16 hotels with a total of 2,300 rooms, 500,000 square meters of retail spaces, mosques, police, healthcare, educational, and social facilities, public libraries, 280,000 square meters of parking spaces, main and service roads, and walkways and pathways
King Salman Park is a significant step towards achieving the goals of Saudi Vision 2030, as it enhances the quality of life for the people of Riyadh and raises the city's global ranking.
THE LINE
Saudi Arabia's The Line at NEOM, is an upcoming futuristic linear city, which will be built using "a lot of artificial intelligence to design through a digital twin backbone," NEOM's executive director Giles Pendleton said in an internal interview.
The project is part of the $500 billion NEOM project, a futuristic city with a mixed-use development, containing spaces for work, play and living.
"We've got to build quite a lot of real estate in a short space of time. Well, we're not actually building THE LINE. We're assembling it from a series of modular pieces that are pre-engineered and predetermined as to what they do," Pendleton said when asked about building a new city of nine million inhabitants in a short period of time.
The linear city, which is being built in the kingdom's north-west Tabuk province, recently saw excavators digging a wide trench in the desert.
The Line's mirror facade will allow the city to seamlessly blend into the nature around it. With a reduced infrastructure footprint, the linear city will have no roads, cars or emissions, running on 100 percent renewable energy with 95 percent of land preserved for nature. The city is built to prioritise health and well-being over transportation and infrastructure.
The city will be just 200 metres wide but 170 kilometres long and 500 meters above sea level with ideal climate throughout the year and a high-speed rail offering residents end-to-end transit in 20 minutes.
Pendleton also revealed that The Line will have a "one door-lock system."
"But, if we need 100 million of them, then it's easier for us to set up a factory and create exactly the same block 100 million times. We will create a very simple process with optimised, standardised and industrialised production whereby things are made in factories in large-scale volumes within NEOM – so that we don't have to transport them far. Think of it like a giant assembly kit. The great thing about pre-engineered parts is that you can control quality and you can control dimensions, so that things connect."
Saudi Crown Prince Mohammed bin Salman said "The Line" will embody "Zero Gravity Urbanism," where city functions are layered vertically.
"The designs revealed today for the city's vertically layered communities will challenge the traditional flat, horizontal cities and create a model for nature preservation and enhanced human livability," he said in a statement.
The crown prince said The Line "will tackle the challenges facing humanity in urban life today and will shine a light on alternative ways to live," adding that residents will be able to reach all daily needs within a five-minute walk in "The Line," where public parks and pedestrian areas, schools, homes and places for work are "layered."
There will also reportedly be a high-speed rail with an end-to-end transit of 20 minutes.
TROJENA
Located 50 kilometres from the Gulf of Aqaba coast, lies Saudi Arabia's TROJENA – a snow-capped tourist destination, and part of the kingdom's megaproject NEOM.
With elevations ranging from 1,500 metres to 2,600 metres, covering an area of nearly 60 square kilometres, the destination is set to be transformed ahead of the 2029 Asian Winter Games. Saudi Arabia is the first country in the Middle East to host the games, which will feature 32 participating nations.
"This achievement sheds light on the enormous potential and the outstanding infrastructure of Saudi Arabia to host and organise international-level sports competitions and games successfully," the country's president of the Saudi Olympic and Paralympic Committee, Prince Abdulaziz bin Turki Al-Faisal said after the announcement that TROJENA would host the event.
The kingdom's bid to host the games was "unanimously approved" at the general assembly meeting in Phnom Penh, Cambodia last week.
TROJENA, which is due for completion in 2026, is also located at an area where winter temperatures dip below zero. Year-round temperatures in the region average around 10 degrees cooler than other parts of Saudi Arabia.
The project was launched as part of NEOM's "plan and strategy to contribute to supporting and developing the tourism sector in the region," NEOM said in a statement.
"TROJENA will redefine mountain tourism for the world by creating a place based on the principles of ecotourism, highlighting our efforts to preserve nature and enhance the community's quality of life, which is aligned with the goals of the kingdom's Vision 2030," Saudi Crown Prince, Prime Minister and Chairman of NEOM company board of directors, Mohammed bin Salman said during the project's launch.
The Crown Prince explained that the project falls in line with the Saudi Arabia's commitment to "be part of the global effort to protect the environment."
He added: "TROJENA will be an important addition to tourism in the region, a unique example of how Saudi Arabia is creating destinations based on its geographical and environmental diversity. This forward-looking vision will ensure that mountain tourism will be another revenue stream to support the kingdom's economic diversification while still preserving its natural resources for future generations."
The destination will house six districts, with each of them having tailored experiences to ensure visitors visit the upcoming region all year long. The districts are: Gateway, Discover, Valley, Explore, Relax and Fun.
Additionally, the destination has a planned set of programmes for visitors to experience throughout different times of the years.
From September to November, visitors can access a wellness summit, alternative medicine, discovery week, yoga retreat, artist residency and entertainment residency.
From December to March, which is the winter season, visitors can look forward to skiing, snowboarding, winter fashion week, ice skating, music festival and a film festival.
For adventure season, which runs from March to May, visitors and residents at TROJENA can opt for a high-altitude training, witness an adventure triathlon, take part in a yoga retreat, go mountain biking, paragliding and even climbing.
During Lake Season, which runs from May to September, visitors can visit a music festival, food festival, art fair, cultural week, light show, and attend a yoga retreat.
Other key highlights at TROJENA include: a ski village, the vault, the lake, the wildlife reserve, the observatory, the bow and the ultra-luxury mansions.
"Outdoor skiing is a unique feature of TROJENA that will provide a unique experience never before witnessed in the region, especially in Gulf countries known for their desert climates," NEOM said earlier this year, adding that amateurs and professionals alike will be able to "enjoy the many ski runs of various difficulties with an array of contrasting and breath-taking views."
The coldest place in the kingdom, will also feature 'The Bow' hotel, which is "an architectural masterpiece that will offer an unrivalled hotel experience."
In terms of residences, the snowy development will also include the Slope Residences.
"These will be located near the ski slope overlooking the lake, designed to blend in with the surrounding landscape, as well as luxurious mansions with panoramic views designed to reflect the beauty of the environment," NEOM said.
TROJENA expects to attract 700,000 visitors and 7,000 permanent residents to live in the development and its adjacent residential districts by 2030.
"All construction activity will adhere to NEOM's strict environmental principles, which include a commitment to minimize disruption to the local ecology and to ensure long-term sustainability," the statement said.
In line with Saudi Arabia's Vision 2030 goals, TROJENA aims to create over 10,000 jobs and add SAR 3 billion ($800 million) to the kingdom's GDP by 2030.
OXAGON
Saudi Arabia's NEOM is building a floating city, Oxagon, in the Red Sea, near the Suez Canal.
The city is designed to revolutionise global manufacturing by creating a new logistics centre that will redefine the world's approach to industrial development.
The city's unique shape reflects its name, and it will mainly comprise factories, manufacturing facilities, and logistics-related sites, though it will also house around 90,000 residents by 2030.
The city will be one of the world's most technologically advanced logistics hubs, with state-of-the-art integrated port and airport connectivity.
It will focus on seven sectors: sustainable energy; autonomous mobility; water innovation; sustainable food production; health and well-being; technology and digital manufacturing; and modern methods of construction.
The city is planned around the Kingdom's net-zero goals and will feature the world's first fully integrated port and supply chain ecosystem.
OXAGON already has confirmed tenants, including Air Products, ACWA Power, and NEOM's hydrogen project, Gulf Modular International, Hyzon Motors, and Desert Technologies.
Oxagon will also include residential communities that are integrated with nature, and most of the communities will be waterfront.
They will be cooled and controlled using the ocean's natural moderating effects, and they will be resilient to sea-level rise. People can commute via hydrogen-powered modes of transportation or walk to their destinations.
Oxagon will also feature an innovation campus that will rival established global centers. It will create a collaborative environment built around research and innovation to create a truly circular economy.
The city's full completion is expected by 2030, and some of its key features, including advanced logistics solutions facilities, are expected to take shape by 2025.
SINDALAH
Saudi Arabia's NEOM is set to open Sindalah, an island off the coast of the development, in 2024, the kingdom's crown prince Mohammed bin Salman announced.
Covering an area of approximately 840,000 square metres, Sindalah is a group of islands that will be developed in the giga-project. It is expected to create 3,500 jobs for the tourism sector and hospitality and leisure services.
According to the Saudi Press Agency (SPA), the island will act as a main gateway to the Red Sea, offering visitors customised nautical experiences and is expected to start welcoming guests from early 2024.
The luxury island will also be home to a yacht club, three luxury resorts, a spa, over 50 luxury brands and 86 piers.
"This is another significant moment for NEOM and a major step in the Kingdom realizing its tourism ambitions under Vision 2030," the crown prince said, adding that "Sindalah will be NEOM's first luxury island and yacht club destination in the Red Sea, providing a scenic gateway to the Red Sea that will become the region's most exciting and attractive tourism location. 
He added: "It will be a destination where travelers can experience the true beauty of NEOM and Saudi Arabia, above and below the water, making Sindalah the future of luxury travel."
The island aims to attract over 2,400 visitors per day by 2028.
"Like The LINE, our aim is to achieve a five-minute walk to all the important services and amenities that people need. There will be no roads or cars. The public realm approach will be about enabling social interaction, inspirational views and amazing experiences – all supported by advanced technology. Interestingly, the island is in the shape of a seahorse, and that's a great metaphor, because like that creature, the island is superbly unique and different," NEOM chief urban planning officer Antoni Vives said in an internal interview.
Vives added: "Sindalah is a new frontier for leisure, exploration and self-fulfillment. We want to provide new and improved experiences in this world – with sustainability, connectivity and joy in mind. If we achieve this, anything beyond that would be added value."
Qiddiya
Qiddiya, a groundbreaking new development in the Kingdom of Saudi Arabia, is set to revolutionize the entertainment, sports, and arts industries.
Launched by the kingdom's Crown Prince Mohammed bin Salman and part of the Saudi Vision 2030 plan, Qiddiya will help diversify the country's economy, create new job opportunities, and empower its youth and female population.
The ambitious project, located on the outskirts of Riyadh, will offer a wide range of experiences based on five cornerstones: Sports & Wellness, Nature & Environment, Parks & Attractions, Motion & Mobility, and Arts & Culture.
From family-friendly theme parks and sports arenas suitable for international competitions to academies for sports and the arts, concert and entertainment venues, and racetracks for motorsport enthusiasts, Qiddiya will cater to visitors of all ages and interests.
The development's recent groundbreaking ceremony, led by King Salman bin Abdulaziz Al Saud, showcased the vision and magnitude of the project.
With highlights including a performance by Ayed Yousef, a rising Saudi star, and a three-act show examining Saudi Arabia's past, present, and future, the ceremony culminated in a spectacular fireworks display over the Tuwaiq mountain cliff.
Qiddiya's Master Plan, revealed in 2019, and its Visitor Experience Center, opened the same year, offer glimpses into the future of the project.
In the design and construction phase, Qiddiya is currently offering numerous opportunities for investors, contractors, suppliers, and infrastructure partners, as well as healthcare providers.
With Qiddiya's innovative offerings and commitment to advancing the potential of Saudi Arabia's youth, it is poised to become a leading global destination. The project's impact is already being felt locally and internationally, with its development being followed by media outlets worldwide.
As Qiddiya continues to take shape, it represents a bold new era for Saudi Arabia's economy, society, and culture. As the world awaits its completion, it is clear that the project's impact will be felt far beyond the borders of the Kingdom.
Riyadh Sports Boulevard
The Saudi Vision 2030 initiative, launched by the Custodian of the Two Holy Mosques King Salman Bin Abdulaziz in 2019, aims to put Saudi Arabia on the map as one of the top 100 cities in the world.
The Sports Boulevard, one of Riyadh's ambitious projects, will play a crucial role in realizing this vision.
The Sports Boulevard is a 135-kilometre stretch of land that runs through Riyadh, connecting Hanifah valley in the West to Al Salai Valley in the East.
The Boulevard is designed to promote healthy living through sports and exercise, and encourages Riyadh's residents to walk, cycle, and ride horses.
The project provides 4.2 million square meters of open space, including a desert park that covers 20 square kilometers.
The park features event venues, outdoor museums, and movie theaters, along with areas designated for recreational and commercial activities. The project also includes investment zones, landmarks, and public art installations that will enrich the cultural lifestyle of the city.
The Boulevard is divided into seven main zones, each with a unique offering.
The Hanifah Valley Zone will cater to cyclists, while the Arts District will feature cultural and art facilities.
The Urban Wadi Zone will run alongside the Al Aysen Valley and have a water canal.
The Entertainment District will have a viaduct for professional cyclists and a movie theater.
The Athletics District, which will feature 60 sports sites, will be connected to Princess Nora bint Abdul Rahman University.
The Environmental Zone will run along the Al Sulai valley and promote environmental sustainability.
Finally, the Al Sulai Valley Zone will cater to cyclists and horse riders and feature picnic and camping areas.
The Sports Boulevard project is aligned with the goals of Saudi Vision 2030, and it will create a rich cultural, environmental, and recreational ambiance.
The project will help the citizens of Riyadh to follow a healthy lifestyle and participate in various sports and activities, while also attracting investors and contributing to the growth of the city.
Riyadh Metro
The largest public transport network projects in the world, the Riyadh Metro project features a length of approximately "176 kilometres of railway lines, on which electric trains operate without drivers, in addition to that 40 percent of the train route will be underground, which allows the continuation of the transportation movement in its natural form," according to a report by Rai Al Youm, which cited the German News Agency (DPA).
Riyadh metro is the largest Single-phase public transport project ever developed.
Saudi Arabia's Riyadh Metro, which will be the largest project for public transport networks in the world, "will be opened soon," the report said.
The announcement was reportedly made by Fahd Al-Rasheed, the chief executive officer of the Royal Commission for Riyadh City.
Al-Rasheed, in a statement to DPA, said that the King Abdulaziz Public Transport Project will open "its first phase at the beginning of this year, to be followed by other phases at close intervals."
The first phase of Riyadh Metro is reportedly expected to start in March, whereas the final operation will take place before the year ends.
The Riyadh Metro project is valued at a whopping $22.5 billion, the report said, citing an official statement.
Red Sea International Airport
Saudi Arabia will soon be home to one of the largest airports – King Salman International Airport – the kingdom's Crown Prince Mohammed bin Salman bin Abdulaziz, Prime Minister and Chairman of the Council of Economic and Development Affairs (CEDA), Chairman of the Public Investment Fund (PIF) announced on Monday.
The announcement is in line with PIF's strategy to diversify Saudi Arabia's economy away from oil, and is also in line with the National Transport Strategy and the Global Supply Chain Resilience Initiative.
The airport's construction is led by architects Foster + Partners, which "reimagines the traditional terminal as a single concourse loop, served by multiple entrances. The terminal is very much of its place and connects passengers to the sensory experiences of the city, with natural elements, tempered light and state-of-the-art facilities," the architecture studio's head Luke Fox said.
The airport, which is a "visionary development will play an important role in shaping the city into a global hub of creativity and innovation," Foster +Partners senior partner Seif A. Bahaa Eldin added.
The airport project is in line with Saudi Arabia's vision to transform Riyadh to be among the top ten city economies in the world and to support the growth of Riyadh's population to 15 to 20 million people by 2030, PIF said in a statement.
King Salman International Airport is expected to cover an area of approximately 57 kilometre square, featuring six parallel runways and the existing terminals named after King Khalid.
The airport will also include 12 kilometre square of airport support facilities, residential and recreational facilities, retail outlets, and other logistics real estate.
By 2030, the airport aims to accommodate up to 120 million travellers and 185 million travellers, with the capacity to process 3.5 million tons of cargo by 2050.
Jeddah Tower
Jeddah Tower, the world's tallest building-in-waiting, began construction overseven years ago.
The ambitious $1.4 billion project will be home to a mix of residential units, serviced apartments, and hotels, with a Four Seasons hotel set to open within.
The central core of the tower currently stands at level 60, and the walls are 248-metre high.
When completed, Jeddah Tower will stand at an estimated height of one kilometre, towering over the current world's tallest building, Burj Khalifa.
The tower has been designed by Adrien Smith + Gordon Gill Architecture and covers a floor space of 243,866 square metres. It will also have the world's highest observation deck, located 664 metres off the ground.
Despite the project facing setbacks, Jeddah Economic Company, the building developer, recently posted a video on its Twitter page promoting the tower as part of Saudi's Vision 2030. The ambitious vision aims to reduce the country's dependence on oil and modernize its economy.
Although there is still no completion date in sight, once Jeddah Tower is finished, it will undoubtedly be a marvel of modern engineering.
With its impressive height and luxury amenities, the tower will be a symbol of Saudi Arabia's move towards a modern, diversified economy.
Have a great week, we appreciate your business and thank you for supporting JMP Securities, if you would like to continue the discussion on investing, please contact me.
Regards,
Chris Hagan.
Head, Fixed Interest and Superannuation
JMP Securities
Level 1, Harbourside West, Stanley Esplanade
Port Moresby, Papua New Guinea
Mobile (PNG):+675 72319913
Mobile (Int): +61 414529814