7 August, 2023
Hello and welcome to this week's JMP Report
Last week saw for 5 stocks trade on the local market. All stocks closed steady with BSP trading 127 shares at K12.85, KSL traded 38,942 shares at K2.40, STO traded 3,422 at K19.11, CCP traded 50,000 shares at K2.00 and CPL traded 6,250 shares at K0.80.
WEEKLY MARKET REPORT | 31 July, 2023 – 4 August, 2023
| | | | | | | | | | | | | |
| --- | --- | --- | --- | --- | --- | --- | --- | --- | --- | --- | --- | --- |
| STOCK  | QUANTITY | CLOSING PRICE | CHANGE | % CHANGE | 2021 FINAL DIV | 2021 INTERIM | YIELD % | EX-DATE | RECORD DATE | PAYMENT DATE | DRP | MARKET CAP |
| BSP | 127 | 12.85 | – | 0.00 | K1.4000 | – | 13.53 | THUR 9 MAR 2023 | FRI 10 MAR 2023 | FRI 21 APR 2023 | NO | 5,317,971,001 |
|  KSL | 38,942 | 2.40 | – | 0.00 | K0.1610 | – | 9.93 | FRI 3 MAR 2023 | MON 6 MAR 2023 | TUE 11 APR 2023 | NO | 64,817,259 |
| STO | 3,422 | 19.11 | – | 0.00 | K0.5310 | – | 2.96 | MON 27 FEB 2023 | TUE 28 FEB 2023 | WED 29 MAR 2023 | YES | – |
| KAM  | 0 | 0.85 | – | 0.00 | – | – | – | – | – | – | YES | 49,891,306 |
| NCM  | 0 | 75.00 | – | 0.00 | USD$1.23 | – | – | FRI 24 FEB 2023 | MON 27 FEB 23 | THU 30 MAR 23 | YES | 33,774,150 |
| NGP | 0 | 0.69 | – | 0.00 | – | – | – | – | – | – | – | 32,123,490 |
| CCP | 50,000 | 2.00 | – | 0.00 | K0.225 | – | 6.19 | FRI 24 MAR 2023 | WED 29 MAR 2023 | FRI 5 MAY 2023 | YES | 569,672,964 |
| CPL | 6,250 | 0.80 | – | 0.00 | K0.05 | – | 4.20 | WED 22 MAR 2023 | THUR 30 MAR 2023 | THU 30 JUL 2023 | – | 195,964,015 |
Our Order Book
Our book starts the week as nett buyers of BSP, KSL, CCP and STO. Please contact Chris for more information
Dual Listed Stock PNGX/ASX
BFL – 5.26 flat
KSL – .805 +.005
NCM –  26.195 -.215
STO – 7.945 +.005
Interest Rates
There was still plenty of liquidity left in the banking system with the market left long by 197mill with stock on offer from 7days through to 91days. Not seeing a great deal of effort to soak up this liquidity at the moment
The 364 day TBills remain flat at 2.97% with the market left oversubscribed by 280mill and bids totalling 560mill.
Alternative Assets
Silver – 23.68 -.15%
Natural Gas – 2.60 + 0.74%
Bitcoin – 29,127 -1.07% 7days
Ethereum – 1,839  -1.67% 7days
PAC Gold – 1,942 -.18% 7days
---
What we've been reading this week
Carbon Fact of the Week
Hydrogen is the most abundant chemical element, contributing to about 75% of the mass of the universe.

Hydrogen is the lightest element but it has the highest energy content per unit weight of all fuels with an energy density of 52,000 Btu/lb., which is 3x higher than that of gasoline.

A vehicle can travel around 500 km on 5 kg of hydrogen (at 700 bar).

Global production today stands at around 75 MtH2/yr as pure hydrogen and an additional 45 MtH2/yr as part of a mix of gasses.

Hydrogen production costs will decrease by around 50% through 2030. Hydrogen demand by 2050 is estimated to go between 150 – 500 million metric tonnes per year, depending on global climate goals.
Thank you to Carboncredits.com
---
ADB Forecasts Continued Pandemic Recovery for Pacific Economies in 2023, 2024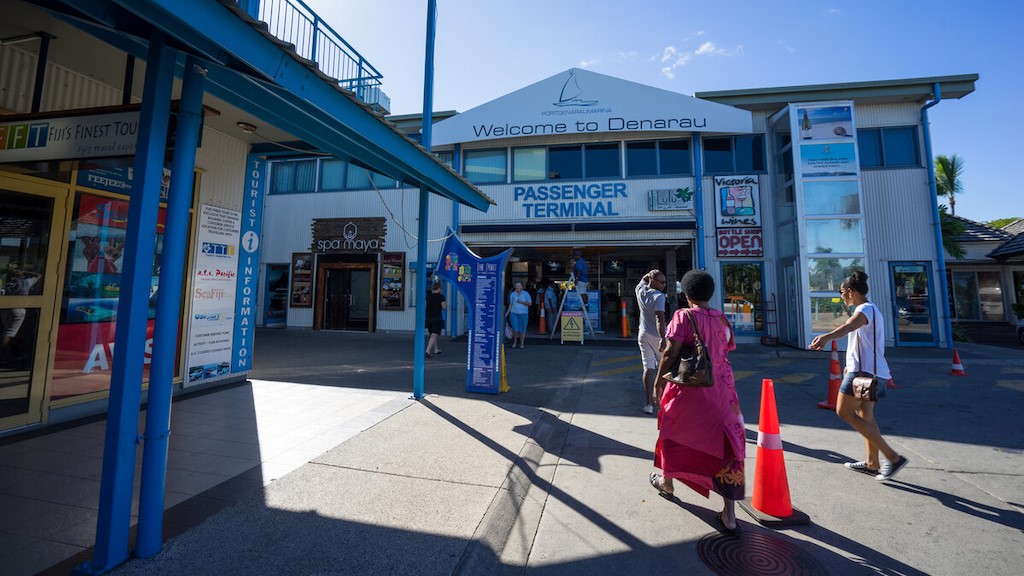 The latest Pacific Economic Monitor explores the development impact of the pandemic as well as emerging challenges to recovery and fiscal sustainability in the subregion.
News Release | 03 August 2023
MANILA, PHILIPPINES (3 August 2023) — Economies in the Pacific are projected to grow collectively by 3.3% in 2023 and 2.8% in 2024 as the subregion continues to recover from the COVID-19 pandemic, according to the latest issue of the Asian Development Bank's (ADB) Pacific Economic Monitor (PEM) launched today.
In Papua New Guinea (PNG), the subregion's largest economy, increased output outside the resource sector will underpin economic activity. Some tourism-driven economies, such as the Cook Islands and Samoa, will benefit from the lifting of pandemic travel restrictions along with increased public investment spending. Fiji is also expected to grow, albeit at a more modest pace, due to increasing tourism competition from other destinations.
"The lifting of the last pandemic mobility restrictions has enabled economic activity, such as tourism and implementation of public infrastructure projects, to resume in earnest," said ADB Director General for the Pacific Leah Gutierrez. "The outlook for the Pacific is subject to downside risks, such as sensitivity to international commodity prices and longstanding vulnerability to disasters, but ADB continues to work closely with government counterparts across the Pacific to help mitigate these risks, restore development gains, and support inclusive, sustainable growth in the subregion."
Other short-term downside risks to the Pacific's outlook include uncertainties around the resumption of stalled public investment projects and the uneven recovery of the crucial tourism sector, exacerbated by possible economic scarring from the pandemic.
The latest PEM explores the development impact of the pandemic and challenges to recovery and fiscal sustainability. It examines efforts in the Cook Islands, Fiji, and PNG to address fiscal risks and support sustainable recovery; studies debt management in Nauru amid the pandemic and emerging fuel cost issues in Niue; and assesses the economic costs of and responses to the disasters that struck Vanuatu in 2023. Other articles provide updates on post-pandemic tourism in Samoa and Tonga, explore new growth engines for Kiribati, Solomon Islands, and Tuvalu, and outline how to offset pandemic-induced social and economic losses in the North Pacific.
Topical policy briefs in the PEM highlight key findings from two ADB-supported reports, Women's Economic Empowerment in the Pacific Region and Finding Balance 2023: Benchmarking Performance and Building Climate Resilience in Pacific State-Owned Enterprises, while presenting efforts in Solomon Islands to meet local demand for wood products as log exports slowed.
The PEM is ADB's biannual review of economic developments and policy issues in ADB's 14 developing member countries in the Pacific. In combination with the Asian Development Outlook (ADO) series, ADB provides quarterly reports on economic trends and policy developments in the Pacific. 
ADB is committed to achieving a prosperous, inclusive, resilient, and sustainable Asia and the Pacific, while sustaining its efforts to eradicate extreme poverty. Established in 1966, it is owned by 68 members—49 from the region.
---
Nikola Wins $58M Total Grant for Hydrogen Stations; First Hydrogen Reveals Success of FCEV 630km Range
By  Jennifer L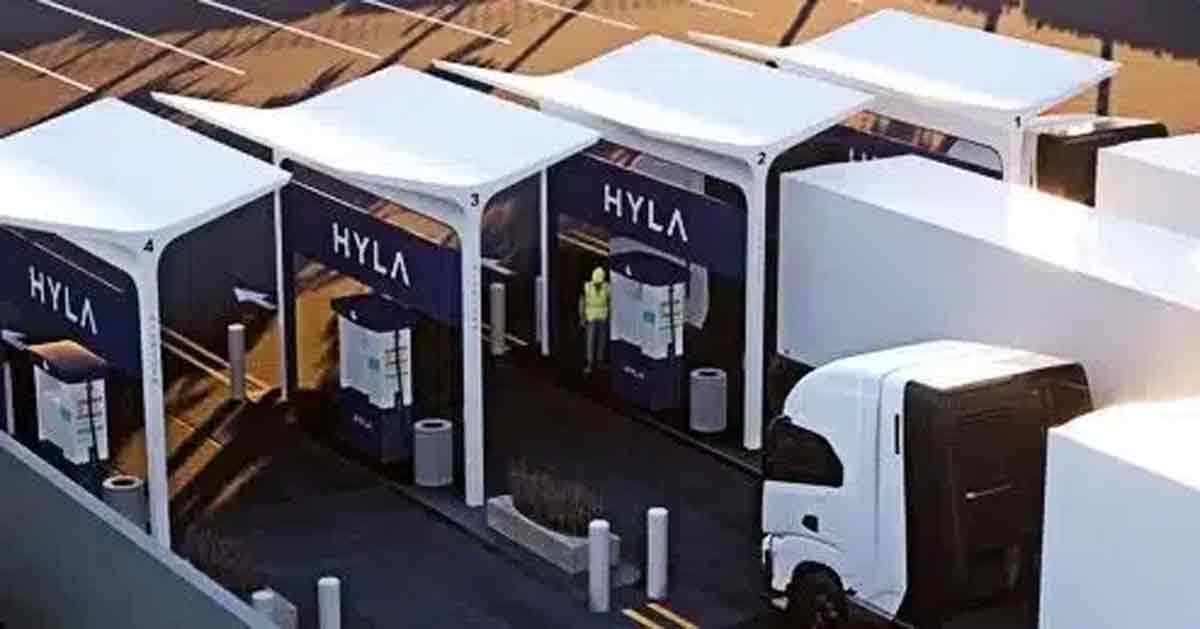 Nikola Corporation, a global leader in battery-electric and hydrogen fuel-cell electric vehicles (FCEV), and energy solutions, secured an additional $16.3 million grant to help fund its hydrogen fueling stations. This new grant gives Nikola a total of $58.2 million to support its hydrogen infrastructure.
Last month, the California Transportation Commission (CTC) awarded Nikola, through its HYLA brand, a $41.9 million grant under the Trade Corridor Enhancement Program (TCEP) to build 6 heavy-duty hydrogen refueling stations across Southern California. 
Each hydrogen refueling station is designed to support and scale up the growth of heavy-duty commercial hydrogen refueling needs. 
Nikola also announced a milestone of 202 sales orders for its Class 8 hydrogen fuel cell electric trucks, reflecting a growing industry trend towards sustainable solutions.
In Canada, First Hydrogen announced that the road test results of its FCEV are even better than what's expected. Feedback from the trial is promising, asserting the viability and sustainability of hydrogen energy. 
Is Hydrogen The Next Gold Rush? 
As the world is in dire need of reducing carbon emissions, innovations for alternative energy sources are ramping up. Hydrogen is one of those alternatives, particularly in providing a cleaner option for the transportation industry. 
Unlike fossil fuels that release planet-warming gasses, hydrogen fuel can be 100% clean, depending on the process used to burn it. In a hydrogen fuel cell EV, hydrogen is burned with pure oxygen in specially made cells. The only by-product is water.
Projections also indicate that hydrogen fuel will play a key role in the coming decades. Experts predict that the global hydrogen market will reach about $231 billion by 2030.
Regular EVs and FCEVs share many of the same advantages and disadvantages. Moreover, hydrogen-powered vehicles often have the same range as their traditional gas-powered counterparts.
A longer-range battery EV also requires a longer charging time. In contrast, refueling a hydrogen vehicle is the same as how a driver fills up his car at a gas station.
Some vehicle manufacturers are even betting on hydrogen by developing hydrogen fuel cell vehicles like Toyota recently revealed. But of course, hydrogen refueling infrastructure remains limited and lags behind EV battery charging infrastructure. 
Still, a few countries have made hydrogen energy a core of their clean energy transition.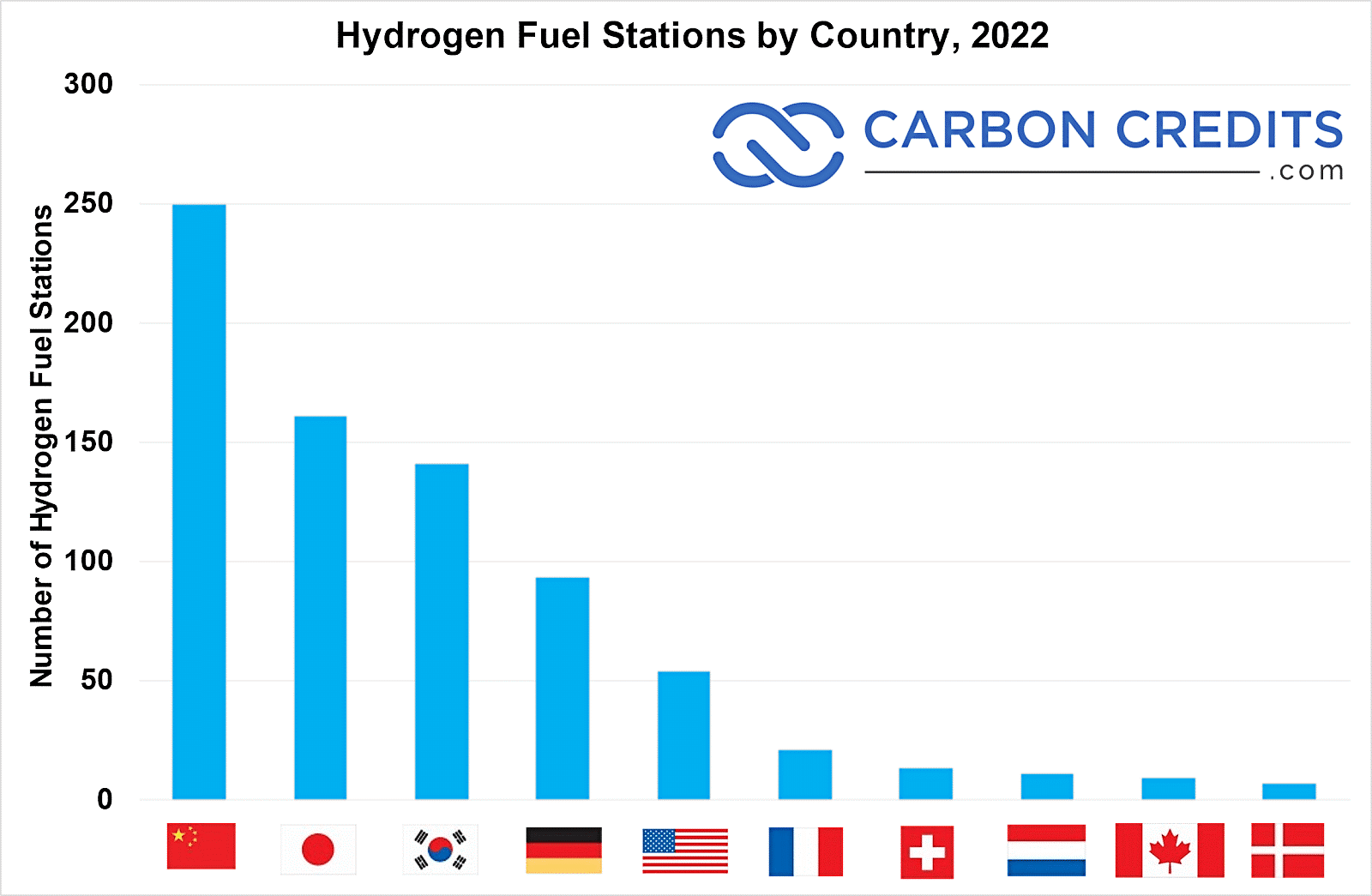 And Nikola is taking the lead in making hydrogen refueling easier and more widely available through its HYLA stations.  
Nikola: The First-Mover of Hydrogen Stations
As a global manufacturer of zero-emission battery-electric and hydrogen-electric vehicles, energy solutions, and hydrogen stations, Nikola is revolutionizing the industry. 
The additional grant it recently received from CTC builds on Nikola's partnership with Voltera to develop up to 50 HYLA hydrogen stations in North America over the next 5 years. 
The previous grant of almost $42 million was sponsored by the California Department of Transportation (Caltrans). Caltrans' support of Nikola promotes its zero emission vehicle (ZEV) adoption of freight technology across the state. 
In appreciation of the massive support it's getting from the state agencies, Nikola Energy president Carey Mendes said that:
"The California grant awards and government funding demonstrate the strong support for the Nikola hydrogen infrastructure brand HYLA's mission of establishing a comprehensive zero-emission transportation solution to help fleets achieve climate goals…"
Mendes further said that they're prioritizing developing a hydrogen ecosystem that advances their hydrogen fuel cell electric truck deployment.
These grants are a key enabler for Nikola's first-mover zero-emission hydrogen fleet and its HYLA fueling stations. The company is also planning to develop an open network of commercial refueling infrastructure in California and eventually across North America.  
With the recent grant announcement, Nikola stock is up 459% from its recent lows as shown in the chart from TradingView.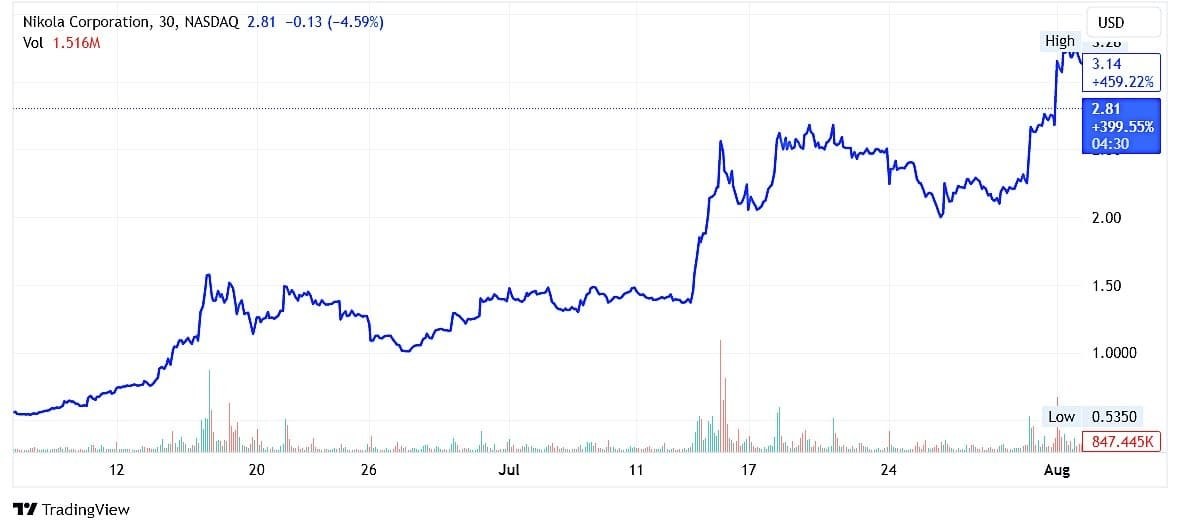 First Hydrogen: A Testament that FCEV Works
Back-to-back with Nikola's announcement is First Hydrogen Corporation's revelation that its hydrogen-fuel-cell-powered vehicle (FCEV) has achieved a range of 630 km on a single refueling during its fleet trial with UK-based SSE Plc.
First Hydrogen (TSXV: FHYD) is a Vancouver and London-based company focusing on zero-emission vehicles, green hydrogen production, and supercritical CO2 extractor systems.
SSE, one of the UK's largest energy infrastructure firms, is the first to road test First Hydrogen's hydrogen-powered vehicles.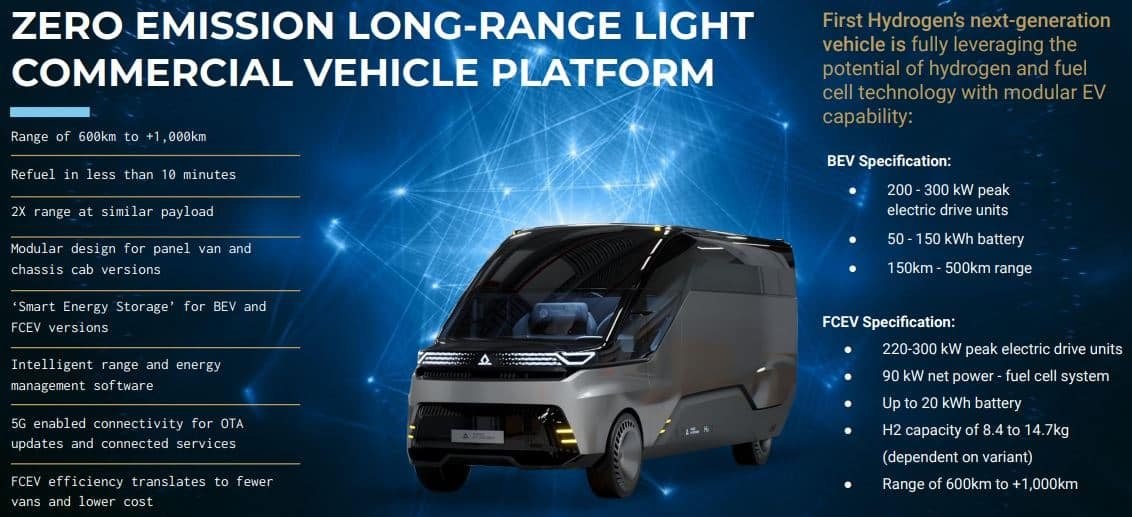 Data from SSE trial shows that overall vehicle performance beat expectations by exceeding the results set in pre-trial commissioning tests. Results further suggest that heavier payloads and driving at higher speeds don't significantly reduce the range or impact fuel cell performance. 
Highlighting these remarkable achievements of First Hydrogen's FCEV vans in real-world conditions, SSE Head of Fleet Services, Simon Gray, says:
"SSE is focussed on enabling, harnessing and deploying new technologies and innovations which can accelerate the journey to net zero. The feedback from this trial will be invaluable when considering if hydrogen fuel cell electric vehicles could fit into our fleets of the future."
These recent developments in the hydrogen market, particularly on FCEV and hydrogen refueling infrastructure seem to confirm that 2023 is indeed the year for green hydrogen. They're also greenlighting the hydrogen revolution, which is considered a critical piece of the net zero puzzle. 
Disclosure: Owners, members, directors and employees of carboncredits.com have/may have stock or option position in any of the companies mentioned: FHYD
Carboncredits.com receives compensation for this publication and has a business relationship with any company whose stock(s) is/are mentioned in this article
Additional disclosure: This communication serves the sole purpose of adding value to the research process and is for information only. Please do your own due diligence. Every investment in securities mentioned in publications of carboncredits.com involve risks which could lead to a total loss of the invested capital.
I hope you have enjoyed the read, if you would like to discus how to open a trading account with JMP, please feel free to reach out on the contact details below.
Regards,
Chris Hagan.
Head, Fixed Interest and Superannuation
JMP Securities
Level 1, Harbourside West, Stanley Esplanade
Port Moresby, Papua New Guinea
Mobile (PNG):+675 72319913
Mobile (Int): +61 414529814