August 23, 2021
Welcome to this week's JMP Report.
Last week on the local bourse was an exciting week with BSP trading with 52,337 shares exchanging hands closing up an impressive 0.50 toea to K12.80 on Friday followed by KSL with 41,790 shares traded closing unchanged at K3.25. OSH 1,217 shares and also closed unchanged at K10.60.  Stocks with nil trading activities were CPL, KAM, CCP, NCM and SST.
Refer details below;
WEEKLY MARKET REPORT 16.08.21 – 20.08.21

STOCK

QUANTITY

CLOSING 

CHANGE

% CHANGE

BSP

52,337

 12.80

0.50

4.07

KSL

41,790

 3.25

–
0.00

OSH

1,217

10.60

–
0.00

KAM

– 

 1.00

–
0.00

NCM

–

75.00

–

0.00

CCP

–

 1.70

–
0.00

CPL

–

 0.80

–

0.00
BSP and NCM came to the market with dividend announcements. BSP announced a .39t dividend making the total dividend declared this year (including the 2020 final dividend paid in June 21) provides a yield of 11.7% based on a share price of K12.30 on PNGX (9.81% based on a share price of $5.55 on ASX) compared to 10.08% for 2020. NCM announced US$0.40 also giving investors something to smile about.
Today, the PNG Government and ExxonMobil announced their intention to re-engage on the P'nyang gas project. Oil Search [ASX: OSH] today confirmed that the Papua New Guinea Government and Esso PNG P'nyang Limited, as operator of PRL 3 (P'nyang field), jointly announced their intention to re-engage in the negotiations on the P'nyang project.
On the Interest Rate front the liquidity in the system continues to keep the short end rates stable with the 364day TBill auction going through at 7.20%. In the longer end of the market, there has been no announcements on any new Government Inscribed Stock Auctions. We have buying interest along the curve.
If you would like information on Financial Planning/Advisory, Investment Management or you would like a superannuation check-up, please do give me a call
---
What we have been reading this week
Boosting cultural diversity in the workplace
Article from the Governance Institute of Australia
Despite diversity's significant benefits to business, Australian workplaces are not seeing that trend translate into leadership roles. 
"Diversity leads to improved decision making and improved attraction and retention of staff," Multicultural Australia Chief Executive Officer Christine Castley said during a virtual briefing last week, hosted by Governance Institute of Australia, on governing cultural diversity in the workplace. 
"If the leadership of our workforce doesn't reflect the diversity of our community, then we are failing to capitalise on the strength that comes from diversity and inclusion." 
Multicultural Australia's workforce of 200 staff come from 65 different cultural backgrounds and speak 83 languages, which brings a unique energy and vibrancy to the workplace.  
However, Ms Castley said the organisation still experienced challenges in building on that workforce diversity, requiring a strategy to deliberately increase leadership diversity and inclusivity. 
"It starts with having very close connections with your recruitment agencies and networks and being very deliberate in your commitment and actions in how you go about your recruitment and messaging," she said. 
"You need to ensure there is diversity in interview panels and being very conscious about the bias of systemic issues that might exist in the recruitment process." 
The organisation promotes diversity and inclusion by celebrating all cultures and religious celebrations, giving staff the chance to share their cultural stories, creating prayer rooms, and establishing diversity working groups.  
Creating a safe and supportive workplace 
Foreign-owned equipment parts business Hastings Deering employees 3500 staff across four countries and introduced its Together as One initiative in 2018. 
The company's Executive Manager for Employee Experience, Suzannah D'Juliet said a lot of progress had been made for creating an inclusive and diverse workplace culture but there was still room for improvement. 
Having partnered with Multicultural Australia and Reconciliation Australia, Hastings Deering now recognises significant cultural holidays on the company calendar, diversified its recruitment process and encourages staff to bring ideas and solutions to management. 
"We prioritise their voices. We don't speak for them. We consult and we listen. We ask what it's like to work in a second or third language and we learn about the ways in which we can make a difference in their lives," Ms D'Juliet said. 
"We share and partner whenever we can. We report to our board, customers and community on our diversity statistics. We're honest about where we are and the challenges that we still have." 
Introducing cultural nuances to the workplace 
Australian Indigenous Governance Institute Chief Operating Officer Ivan Ingram highlighted the challenges workplaces faced around cultural considerations when creating governance frameworks. 
He said culture should be used as an effective tool for enhancing interactions, allowing people to learn from one another. 
Mr Ingram's key takeaways for boosting diversity in the workplace:
Creating space for diverse voices 
Identifying and removing barriers that prohibit full participation in the workplace  
Executing policies and procedures to achieve buy in from the community and workforce  
Allowing effective communication and equal participation from those who you wish to elevate 
Ensuring visibility in the workplace through day-to-day implementation 
Providing support for all staff, including management, to help educate and understand cultural nuances for better engagement. 
---
Physicists in California Achieve 'Historic' Nuclear Fusion Breakthrough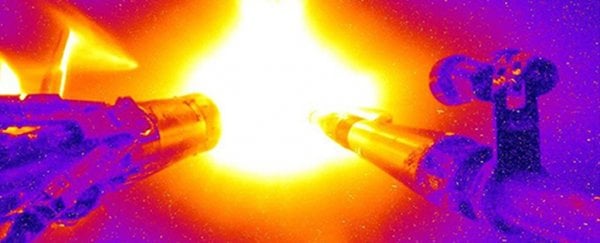 AFP 18 AUGUST 2021
Nuclear scientists using lasers the size of three football fields said Tuesday they had generated a huge amount of energy from fusion, possibly offering hope for the development of a new clean energy source.
Experts focused their giant array of almost 200 laser beams onto a tiny spot to create a mega blast of energy – eight times more than they had ever done in the past.
Although the energy only lasted for a very short time – just 100 trillionths of a second – it took scientists closer to the holy grail of fusion ignition, the moment when they are creating more energy than they are using.
"This result is a historic advance for inertial confinement fusion research," said Kim Budil, the director of Lawrence Livermore National Laboratory, which operates the National Ignition Facility in California, where the experiment took place this month.
Nuclear fusion is considered by some scientists to be a potential energy of the future, particularly because it produces little waste and no greenhouse gases.
It differs from fission, a technique currently used in nuclear power plants, where the bonds of heavy atomic nuclei are broken to release energy.
In the fusion process, two light atomic nuclei are "married" to create a heavy one.
In this experiment, scientists used two isotopes of hydrogen, giving rise to helium.
This is the process that is at work in stars, including our Sun.
"The NIF teams have done an extraordinary job," said Professor Steven Rose, co-director of the centre for research in this field at Imperial College London.
"This is the most significant advance in inertial fusion since its beginning in 1972."
But, warned Jeremy Chittenden, co-director of the same centre in London, making this a useable source of energy is not going to be easy.
"Turning this concept into a renewable source of electrical power will probably be a long process and will involve overcoming significant technical challenges," he said.
---
HYBRIT technology delivers the world's first fossil-free steel to Volvo Group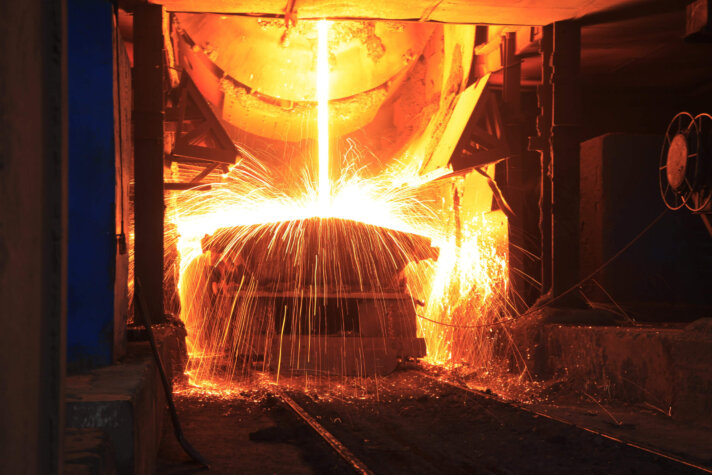 George Heynes Aug 18, 2021
SSAB Oxelösund has delivered the world's first 100% fossil-free steel using HYBRIT technology, that uses hydrogen instead of coal and coke, to Volvo Group, the company has said today (August 18).
HYBRIT, established by SSAB, LKAB and Vattenfall, is producing carbon-free steel to decarbonise the steelmaking industry whilst also providing green steel to manufacturers.
In June 2021, the three companies were able to showcase the world's first hydrogen-reduced sponge iron produced at HYBRIT's pilot plant in Luleå.
This first sponge iron has since been used to produce the first steel made with this breakthrough technology.
The goal is to deliver fossil-free steel to the market and demonstrate the technology on an industrial scale as early as 2026.
Using HYBRIT technology, SSAB has the potential to reduce Sweden's total carbon dioxide emissions by approximately 10% and Finland's by approximately 7%.
Martin Lindqvist, President and CEO of SSAB, said, "The first fossil-free steel in the world is not only a breakthrough for SSAB, it represents proof that it's possible to make the transition and significantly reduce the global carbon footprint of the steel industry. We hope that this will inspire others to also want to speed up the green transition."
Ibrahim Baylan, the Minister of Trade and Industry of Sweden, said, "Industry and especially the steel industry create large emissions but are also an important part of the solution. To drive the transition and become the world's first fossil-free welfare state, collaboration between business, universities and the public sector is crucial.
"The work done by SSAB, LKAB and Vattenfall within the framework of HYBRIT drives the development of the entire industry and is an international model.
---
Norway's $1.4 Trillion Wealth Fund Puts Oil Stocks on Notice
World's biggest wealth fund still holds several oil majors
Norway is reviewing the fund's mandate to look at climate risk
Norway's wealth fund says there are oil companies in its portfolio that "absolutely" aren't doing enough to cut emissions, as the guidelines it operates by are reviewed to give climate risk greater prominence.
Norges Bank Investment Management still holds stakes in a number of fossil-fuel giants, including Exxon Mobil Corp., Chevron Corp. and BP Plc., after failing to win political approval to dump its entire portfolio of oil stocks a few years back.
"These are companies we monitor very, very closely with a view to the climate and emissions," Carine Smith Ihenacho, chief corporate governance officer at the Oslo-based fund, said in an interview. 
Norway is now taking another look at the mandate handed to its wealth fund, the world's biggest. On Friday, a government-appointed expert group submitted its recommendations, amid increasingly disturbing evidence that the planet is heating up much faster than previously feared.
The expert group says the government should "change the mandate" under which the fund operates to "better handle climate risk." Changes would include giving the fund more leeway to put pressure on greenhouse-gas emitters, using its global dominance as a stock owner to influence the outcome of shareholder votes. And if companies don't improve, the fund should have more scope to divest. 
Martin Skancke, who led the expert group, said the fund already incorporates climate risks in its strategy. "But that's because there have been people at the fund who are passionate about this, and who treat this as a serious issue," he said in an interview. But it's "not satisfactory" to just rely on good people, he said. "It needs to be in the mandate."
Investor Uprising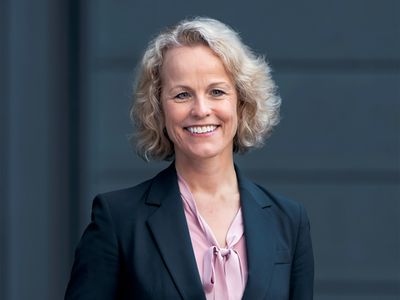 Carine Smith Ihenacho
Source: Norges Bank
This year, Norway's wealth fund started voting against corporate boards, and Ihenacho says it's a tool that will increasingly be used to bring about change. That's as investor revolts become a more frequent occurrence, resulting in some spectacular upsets at a number of the world's biggest oil companies. Most notable among these was Exxon's failure in May to repel an uprising that handed board seats to an activist investor group insisting the company do more to reduce its carbon footprint.
Norway's wealth fund used the votes it had, which didn't include weighing in on shareholder proposals on board seats, to demand that Exxon be transparent around political contributions, in an effort to stop the kind of corporate lobbying that leads to dubious climate policies. The fund also withheld support for Exxon Chief Executive Officer Darren Woods to continue as chairman, based on its view that those jobs shouldn't be held by one person.
"We use the tools we have," Ihenacho said. 
Taking On Big Oil
She also points to Chevron Corp. as an example of shareholders forcing through change. Norway's wealth fund was among investors backing a successful proposal insisting that Chevron's emissions targets include Scope 3, which is the broadest definition and includes the carbon footprint of the oil giant's customers. The vote, which came the same day as the Exxon shareholder victory and coincided with a court decision in the Netherlands forcing Royal Dutch Shell Plc to slash emissions, sent shock waves through an oil industry used to pushing through its own agenda.
The Oil Majors and Their Emissions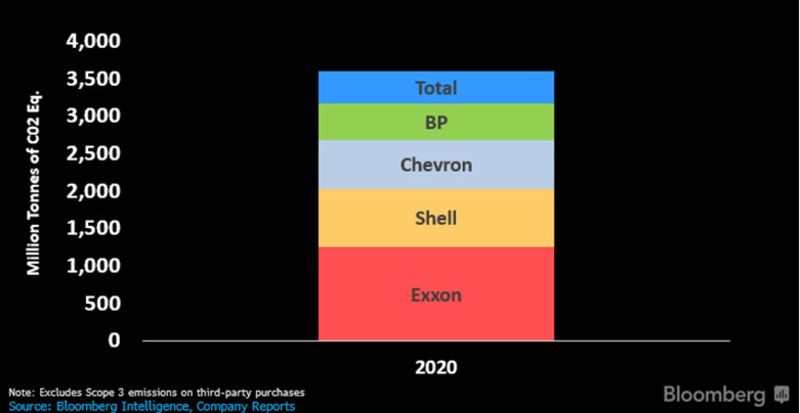 The IPCC report calls for swift cuts in global greenhouse-gas emissions, which will shine an unwelcome spotlight on the top five western oil majors: Exxon Mobil, Chevron, Shell, BP and TotalEnergies, which are among the largest corporate emitters in the world. At a combined 3.5 gigatons of CO2 last year (Scope 1-3), the group makes up roughly 8.5% of total annual global emissions (about 40 Gt) excluding land-use changes. Bloomberg Intelligence analyst Will Hares.
Norway, which is western Europe's biggest oil producer, has faced criticism for not using its giant investment vehicle to fight climate change more aggressively. This month, as the world braced for the latest assessment of the United Nations' Intergovernmental Panel on Climate Change, a group of academics and economists lambasted nations that haven't set net-zero emissions goals for their wealth funds. Signatories include former executive secretary of the UN Framework Convention on Climate Change, Christiana Figueres. At the front of the firing line was Norway. 
Havard Halland, a former senior economist at the World Bank who started the pressure campaign on sovereign investors, says "it has come to a point where choosing not to have climate goals is the active choice."
He points out that Norway's wealth fund, through its portfolio holdings, emits twice as much carbon dioxide as the entire country, which isn't included in official Norwegian emissions statistics. 
As Norway "opts out" of setting climate targets for its wealth fund, the country is essentially "free riding" on others' efforts to fight global warming, he said.
Norway's Finance Ministry views global warming as "a complex financial risk," according to an emailed statement in response to questions. The ministry will now go through the recommendations of the expert group, after which any decision needs to make its way through parliament. Any change in the fund's mandate won't take place until next year, with polls showing the current Conservative-led coalition will be replaced by a more left-leaning bloc in September elections.
Christiane Hach, a spokeswoman for the UN Convened Net Zero Asset Owner Alliance, says that "for sovereign wealth funds, it is a challenge to make the commitment as it needs to be aligned with the government's agenda, and needs to satisfy complex strategy decision processes."
In the meantime, Norway's wealth fund says it's working hard to keep portfolio emissions down. 
"We're telling companies to set targets that live up to the Paris Agreement," Ihenacho said. 
"As a fund, it's clearly in our interest that the goals in the Paris Agreement are reached," she said. "And that includes net zero emissions by 2050."
I hope you enjoyed this weeks read, there is quite a lot of information to review. If you would like any further information on the details in our report please contact us.
Regards,
Chris Hagan,
Head, Fixed Interest and Superannuation
JMP Securities
Level 1, Harbourside West, Stanley Esplanade
Port Moresby, Papua New Guinea
Mobile (PNG):+675 72319913
Mobile (Int): +61 414529814