13 September, 2021
Welcome to this week's JMP Report.
Attached to our report this week you will find the following announcements;
Santos Oil Search Media release
Kina Asset Management Dividend announcement
Newcrest Exploration Update
Oil Search Announcement
Ashurst Publication – Low Carbon Pulse
And you make like to read; Santos, Oil Search $21b merger deal finalised (brisbanetimes.com.au)
On the equity front, last week we saw BSP trade 254 ,470 shares, closing down 0.30 toea or 2.38% to K12.30 on Friday followed by KAM with 13,800 shares trading, closing unchanged at K1.00 per share. KSL saw 8,270 shares trade, closing unchanged at K3.25 while NGP traded for the first time  a long while with 7,142 shares exchanging hands, closing up 4 toea or 6.06% to finish the week at K0.70 per share. CPL traded 5,400 shares closing up 0.10 toea or 11.11% to K1.00 per share.   There were nil trades in CCP, NCM, OSH and SST.
Thank you to everyone who responded to our quiz question last week, the answer is, the dividend rate for BSP is almost 12%. You will note from last weeks report we have included some very useful information such as dividend payment dates, ex and record dates and we now also include the latest dividend yield for BSP and KAM. Gradually we will add the yields for all of the POMX listed equities as they are announced. Would love your feedback.
Refer details below; for our investors.
WEEKLY MARKET REPORT 06.09.21 – 10.09.21

STOCK

QTY

CLOSING 

CHANGE

% CHANGE
2020 Final Div
2021 Interim
Yield %
Ex Date
Record Date
Payment Date
DRP

BSP

254.470

12.30

-0.30

-2.38
K1.05
K0.39
12%
Frid 24 Sept
Mon 27 Sept
Mon 18 Sept
No

KSL

8,270

3.25

–
0.00
K0.00
K0.00
0%
Wed 01 Sept
Thurs 02 Sept
Fri 01 Oct
 

OSH

– 

10.61

–
0.00
K0.00
K0.00
0%
Mon 30 Aug
Mon 20 Sept
Thur 20 Oct
 

KAM

13,800

 1.00

–
0.00
K0.04
K0.06
10%
Wed 15 Sept
Mon 20 Sept
Thurs 20 Oct
Yes

NCM

– 

75.00

–

0.00
K0.00
K0.00
0%
Thu 26 Aug
Fri 24 Sept
Mon 01 Nov
 

CCP

– 

 1.70

–
0.00
K0.00
K0.00
0%
 
 
 
 

CPL

5,400

1.00

0.10

11.11
K0.00
K0.00
0%
 
 
 
 
On the interest rate front, no major changes with 364 day TBill still trading at 7.20%. Finance Company also remains around the 5-5.5% area but the big change to the interest rate market was the announcement from BPNG that they have reopened the Tap Bond Facility. This is great news for the smaller investor. In the long end of the curve, we still see buying interest in Government issued bonds.
What we have been reading this week
Harvard's $42bn fund to end investment in fossil fuels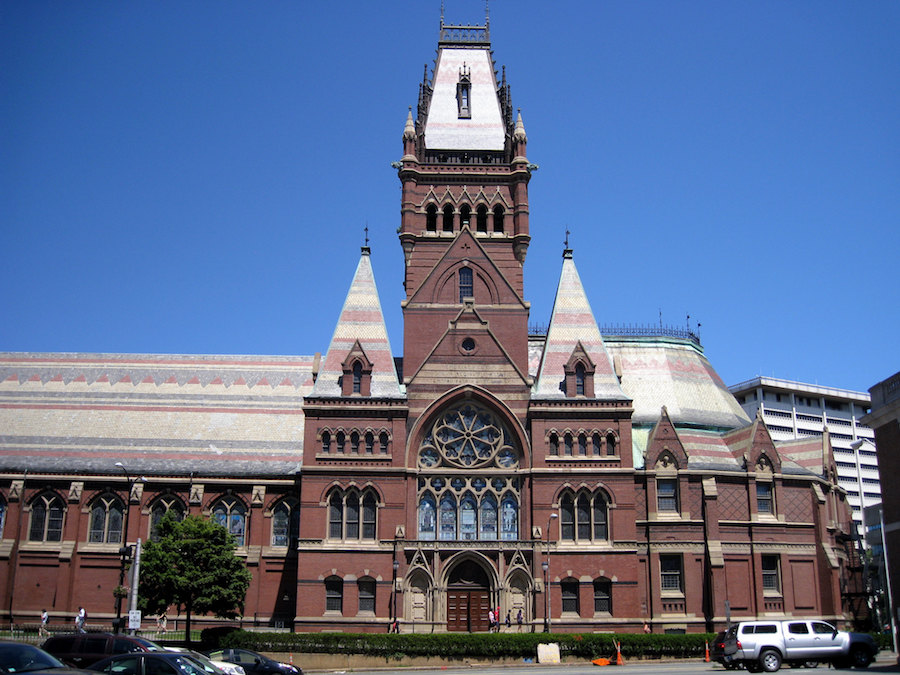 Cecilia Jamasmie | September 10, 2021
Harvard University Memorial Hall. (Image: Little Kosha | Flickr Commons. )

Harvard University has announced it will no longer invest in fossil fuels and will instead use its $42 billion endowment to support the world's transition to green energy, drawing praise from stakeholders that had long pressed the educational institution to exit such holdings. 
President Lawrence Bacow, who for years publicly opposed divesting, said in a letter that the university's endowment had no direct investments in fossil fuel exploration or development companies as of June and will not invest in them in the future.
The university does have indirect investments in the fossil fuel industry but, according to Bacow, they are "in runoff mode." These investments, made through private equity funds, make up less than 2% of the endowment, he said. 
HARVARD HAD ANNOUNCED LAST YEAR IT WOULD WORK WITH ITS INVESTMENT MANAGERS TO REACH "NET ZERO" GREENHOUSE GAS EMISSIONS BY 2050, BUT THAT WASN'T FAST ENOUGH FOR ITS STUDENTS
The move marks a sharp twist in the university's position on the matter in the last ten years, which pitted student activists against administrators and dominated campus politics. 
In a September 2019 letter published in Harvard Magazine, Bacow wrote that he believed working with fossil fuel companies was a "sounder and more effective approach" to fossil fuels for Harvard to take. 
"We may differ on means," Bacow told students in the letter. "[But we] share the belief that action is required. We just happen to have an honest difference of opinion over what the appropriate action is." 
The university had announced last year it would begin working with its investment managers to reach net-zero greenhouse gas emissions by 2050. That wasn't fast enough for its students. A group filed in March a complaint with the Massachusetts attorney general to try forcing Harvard to sell its estimated $838 million fossil fuel holdings, The Harvard Crimson reported. 
Butterfly effect?
Divest Harvard, one of the activist groups, described the announcement on Twitter as "a massive victory for our community, the climate movement, and the world — and a strike against the power of the fossil fuel industry." 
The Ivy League college, the richest in the US, will be following in the footsteps of other institutions, such as the University of California and the UK's Cambridge University, which have committed to divesting their endowments from the fossil fuel industry. 
The decision is expected to motivate other educational institutions to withdraw their support of businesses contributing to man-made climate change. 
The university will also be joining a growing group of big institutional investors and governments that are responding to consumer pressure to accelerate de-carbonization efforts. 
The United Nation's authoritative Intergovernmental Panel on Climate Change (IPCC) released last month a report deemed as "code red for humanity." 
The review of a 2013 report predicts that temperatures on Earth will rise by about 1.5 degrees Celsius in two decades and warns that a near-2m rise in sea levels by the end of this century "cannot be ruled out." 
---
The Population of China in Perspective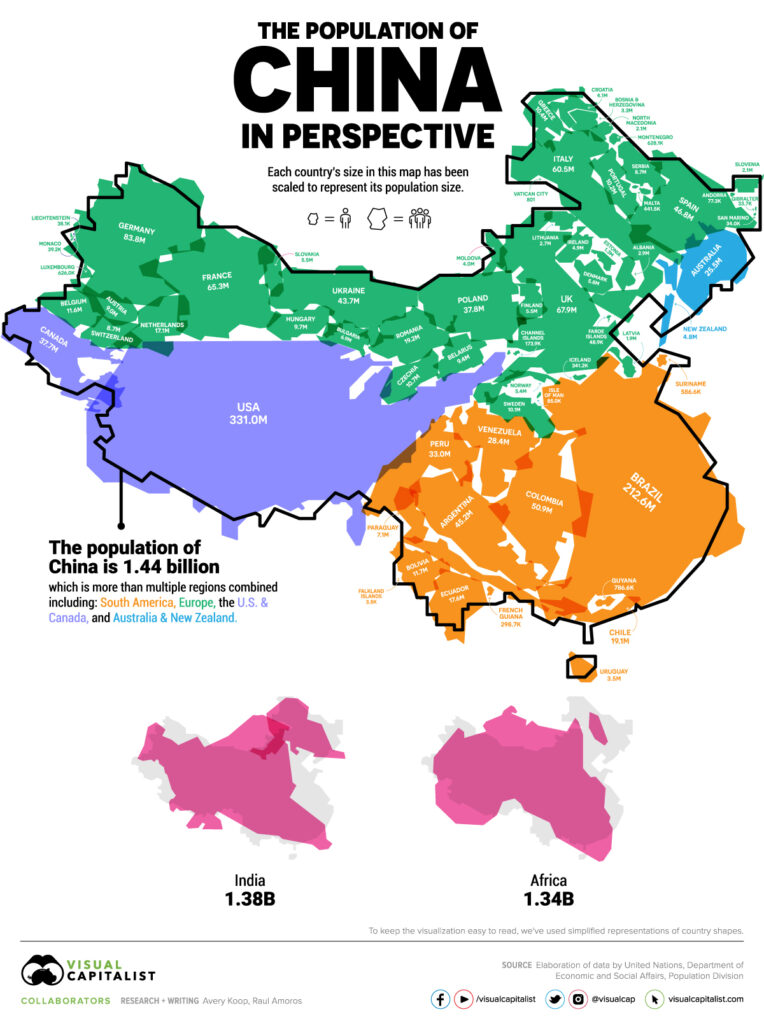 The Population of China in Perspective
China is the world's most populous country with an astounding 1.44 billion citizens. Altogether, the size of the population of China is larger than nearly four regions combined: South America, Europe (excluding Russia), the U.S. & Canada, and Australia & New Zealand.
Using data from the United Nations, this unconventional map reveals the comparative size of China's population next to a multitude of other countries.
Note: To keep the visualization easy to read, we've simplified the shapes representing countries. For example, although we've included Alaska and Hawaii in U.S. population totals, the U.S. is represented by the contiguous states map only.
A Historical Perspective
Looking at history, the population of China has more than doubled since the 1950s. The country was the first in the world to hit one billion people in 1980.
However, in 1979, in an attempt to control the burgeoning population, the infamous one-child policy was introduced, putting controls on how many children Chinese citizens could have.
While the government eventually recognized the negative implications of this policy, it appeared to be too little, too late. The two-child policy was introduced in 2016, but it has not yet reversed the current slowdown in population growth.
| | | | | |
| --- | --- | --- | --- | --- |
| Year | China's Population (Millions) | Annual Rate of Growth (%) | Median Age | Fertility Rate |
| 1955 | 612.2 | 2.00% | 22.2 | 6.11 |
| 1960 | 660.4 | 1.53% | 21.3 | 5.48 |
| 1965 | 724.2 | 1.86% | 19.8 | 6.15 |
| 1970 | 827.6 | 2.70% | 19.3 | 6.30 |
| 1975 | 926.2 | 2.28% | 20.3 | 4.85 |
| 1980 | 1,000.1 | 1.55% | 21.9 | 3.01 |
| 1985 | 1,075.6 | 1.47% | 23.5 | 2.52 |
| 1990 | 1,176.9 | 1.82% | 24.9 | 2.73 |
| 1995 | 1,240.9 | 1.07% | 27.4 | 1.83 |
| 2000 | 1,290.6 | 0.79% | 30.0 | 1.62 |
Showing 1 to 10 of 18 entries
PreviousNext
The fertility rate has been consistently falling from over 6 births per woman in 1955 to 1.69 in 2020. Today, the median age in China is 38 years old, rising from 22 in 1955. Longer life spans and fewer births form a demographic trend that has many social and economic implications.
Overall, China's young population is becoming scarcer, meaning that the domestic labor market will eventually begin shrinking. Additionally, the larger share of elderly citizens will require publicly-funded resources, resulting in a heavier societal and financial burden.
Strength in Numbers
Despite these trends, however, China's current population remains massive, constituting almost 20% of the world's total population. Right now 71% of the Chinese population is between the ages of 15 and 65 years old, meaning that the labor supply is still immense.
Here are the populations of 65 countries from various regions of the world—and added together, you'll see they still fall short of the population of China:
Search:
| | | |
| --- | --- | --- |
| Country | Population | Region |
|  U.S. | 331,002,651 | North America |
|  Canada | 37,742,154 | North America |
|  Brazil | 212,559,417 | South America |
|  Colombia | 50,882,891 | South America |
|  Argentina | 45,195,774 | South America |
|  Peru | 32,971,854 | South America |
|  Venezuela | 28,435,940 | South America |
|  Chile | 19,116,201 | South America |
|  Ecuador | 17,643,054 | South America |
|  Bolivia | 11,673,021 | South America |
| Total | 1,431,528,252 |   |
Showing 1 to 10 of 65 entries
To break it down even further, here's a look at the population of each of the regions listed above:
Australia and New Zealand: 30.3 million
Europe (excluding Russia): 601.7 million
South America: 430.8 million
The U.S. and Canada: 368.7 million
Combined their population is 1.432 billion compared to China's 1.439 billion.
Overall, the population of China has few comparables. India is one exception, with a population of 1.38 billion. As a continent, Africa comes in close as well at 1.34 billion people. Here's a breakdown of Africa's population for further comparison.
Search:
| | | |
| --- | --- | --- |
| Country | Population | Region |
|  Nigeria | 206,139,589 | Africa |
|  Ghana | 31,072,940 | Africa |
|  Côte d'Ivoire | 26,378,274 | Africa |
|  Niger | 24,206,644 | Africa |
|  Burkina Faso | 20,903,273 | Africa |
|  Mali | 20,250,833 | Africa |
|  Senegal | 16,743,927 | Africa |
|  Guinea | 13,132,795 | Africa |
|  Benin | 12,123,200 | Africa |
|  Togo | 8,278,724 | Africa |
| Total | 1,340,598,147 |   |
Showing 1 to 10 of 58 entries
Future Outlook on the Population of China
Whether or not China's population growth is slowing appears to be less relevant when looking at its sheer size. While India is expected to match the country's population by 2026, China will remain one of the world's largest economic powerhouses regardless.
It is estimated, however, that the population of China will drop below one billion people by the year 2100—bumping the nation to third place in the ranking of the world's most populous countries. At the same time, it's possible that China's economic dominance may be challenged by these same demographic tailwinds as time moves forward.
---
Australia's Warrego hydrogen ute claims $50 million of order requests in just 4 days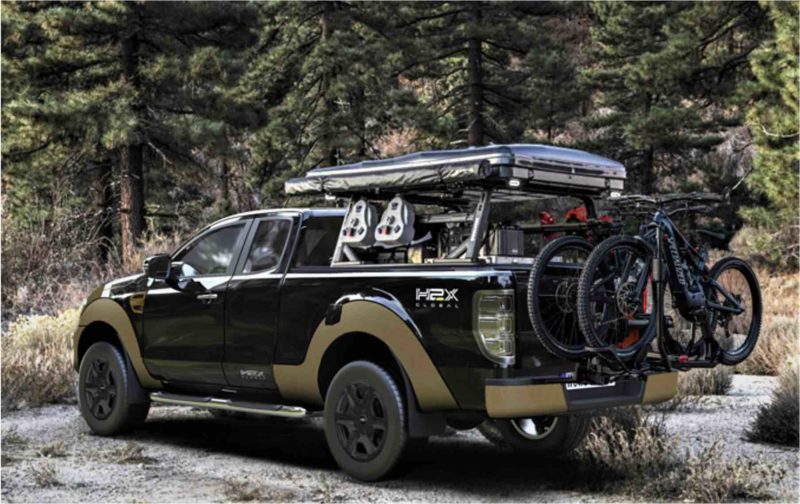 Australian hydrogen fuel cell electric vehicle start-up H2X Global says it has secured more than 200 orders for its Warrego hydrogen ute worth $50 million from around the globe, in just four daqys since it opened orders.
Hydrogen fuel cell electric vehicles (FCEVs) have a long way to go to prove their long-term viability, and their ability to compete with battery electric options, with refuelling infrastructure being one of the biggest barriers.
But it would appear that, even though we are in the early stages of the development of FCEVs, that there are those who see the immediate and near-term value of hydrogen-fuelled vehicles.
The Sydney-based H2X last week announced that it will launch its high-priced Warrego Ute on the Gold Coast in November, ahead of deliveries slated for April, 2022.
That sparked immediate interest, and in the first four days since H2X opened orders last Wednesday, the company says it received more than 200 order requests, worth $50 million if the consumers follow through. The orders came from all over Australia, and from countries such as the Netherlands, Germany, and Malaysia.
"Among the customers ordering the Warrego Ute are several significant energy companies and a number of private buyers," H2X Global said in its press release, before quoting from one of those same private buyers.
"The Warrego is the vehicle that we believe the community of Green Energy Pioneers have been waiting for, especially with Hydrogen already at parity with diesel kWh for kWh," said Haim Ptasznik is Director of Veida, a provider of Green Energy Solutions and Hardware, and one of the first purchasers of the vehicle.
"Not to mention, the problems that EV's pose to the electrical network with grid congestion and excessive unpredictable demand disappear, with hydrogen as a supply."
The Warrego is the first of a range of hydrogen-fuelled vehicles that H2X is planning to release over the next 24 months.
Featuring a 200kW motor system, 66KW and optional 90KW fuel cell systems, and generating output between 60KW and 100KW, the Warrego has a driving range of 500-kilometres on a mix of highway and city roads, and benefits from quick refuelling times of between 3 to 5 minutes.
"The pre-orders have exceeded all of our expectations," said H2X Global CEO Brendan Norman.
"We knew they would be popular, but we've been blown away by the demand for the Warrego. Orders have literally been coming in from around the world. The word has got out that we're on to something really special."
We hope you have enjoyed this week's report, if you would like further information relating to the POMX or global equity markets, please do give us a call.
Have a great week and stay safe
Regards,
Chris Hagan,
Head, Fixed Interest and Superannuation
JMP Securities
Level 1, Harbourside West, Stanley Esplanade
Port Moresby, Papua New Guinea
Mobile (PNG):+675 72319913
Mobile (Int): +61 414529814