21 February, 2022
Welcome to this week's JMP Weekly Report
Last week was a more impressive week with several trades executed on the local exchange. BSP traded 449,233 shares closing unchanged at K12 along with NCM with 10 shares trading unchanged at K75 per share.
KSL saw 37,935 shares trade closing up K0.15 or 5.26% to close at K3.00 along with KAM trading 21,761 shares closing up K0.05 or 5.26% to close at K1.00 and CCP saw 112,565 shares exchange hands also closing up 0.01 toea to finish the week off at KK1.60 per share.
A momentous week for STO with their first trade with 1,255 shares @ K16.55, phew, I thought they had forgotten about us since merging Oil Search.
WEEKLY MARKET REPORT | 14 Febraury, 2022 – 18 February, 2022
| | | | | | | | | | | | |
| --- | --- | --- | --- | --- | --- | --- | --- | --- | --- | --- | --- |
| STOCK  | QUANTITY | CLOSING PRICE | CHANGE | % CHANGE | 2021 FINAL DIV | 2021 INTERIM | YIELD % | EX-DATE | RECORD DATE | PAYMENT DATE | DRP |
| BSP | 499,233 | 12.00 | – | – | k1.0500 | 0.39000 | 11.61 | FRI 24 SEPT | MON 27 SEPT | MON 18 OCT | NO |
|  KSL | 37,935 | 3.00 | 0.15 | 5.26 | K0.1690 | 0.08250 | 7.74 | WED 1 SEPT | THUR 2 SEPT | FRI 1 OCT | NO |
| STO | 1,255 | 16.55 | – | – | K0.0000 | – | 0 | MON 30 AUG | TUE 31 AUG | TUE 21 SEPT | – |
| KAM  | 21,761 | 1.00 | 0.05 | 5.26 | K0.0400 | 0.06000 | 10 | WED 15 SEPT | MON 20 SEPT | THUR 20 OCT | YES |
| NCM  | 10 | 75.00 | – | – | K0.0000 | – | 0 | THU 26 AUG | FRI 27 AUG | THUR 27 OCT | – |
| NGP | – | 0.70 | – | – | K0.0000 | – | 0 | FRI 17 SEPT | FRI 24 AUG | MON 1 NOV | – |
| CCP | 112,565 | 1.60 | 0.01 | 0.63 | K0.1800 | 0.04600 | 6.19 | FRI 1 OCT | FRI 8 OCT | FRI 26 NOV | YES |
| CPL | – | 0.95 | – | – | K0.1800 | – | 0 | – | – | – | – |
Note, dividend Ex, Record and Payment dates will be updated once the 2021 Annual Results are announced
ASX dual listed stocks
BFL – $4.45 offers at 4.39
KSL – $.88 offers at .84
NCM – $24.36 offers at 22.30
STO – $7.00 offers at 6.90
On the interest rate front we saw the TBills bid down slightly with more volume accepted than what was originally on offer for the auction. The 364 average rate came in at 5.16% and as expected I see the bills flatlining with a possible softening.
No details are forthcoming on a possible GIS auction this month as this point
ASX Newcrest Mining - Financial Report
ASX Santos - Annual Report
---
What we've been reading this week
Battery recycling in Europe
Tom T.
Due to the increasing spread of battery-electric vehicles, the demand for lithium-ion batteries will increase in the coming years. Recycling capacities for lithium-ion batteries (LIB) are being built up in Europe at a different time than the market ramp-up of electromobility.
The market for LIB recycling is in an early phase with high growth rates and numerous entry opportunities. This is noticeable in the numerous recycling projects that have been announced. The recycling plants installed and announced in Europe, which are scheduled to run by the end of this year, corresponding to a total capacity of approximately 112 kilotons LIB per year. The research shows that the capacity of recycling plants in Europe could be at least around 277 kilotons per year in 2030.
Some large companies, such as Redwood Materials and the joint venture between Renault, Solvay and Veolia, have already announced that they will build recycling plants in the next few years. The planned recycling capacities have not yet been publicly announced as the plants are still in the planning stage. So far, there is no established process route for LIB recycling, so various combinations of individual recycling processes and technologies are currently being used or tested.
Note: the creators of the map took the hint (comments) with the supply chain into account. But since the map for Europe does not offer many players for the raw material, they decided on recycling.
Maritime sector eyes carbon price on bunker fuels as possible decarbonisation solution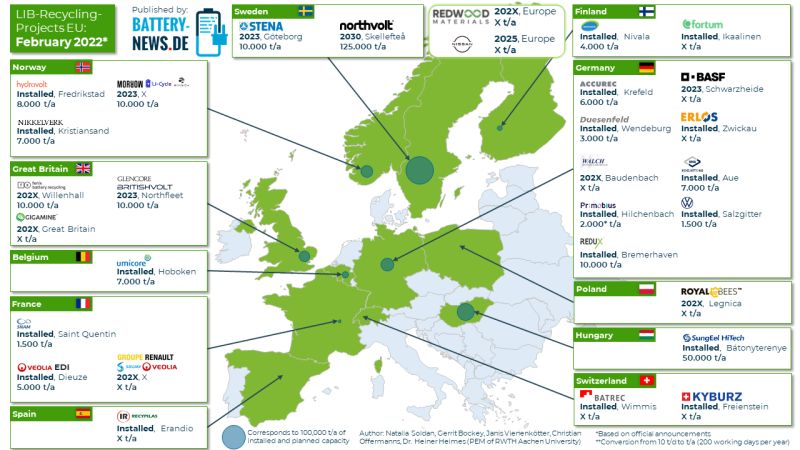 Industry may see climate ambitions raised next year
Carbon price floated as 'most cost-effective way forward'
Net-zero goal requires $191-$360/mt CO2 price
Putting a price on carbon from bunker fuels is gaining traction among the maritime industry as it seeks to slash at least half of the greenhouse gas emissions from international shipping by 2050 and could see that target elevated to a net-zero emissions goal next year, industry stakeholders said Feb. 17.
"Many maritime stakeholders are already calling for this level of ambition to be raised to full decarbonisation of the sector by the middle of the century," as the International Maritime Organization prepares to finalize its GHG strategy next year, Katharine Palmer, global head of sustainability at Lloyd's Register and shipping lead for the UN High-Level Climate Champions, said at the Transforming Transportation forum, which the World Bank and World Resources Institute hosted.
"In order to achieve these climate objectives in an economically efficient way, analysts agree that the upcoming regulatory framework will likely need to include a market-based measure," she said, and pointed to carbon pricing as "the most cost-effective way forward."
On this issue, "the maritime industry has the historical opportunity to be ahead of the curve, … as it can shape one global multilateral framework, [whereas] other industries need to implement many national frameworks where there's a risk of free riders and no global enforcement," said Jan Hoffmann, head of trade logistics for the UN Conference on Trade and Development.
He added that delaying action toward implementation of a multilateral framework with a predictable price for carbon "may lead to higher freight rates than a levy itself because the resulting uncertainty among shipowners and shipbuilding investors will delay investments which in turn will lead to a shortage of shipping supply."
'Competitiveness gap'
Ingrid Sidenvall Jegou, project director of the nonprofit Global Maritime Forum, said research has found that a carbon price between $173/mt and $264/mt CO2 would be needed to achieve a 50% reduction in maritime emissions by 2050. A price between $191/mt and $360/mt CO2 would be needed for the full decarbonization of the sector.
"But under the current policy and technology frameworks, fossil fuels remain readily available, reliable, fairly still cheap, and they're compatible with existing ships and engines, [creating] a competitiveness gap that the market really cannot solve alone," she said. "And this hinders the energy transition, so this is why government action is really called for."
Her organization has called on governments to deliver policies and drive investments needed to reach zero emissions by 2050 while enabling an equitable transition. "If equity concerns aren't acknowledged and addressed, there simply won't be political support for such measures, so it's very much in the industry's interest and, of course not to mention, the moral imperative to really make sure that no one is left behind," Sidenvall Jegou said.
However, she contended that policy action to close the competitiveness gap cannot revolve around only one solution. Global market-based measures, she said, could be combined with standards, for instance.
A pathway to reaching zero emissions in the maritime sector "is still possible, but action really must be taken now," she added. "By the 2040s, zero-emission fuels need to be the dominant fuel choice so this really requires the development of international policy frameworks that accelerate and enable a just and equitable and effective transition."
Benefits, challenges
Panelists highlighted that in addition to making alternative fuels more competitive, a price on carbon would also generate funds to support the energy transition, climate-vulnerable communities, and those that stand to lose from the transition. Carbon revenues raised from international shipping could also be reinvested into the sector to improve trade logistics and lower maritime transport costs through better port infrastructure, trade facilitation, and shipping connectivity.
Hoffman added that it would also create opportunities for developing countries to proposer from the zero-carbon shipping business as alternative fuel providers. He noted that the bunker fuel market has historically been a very non-inclusive market.
Despite these benefits, Hoffman said there will still be some countries reluctant to support a carbon price for the sector. Yet, he was optimistic that they would see among the different options, including imposing a speed limit and prohibiting certain technologies, that the market-based solution was the least costly.
"But the devil is in the details," he said, predicting that there will be fights over what to do with the money, about delegating authority and competence. "There are loads of very complicated details. I can only hope that the majority of the delegates, countries, members have the vision to see any alternative would be worse."
---
Indian Government lays out new policy to accelerate hydrogen ambitions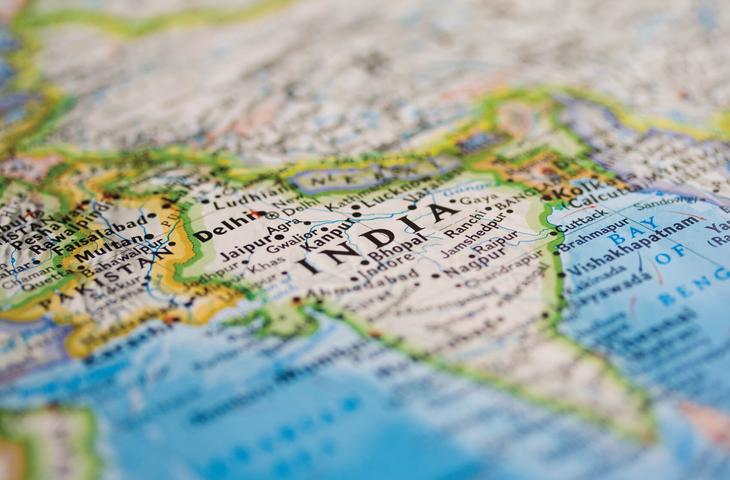 Molly Burgess on Feb 18, 2022
The Indian Government has today (Feb 18) made its latest move to help the country become a green hydrogen hub and produce five million tonnes of the energy carrier by 2030.
Hydrogen and ammonia manufacturers are set to benefit from new policy that has been described as a major step in India transitioning away from fossil fuels.
Under the new policy, green hydrogen and ammonia manufacturers may purchase renewable power exchange or set up renewable energy capacity themselves.
Further to this, manufacturers will also be able to bank unconsumed renewable power for up to 30 days with a distribution company and take it back when required.
"The implementation of this policy will provide clean fuel to the common people of the country," the Indian Government said in a statement.
"This will reduce dependence on fossil fuel and also reduce crude oil imports. The objective also is for our country to emerge as an export hub for green hydrogen and green ammonia."
On the subject on export, the policy will also allow green hydrogen and ammonia manufacturers to set up bunkers near ports for storage of green ammonia for export.
---
I hope you have enjoyed this week's JMP Report, if you would like to open a trading account, need assistance on how you can increase your trading or you would like advice on whether you should be contributing to Superannuation and if so, which fund and at what levels.
Have a profitable week
Regards
Chris Hagan,
Head, Fixed Interest and Superannuation
JMP Securities
Level 1, Harbourside West, Stanley Esplanade
Port Moresby, Papua New Guinea
Mobile (PNG):+675 72319913
Mobile (Int): +61 414529814