29 August, 2022
Welcome to this week's JMP Report
We had a short week last week due to the public holiday which saw 4 stocks trade on the local bourse, BSP, KSL, NCM, and CCP. BSP traded good volume with 1,301,199 shares trading unchanged at K12.41, KSL saw 158,698 shares trade, down by 1 toea closing at K2.90. NCM traded a small parcel of 26 shares at K75.00 while CCP saw 316, 988 shares trade unchanged at K1.85. We have updated the Ex and Record dates. Please refer to the details below.
WEEKLY MARKET REPORT | 15 August, 2022 – 19 August, 2022
| | | | | | | | | | | | | |
| --- | --- | --- | --- | --- | --- | --- | --- | --- | --- | --- | --- | --- |
| STOCK  | QUANTITY | CLOSING PRICE | CHANGE | % CHANGE | 2021 FINAL DIV | 2021 INTERIM | YIELD % | EX-DATE | RECORD DATE | PAYMENT DATE | DRP | MARKET CAP |
| BSP | 1,002,519 | 12.41 | – | – | K1.3400 | – | 11.61 | THU 10 MAR | FRI 11 MAR | FRI 22 APR | NO | 5,317,971,001 |
|  KSL | 21,446 | 3.00 | – | – | K0.1850 | – | 7.74 | THU 3 MAR | FRI 4 MAR | FRI 8 APR | NO | 64,817,259 |
| STO | 0 | 19.10 | – | – | K0.2993 | – | – | MON 21 FEB | TUE 22 FEB | THU 24 MAR | – | – |
| KAM  | 3,998 | 1.00 | – | – | – | – | 10.00 | – | – | – | YES | 49,891,306 |
| NCM  | 0 | 75.00 | – | – | USD$0.075 | – | – | FRI 25 FEB | MON 28 FEB | THU 31 MAR | – | 33,774,150 |
| NGP | 0 | 0.70 | – | – | – | – | – | – | – | – | – | 32,123,490 |
| CCP | 0 | 1.85 | – | – | K0.134 | – | 6.19 | THU 16 JUN | FRI 24 JUN | THU 28 JUL | YES | 569,672,964 |
| CPL | 6,282 | 0.95 | – | – | – | – | – | – | – | – | – | 195,964,015 |
I have attached the interim results and interim dividend for KSL, also the interim dividend announcement for STO. Attached also is the new Brief on Decarbonisation from Ashurst.
Download Announcement | KSL 2022 Interim Results
Download Announcement | KSL 2022 Interim Dividend
Download Announcement | STO 2022 Interim Dividend
Brief of Decarbonisation from Ashurst.
Download | Brief of Decarbonisation
Dual listed PNGX/ASX stocks
BFL – $4.90 steady
KSL – 92c +4c
NCM – $18.24 -11c
STO – $7.91 +39c
On the interest rate front
This week's TBill auction was bid down just slightly with the 364 day auction averaging 4.27% but there was a tail of bids accepted up to the original volume offering. Total bids received exceeded stock on offer by 101mill. I will bring the results of the GIS auction but were not available before authoring this week's report.
And something a little different;

Gold: Silver Ratio 91.22
AUD/USD 0.69775
Gold  $US1,758 ( Up $6.00 / 0.34%) $AU2,520 ( Down $15 / 0.59%)
Silver  $US19.27 ( Up $0.09 / 0.52%) $AU27.62 ( Down $0.12 / 0.43%)
Platinum $US877 ( Up $5 / 0.57%) $AU1,257 ( Down $5 / 0.39%)
---
What we've been reading this week
THE PLATINUM BULL CASE
Posted | 26/08/2022 / Views | 305
Long term supply and demand fundamentals remain positive for platinum, while the price has lagged. Platinum is largely mined and refined in South Africa, Zimbabwe and Russia, all countries facing a range of internal and external challenges. Annual mine production of platinum is less than a 10th of that of gold, and is estimated to be seven times rarer on the earth's surface than the yellow metal. With such limited supply, platinum may be set to 'do a rhodium'.  
Platinum is used today in catalytic converters in cars, jewellery, investment and a wide range of niche industrial uses. Incredibly rare, this dense, chemically-stable, gray-white metal has an occurrence of only 0.003 parts per million in the earth's crust.  Platinum is so rare, in fact, that its annual mine production is less than 1/15th that of gold. Its extremely high melting point (1,768°C), as opposed to gold (1064°C) has made it more difficult to be used as "money". It does share all of the other marks of 'sound money' in that it has a limited supply, fungible, and doesn't degrade in the natural elements. Platinum has only been used in recent history once for the purpose of currency. From 1828 – 1845, the Russian Empire primarily issued the 3 Rouble "Nikolai" following a major deposit of the "new Siberian metal" in the Ural Mountains in 1828.  
3 Rouble "Nikolai I" (0.995 platinum) circulated in Russia from 1828 – 1845
As we covered late last year, platinum is the big winner from the "Green Hydrogen" economy increasingly on the radar of world governments seeking to add alternative energy sources to their power grid. Industry titans such as Twiggy Forrest are calling for greater investment in this long term source of energy. Hydrogen on its own is a powerful fuel, a common component in rocket fuel, but technical challenges, such as long-term storage, have held it back from large-scale use. With an abundance of hydrogen, making up 75% of all physical existence no less, the technical challenge comes in isolating and storing the hydrogen energy in fuel cells. To do so, the hydrogen passes through fuel cells' platinum catalysts, which store the energy. Over time, this process wears the platinum down which requires more and more platinum.   
While Platinum doesn't have the same monetary chops as gold, it is approximately seven times rarer in nature. This differential of platinum being rarer but gold more revered has seen the two historically sit at parity with Platinum reaching highs of well over double the gold price in the year 2000 and 2008. Coinciding with the major market sell-offs more broadly.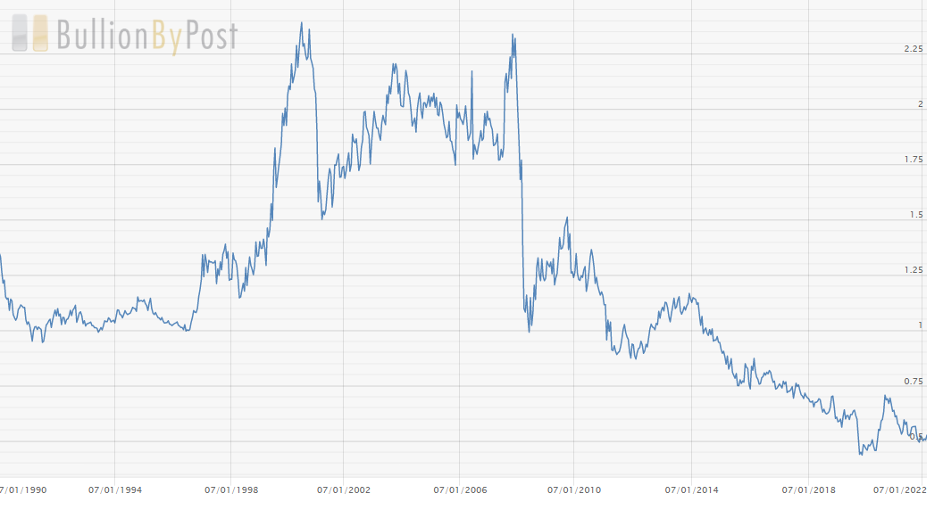 Since a strong period in the early 2000s, platinum has underperformed but may well be set for a reversal. At present, Platinum sits approximately 50% below gold, after returning back to the downtrend after breaking out above the long term resistance line.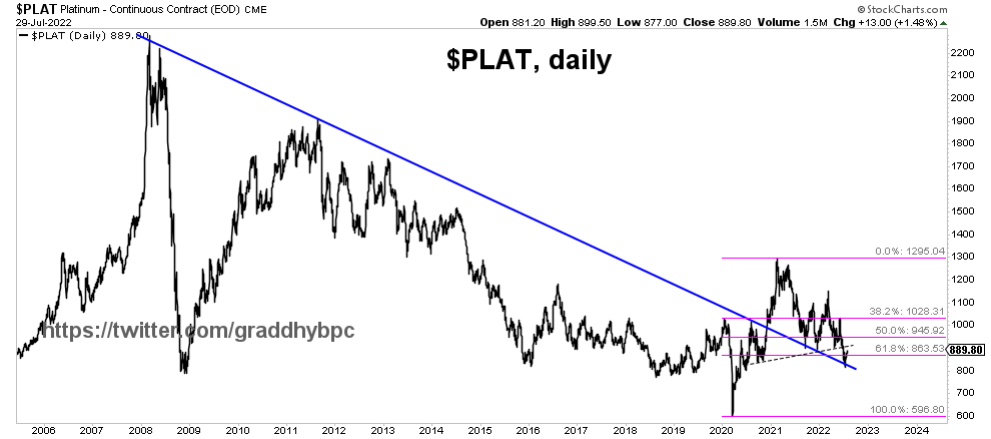 Another way to see how far beneath the mean platinum has been, is to compare the performance of each of the three precious metals in percentage terms. Gold has put on 517% since Jan 2000, Silver 269% and Platinum has just been trying to keep up but is 'only' 125% up since the birth of the new millenia.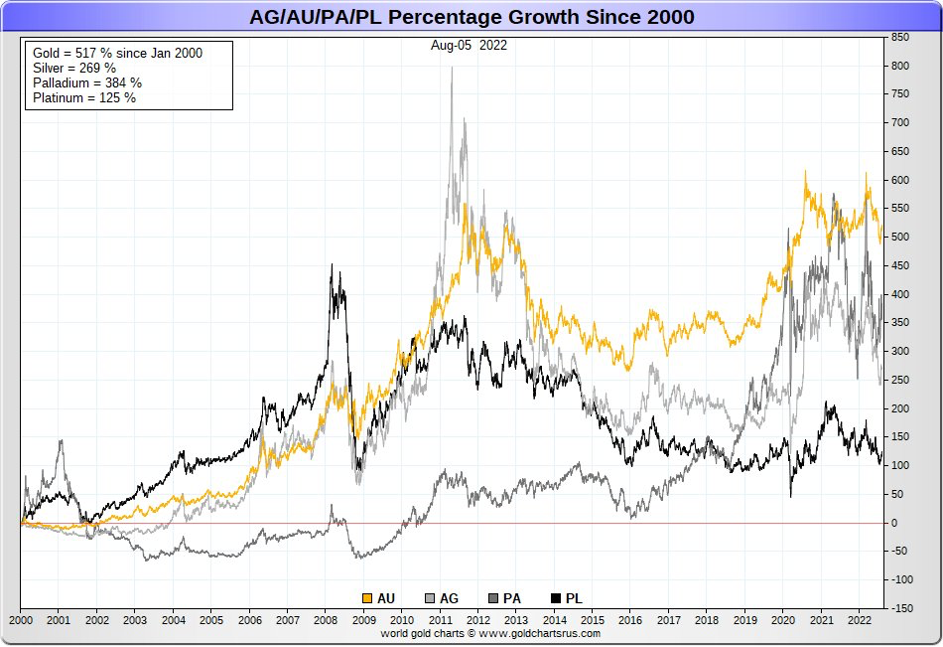 The only question now is whether or not we see platinum, with its continued industrial and monetary demand, doing a rhodium blast off followed by a sustained elevation.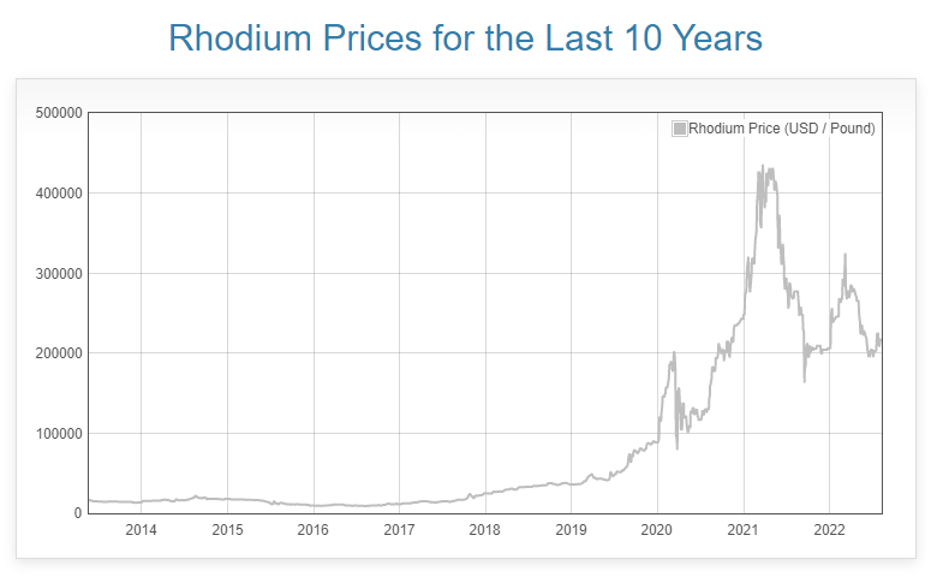 Platinum is recognised as a precious metal and as a result doesn't attract any GST when sold in its pure bullion form. Visit the platinum section of Ainslie Bullion to see the whole range: Platinum Ainslie Bullion.
---
Extreme China heatwave could lead to global chaos and food shortages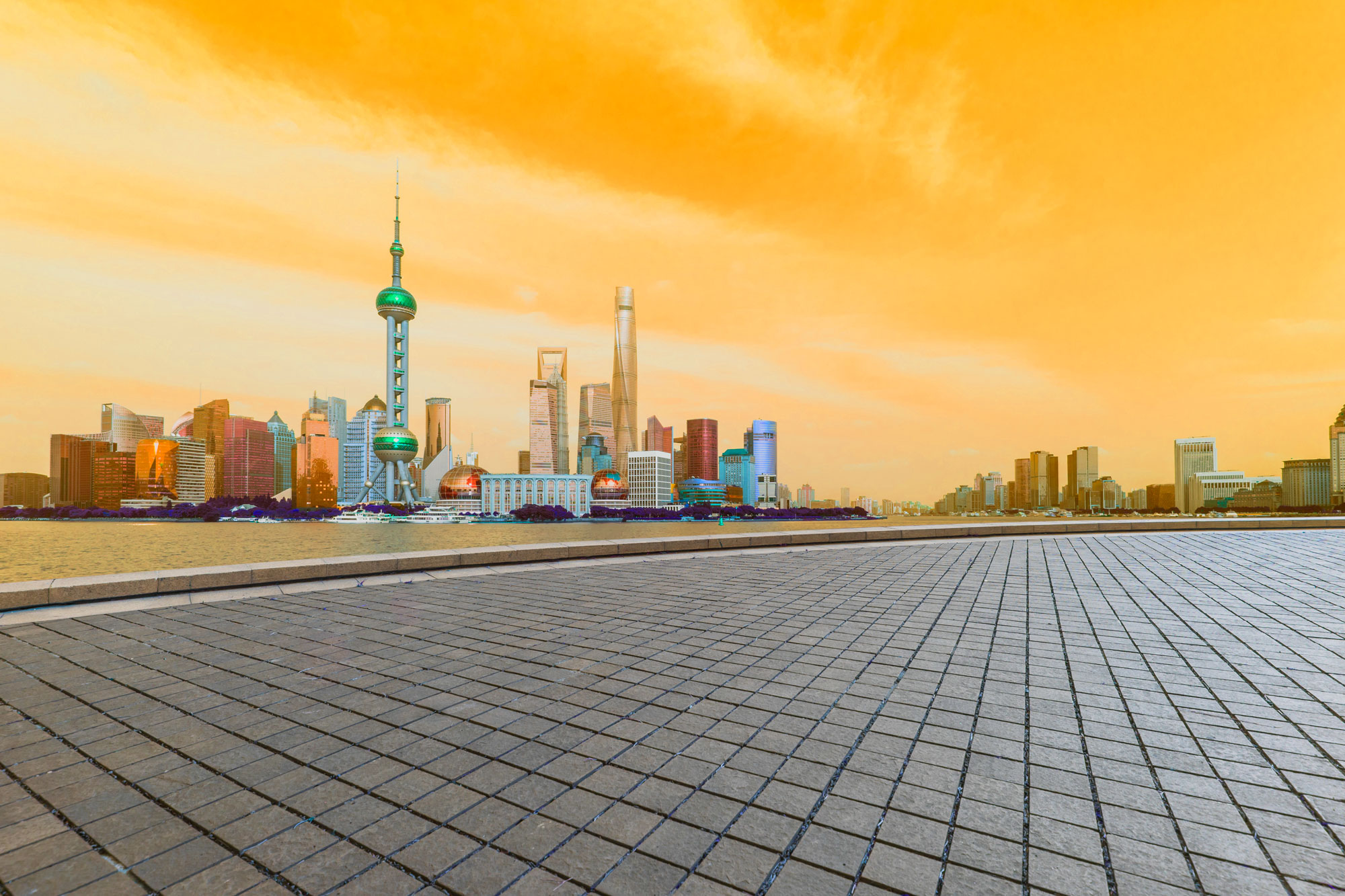 Jamie Seidel is a freelance writer | @JamieSeidel
China is experiencing a never seen before event and the impact will reach far across the globe – causing potential chaos and food shortage
China is struggling through an unrelenting heatwave which is the country's worst in six decades. Officials are taking measures across the country to battle the heatwave as household electricity demand surges and hydropower output dwindles. In Shanghai, outdoor ads and billboards have been shut off to save power. According to city officials, the iconic Bund skyline has gone dark in a desperate bid to save electricity.
Cars. Batteries. Solar panels. Food. Global shortages and soaring prices are almost certain as China's seemingly never-ending heatwave sears on.
It's the most extreme heat event ever recorded in world history. For more than 70 days, the intense heat has blasted China's population, factories and fields. Lakes and rivers have dried up. Crops have been killed. Factories have been closed.
More than 900 million people across 17 Chinese provinces are subjected to record-breaking conditions. From Sichuan in the southwest to Shanghai in the east, temperatures have been topping 40C.
In the Sichuan city of Dazhou, an air raid shelter has been converted into a heat refuge. In Chongqing, subway stations are opening to offer subterranean recovery stops.
But the extreme heat and dry weather are having far-reaching effects.
Energy, water, and food supplies are being hit across the country. Rivers are drying up. Dams are emptying. Hydroelectric plants are shutting down.
That means factories are being closed to divert available electricity toward residential use.
In the fields, crops and animals are wilting – as are their human tenders. Hundreds of thousands of acres have already been seared, with serious worldwide repercussions expected on food supplies and prices – especially vegetables and grains.
The Sichuan megacity of Chongqing, home to some 30 million people, reached a top of 45C on August 18. On August 20, the city's overnight minimum bottomed out at 34.9C.
These are the highest temperatures China has recorded outside the occupied desert province of Xinjiang.
"There is nothing in world climatic history which is even minimally comparable to what is happening in China," weather historian Maximiliano Herrera told New Scientist. "This combines the most extreme intensity with the most extreme length with an incredibly huge area all at the same time."
Electricity demand for cooling has spiked at the same time production has plummeted.
Not enough water is flowing through hydroelectric power turbines. Nuclear power plants are struggling to keep their reactors cool.
Chinese sources state some 66 rivers have dried up completely. And parts of the critical Yangtze river systems are at a third of their normal levels – the lowest since records began 150 years ago.
This has been a particular problem in Sichuan province. It gets some 80 per cent of its electricity from hydropower. Now thousands of factories have been ordered to close. Offices and shopping centres have been instructed to cut lighting and set airconditioning temperatures higher.
A man selling soft drinks on the Bund promenade along the Huangpu River waits for customers as decorative lights are switch off as a measure to save energy in Shanghai on August 23, 2022. (Photo by Hector RETAMAL / AFP)
But the effect of low water levels extends far beyond this.
Shipping cargo routes are blocked. Long-lost Buddhist statues are being exposed among the drying mud. And drinking water is being rationed.
Supply chains broken
Among the global corporate players affected by the Sichuan shutdown are car manufacturers Toyota, Volkswagen and Tesla. It's home to major Intel and Apple assembly plants, as well as the world's largest battery maker, Amperex Technology. The region is also a significant producer of the globally critical mineral lithium and polysilicon solar panels.
Toyota has reportedly resumed some production by acquiring a large-scale diesel generator. But, in Shanghai, Tesla has been forced to appeal to local authorities to be exempted from power restrictions to maintain its supply of electric vehicle components.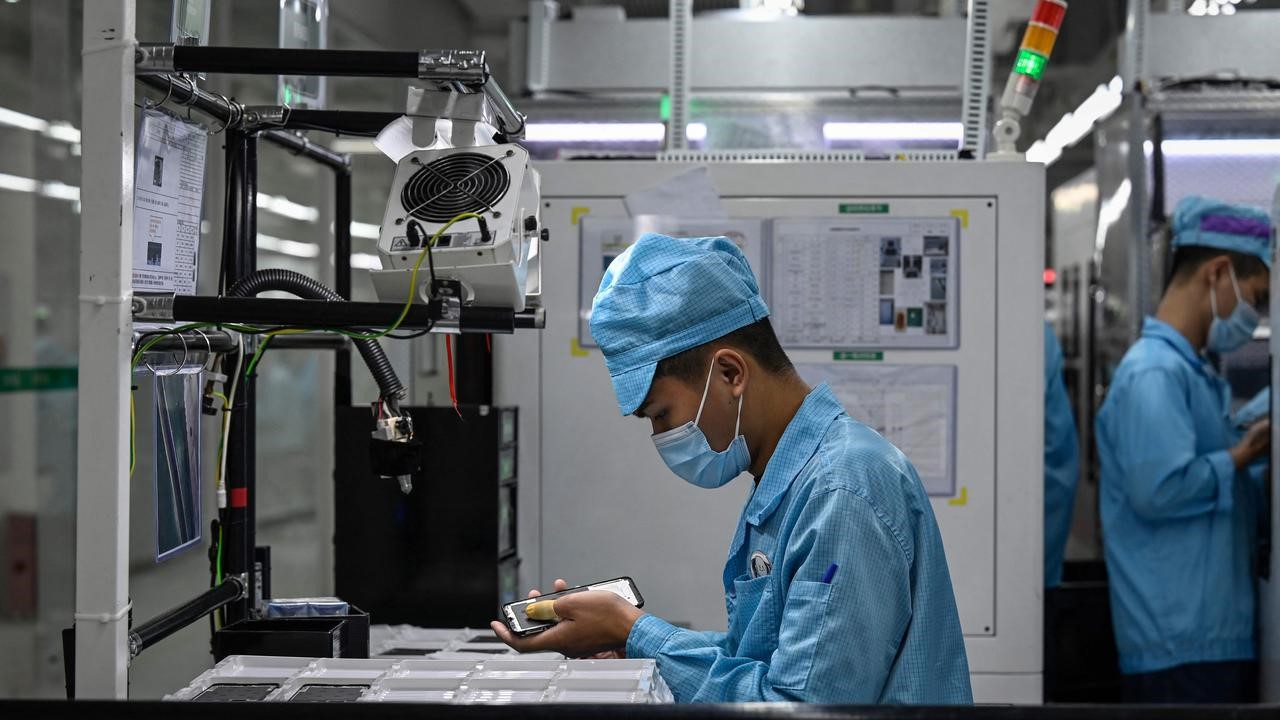 Employees working on a smartphone assembly line at Oppo factory in Dongguan, in China's southern Guangdong province. (Photo by Jade GAO / AFP)
The trickle-down effects will extend globally.
Lithium prices are soaring: China has long cornered the market.
And many of the technologies needed to combat the climate crisis exacerbating China's woes will now likely become much more expensive and harder to find.
But the most immediate problem will be food.
Global supplies of grains are already far short of requirements because of Russia's ongoing invasion of Ukraine. That fight has removed some 20 per cent of exported wheat, barley and corn from the market.
Prices are already surging.
Now China is facing severe shortfalls in the autumn harvest of rice and wheat in the Yangtze basin. And analysts say that's likely to be yet another stressor on global food prices.
In Sichuan province alone, 47,000 hectares have reportedly been lost, and another 433,000 hectares seared.
The problem, however, extends far beyond Sichuan.
The empire strikes back
China's Communist Party says it is taking "resolute" action to combat the crisis.
It has ordered water to be released from its Himalayan reservoirs. An intense program to fire cloud-seeding agents into the sky is underway. And crops are being doused with water-retaining chemicals.
The Ministry of Agriculture said in a notice that the heatwave posed severe challenges.
"Relevant authorities should issue alerts for high temperatures in a timely manner and take targeted measures to mitigate the adverse effects of the hot weather on autumn grain output," a recent public notice ordered. "More efforts should be made to ensure there is adequate irrigation water, open up new water sources, stagger rotation of irrigation and produce artificial rainfall when necessary."
Chinese forecasters are hopeful some relief will arrive this weekend.
Chief forecaster at the National Meteorological Centre Chen Tao said the eastern provinces were expected to get some relief from the heat on Friday. But Sichuan wasn't expected to experience a change until Monday.
"There will be relief from the heatwave in most parts of China by the end of this month," Chen told state-run China News Service.
---
Canada signs non-binding agreement with Germany to export hydrogen to Europe by 2025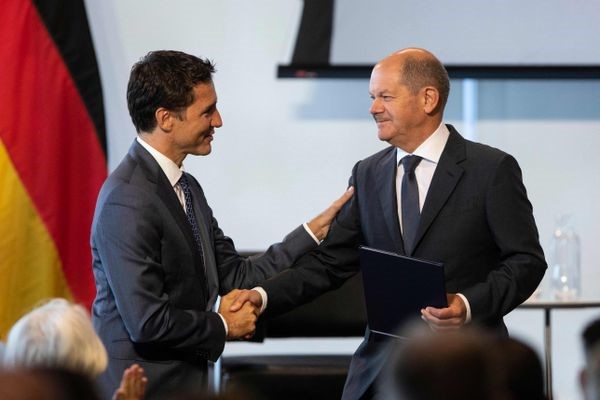 STEVEN CHASESENIOR PARLIAMENTARY REPORTER, CLAUDIA SCHOLZ, STEPHENVILLE AND TORONTO
Prime Minister Justin Trudeau, left, shakes hands with German Chancellor Olaf Scholz during the Canadian-German Business Forum in Toronto on Aug. 23, 2022.COLE BURSTON/AFP/GETTY IMAGES
The Canadian and German governments have signed a deal to co-operate on exporting hydrogen fuel to Europe, setting an ambitious target of 2025 to begin shipments from Eastern Canada – where a single hydrogen production plant has yet to be built.
Prime Minister Justin Trudeau and German Chancellor Olaf Scholz signed the agreement in the western Newfoundland town of Stephenville, near the site of a proposed wind farm project that would power the production of hydrogen from electrolysis.
The joint declaration of intent makes clear the agreement is not legally binding and stipulates it will be up to Canada's Minister of Natural Resources and Germany's Ministry of Economic Affairs and Climate Action to keep track of whether it's making progress on its goals.
Why Newfoundland is betting big on wind and hydrogen
This Australian billionaire wants to be the world's green hydrogen baron. He's pushing Canada to join him
Opinion: Canada's moment with Germany won't last long if it doesn't move fast
"The participants aim to closely collaborate on all aspects necessary to kick-start the hydrogen economy and to create a transatlantic supply chain for hydrogen well before 2030, with first deliveries aiming for 2025," the agreement says.
The agreement is part of the German government's effort to become less dependent on Russian fuel supplies by deepening energy partnerships with Canada and other countries. In recent months, as tensions over Russia's invasion of Ukraine have mounted, Moscow has reduced flows of natural gas to Europe, forcing Germany to brace for gas rationing.
Canada currently produces about three million tonnes of hydrogen from natural gas a year, according to the federal government's 2020 Hydrogen Strategy, which puts this country among the top 10 producers of the fuel in the world today. The Germans, however, want hydrogen made from renewable power and a raft of projects are under way in Canada to meet this demand.
The Canadian-German agreement sets no targets for volumes of hydrogen produced and contains no commitments of new money to help commence exports to Europe by 2025.
Instead, the Canadian government said existing programs, such as the $1.5-billion Clean Fuels Fund, and the $8-billion Strategic Innovation Fund's Net Zero Accelerator Initiative, are being used to help spur hydrogen production.
The German government did not put a figure on funding for this agreement, but said in the declaration Berlin "will support domestic importers and consumers of hydrogen and its derivatives."
Natural Resources Minister Jonathan Wilkinson acknowledged the targeted start date for exports is very aggressive. "It's very ambitious, but it reflects the fact that Germany sees how this can help them in their current context," the minister said.
He said he expects the volumes of exports in 2025 "are probably going to be modest."
Mr. Wilkinson said he's aware of about 15 hydrogen production projects at different stages of development that would be powered by renewable energy such as wind or water. "Our hope is that at least one or two of them would be producing by 2025," he said.
Dozens of protesters demonstrated outside Tuesday's announcement, many of them with signs opposing the proliferation of wind turbines that will accompany a green hydrogen industry in the region.
Most hydrogen export proponents are looking at transporting it to Europe by converting it to liquid ammonia before shipping, Mr. Wilkinson said. The liquid would be converted back to hydrogen after crossing the Atlantic.
Asked how Ottawa and Berlin would keep this agreement on track and progressing, Mr. Wilkinson said a primary driver of this effort is Germany's desire to end its reliance on Russian energy. "Part of this is being driven by the desire to displace Russian gas," he said.
Mark Agnew, senior vice-president of policy and government relations at the Canadian Chamber of Commerce, said the hydrogen pact is merely the beginning of a rigorous effort needed to begin exports. "There is still a lot of work to undertake between now and 2025, such as permitting approvals and building infrastructure before first shipments can occur," Mr. Agnew said.
The challenge with joint declarations, such as the one Canada and Germany have made, is "they risk being filed away and ultimately forgotten after a few follow-up meetings," Mr. Agnew said. He said it will be vital for regular and transparent reporting on progress.
Canadian efforts to help Germany wean itself off Russian energy do not include any funding to construct infrastructure that might ship liquefied natural gas to Europe – even though Canada is the fifth-largest natural gas producer in the world.
Mr. Trudeau, who wants to reduce use of fossil fuels, on Monday cast doubt on the business case for exporting natural gas directly from the East Coast or Quebec to Europe, saying locations for plants to convert the fuel to liquefied natural gas are too far from Western Canadian sources to be economical.
But the Canadian Gas Association, which represents the natural gas delivery industry, said this week that the biggest obstacle to building LNG facilities on the East Coast is regulatory uncertainty. The association said investors can't be sure when or if the federal government will approve the necessary pipeline infrastructure.
The agreement also says Ottawa and Berlin will set rules that define the carbon intensity of hydrogen so producers can determine what can be called clean, low carbon or renewable hydrogen.
"The transformation is moving forward. Our industry is investing to produce in a climate-neutral way in the future," Mr. Scholz said.
Klaus-Dieter Maubach, the chief executive of German utility Uniper SE, who accompanied Mr. Scholz on the German leader's visit to Canada, said a co-operation agreement signed with a Nova Scotia green hydrogen and ammonia producer represents a "great starting point for us to develop hydrogen businesses in Canada."
Uniper signed a memorandum of understanding with Nova Scota-based EverWind Fuels LLC to purchase green ammonia from the company's planned Point Tupper, N.S., production facility. The German company would buy 500,000 tonnes per year of green ammonia, which can be turned into hydrogen.
"It has to start somewhere," he said.
He said 70 to 80 per cent of the hydrogen Germany will need as it transitions to a greener economy will have to be imported.
The Flensburg shipbuilding company FSG-Nobiskrug and the Canadian transport company Oceanex were also expected to sign an agreement Tuesday for the construction of a transport ship to supply Newfoundland and Labrador. Oceanex currently uses three transport ships to deliver goods to the island every day, from food to raw materials to cars. One of them already comes from the FSG-Nobiskrug plant.
Mineral deals with Volkswagen, Mercedes
In view of impending shortages of important raw materials for battery production, Volkswagen wants to rely more on Canada. The auto maker and the Canadian government signed a memorandum of understanding on Tuesday to secure access to Canadian raw materials for batteries in electric vehicles. The letter of intent was signed on Tuesday by outgoing VW CEO Herbert Diess and Canadian Industry Minister François-Philippe Champagne.
"We are not opening our own mines, but we want to acquire stakes in Canadian mines and mine operators," VW chief technology officer Thomas Schmall told The Globe and Mail. The aim, he says, is to secure volumes and prices through long-term supply agreements. Canada has virtually all the raw materials we need for battery production," Mr. Schmall says.
VW is investing €20-billion worldwide in the battery value chain. The company will invest a single-digit billion amount in Canada, as Mr. Schmall said.
The company is currently planning six battery cell factories in Europe and another in North America. Mr. Schmall is not yet revealing whether this will be in Canada or the United States.
It's not the only company with big plans in Canada. The Stuttgart-based car manufacturer Mercedes-Benz AG also signed a declaration of intent on Tuesday to purchase raw materials. Chief technology officer Markus Schaefer, responsible for Development and Purchasing, was part of the delegation led by Mr. Scholz and Economics Minister Robert Habeck.
Mr. Schaefer said Mercedes is in the process of drastically increasing the production of electric vehicles. "That's why we're also exploring new ways to responsibly obtain the raw materials needed for this." Canada, he said, is a "powerful partner for this."
Mercedes wants to tap "potential in the mining and refinery segment in Canada, as well as in the area of active cathode precursors." To this end, Mercedes wants to build relationships with the Canadian mining sector – and work closely with the German-Canadian company Rock Tech Lithium Inc.
Rock Tech says it plans to supply Mercedes with 10,000 metric tonnes of lithium hydroxide annually starting in 2026. The two companies have signed an agreement to this effect.
However, Rock Tech's lithium mine in Canada is still in the approval process, according to CEO Markus Brügmann. The raw material from which the battery-grade lithium hydroxide will be extracted will initially come from Australia, among other countries, until the Canadian mine comes on stream, and will be refined in Germany.
---
I hope you have enjoyed this week's report, if you would like to discuss your investment journey, please do not hesitate to contact me.
Regards,
Chris Hagan.
Head, Fixed Interest and Superannuation
JMP Securities
Level 1, Harbourside West, Stanley Esplanade
Port Moresby, Papua New Guinea
Mobile (PNG):+675 72319913
Mobile (Int): +61 414529814