June 21, 2021
Welcome to this week's JMP Report.
On the equity front this week we saw a Trading Halt announced by BSP in regard to an article printed in the Australian Financial Review. Robin Fleming, CEO BFL Group responding in return that has released the Trading Halt.
Locally we saw a short trading week. Only stock that traded was KSL, trading 77,000 shares at K3.25. Refer details below;
WEEKLY MARKET REPORT 15.06.21 – 18.06.21

STOCK

QUANTITY

CLOSING 

CHANGE

% CHANGE

BSP

–

 12.30

.

 

KSL

77,000

 3.25

–
 

OSH

–

10.50

–
 

KAM

–

 1.00

–
 

NCM

–

 75.00

–

 

CCP

–

 1.70

–
 

CPL

–

 0.70

–

 
On the interest rate front, I sent through the Government Inscribed Stock auction for tomorrow. If you would like further information, please contact me. I expect there to be good interest again in the auction as it is likely to be some time before we see more Government Inscribed Stock issued.
The TBill auction came in at 7.20% for the 364days and is keeping the yield curve, well, consistent let's say.
The Finance Company money is still around mid 5's. The real interest is in the longer parts of the yield curve with good value around from 2yr out to the 6yr areas in particular.
---
What we have been reading this week
BlackRock Acquires Baringa's Climate Change Scenario Model
Posted by Mark Segal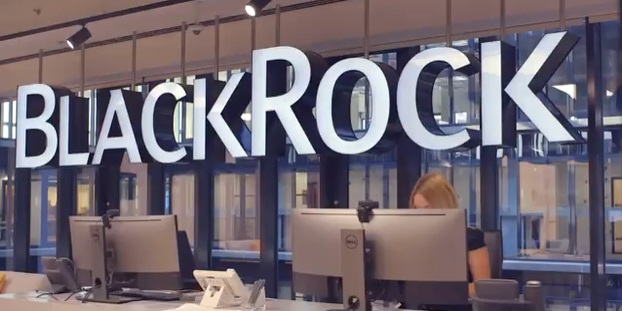 BlackRock, the world's largest asset manager, announced today an agreement with business and technology consultancy Baringa Partners to acquire Baringa's Climate Change Scenario Model, and to integrate the model into BlackRock's Aladdin Climate technology.
Understanding the potential impact of climate change, and the transition to a low carbon economy, on investments and portfolios is an emerging focus area for investors, and climate scenario analysis is a key tool to manage and assess this risk. Baringa's Climate Change Scenario Model is a fully integrated transition and physical risk model, enabling users to see climate impacts at portfolio down to individual asset levels, across multiple asset classes, using multiple bespoke scenarios. The solution informs clients with assets totalling over $15 trillion, supporting the management of climate risk and the reallocation of capital to achieve net zero.
Aladdin is BlackRock's end-to-end operating system for investment professionals. Last year, BlackRock announced the launch of Aladdin Climate, a software-based solution enabling financial institutions and investors to quantify and measure the physical risk of climate change and the transition risk to a low-carbon economy on their portfolios, using climate-adjusted security valuations and risk metrics.
Sudhir Nair, Global Head of the Aladdin Business at BlackRock said:
"Investors and companies are increasingly recognising that climate risk presents investment risk. Through this partnership with Baringa, we are raising the industry bar for climate analytics and risk management tools, so clients can build and customise more sustainable portfolios. The integration of Baringa's models and the ongoing collaboration between our firms will enhance Aladdin Climate's capabilities, helping our clients understand transition risks in more sectors and regions than ever before."
Under the new agreement, the companies will form a long-term partnership, aiming to set the standard for modelling the impacts of climate change and the transition to a low carbon economy on financial assets for investors, banks and other clients. Baringa will use the core Aladdin Climate capabilities as part of its growing global consulting work in advising financial services, governments, regulatory bodies, and clients across all sectors on climate risk and developing net zero strategies.
Colin Preston, Global Head of Climate Solutions at Baringa said:
"Climate change is the number one challenge and opportunity of our generation. Having developed the leading Climate Change Scenario Model, we are excited to partner with BlackRock to accelerate the adoption of this solution by organisations across the globe. The integration of Baringa's Climate Change Scenario Model into BlackRock's Aladdin platform will inform the reallocation of capital across the global economy, accelerating the transition to net zero."
---
High greenhouse gas emitters should pay for carbon they produce, says IMF
Companies should be subject to globally agreed carbon floor price to reach Paris climate goals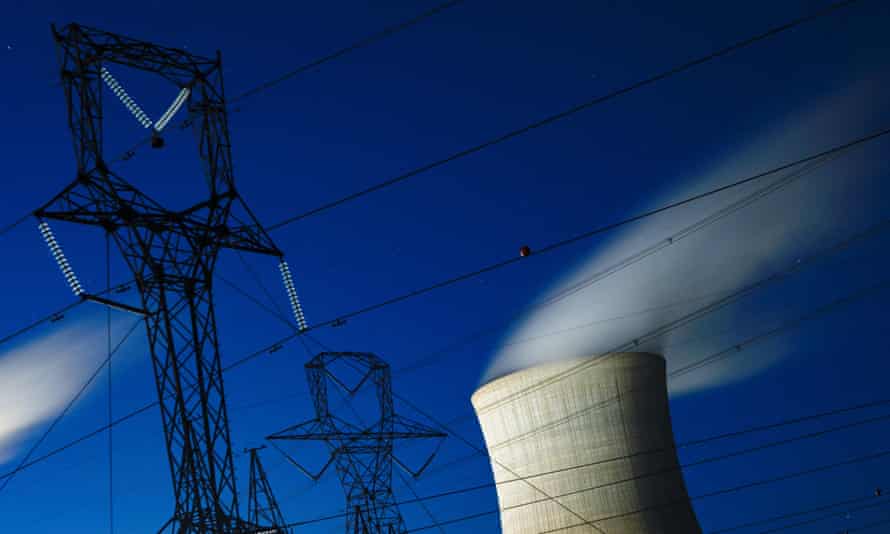 Steam rises from a coal power plant in Adamsville, Alabama, in the US. Photograph: Andrew Caballero-Reynolds/AFP/Getty
Fiona Harvey Environment correspondent
Companies with high greenhouse gas emissions should be subject to a carbon price of $75 a tonne of carbon dioxide, the International Monetary Fund has said, as a way of reaching the goals of the Paris climate agreement.
A carbon floor price would mean that companies, including energy generators and heavy industries, would have to pay for the carbon they produce. At present, many countries and regions have their own carbon pricing systems, but there is no globally agreed carbon price.
The IMF urged the G20 countries, made up of the world's most developed and developing economies, to adopt a carbon floor price for their industries, as the quickest way of reaching net zero emissions.
A price of about $75 per tonne of carbon dioxide would be needed by 2030 to meet the goal of staying within 1.5C to 2C of global heating, set under the Paris agreement in 2015, the IMF said. Countries responsible for about three-quarters of global emissions have now set out targets to reach net zero emissions around mid-century, in line with the Paris goals.
Rolls-Royce's jet engines to run on synthetic fuels as part of net-zero plans
Kristalina Georgieva, managing director of the IMF, said: "To help save the planet we must work together to prevent a climate crisis from turning into a catastrophe. A robust price on carbon can play a hugely important role – and even more so when it is a product of an international agreement. We see an international carbon floor price as a viable option to reach such an agreement and will continue our work on it."
Bob Ward, policy and communications director at the Grantham Institute on Climate Change at the London School of Economics, who was not involved with the proposals, said: "This is an excellent initiative and leadership by the IMF. We have already seen in the UK that even a relatively modest carbon floor price can help to accelerate the phase-out of coal in particular. A carbon floor price removes some of the uncertainty for businesses and allows them to invest with greater confidence in technologies and processes to reduce emissions."
If a carbon price were adopted by the G20, it would also affect the proposals some countries are now bringing forward on carbon border taxes.
Carbon border taxes, also known as carbon border adjustment mechanisms, or CBAMs, are currently under consideration by the EU, the UK, the US and others. These countries have strong targets on reducing emissions over the next decade, but are worried about their industries being undercut by cheap imports from countries with lax climate regulations or high emissions, such as China.
Taxing imports for the amount of carbon released in their production would ensure a level playing field for countries with strong climate regulations, and give a strong incentive to other countries to clean up their industries. But they are seen as controversial in some quarters and could be challenged, or could provoke trade retaliation.
Carbon pricing can take many forms in practice, from taxes on fuels to carbon trading systems, such as that operated by the EU, under which businesses are allocated or must buy tradable permits to produce carbon dioxide, with laggards forced to buy the excess permits of those that have cut carbon fastest.
The EU started its carbon trading system in 2005, and China, parts of the US, and other countries have since taken up similar approaches, but still only about a fifth of global greenhouse gas emissions fall under any form of pricing system. According to IMF calculations, of those emissions that do fall under form of price, the average price is only $3 a tonne, which is not enough to make any appreciable difference to emissions levels.
The IMF published its proposal on Friday, before a series of meetings of the G20, which has already taken steps towards a minimum corporate tax rate, and before Cop26, the UN climate talks to be held in Glasgow this November.
Georgieva, a former top official at the World Bank and EU commissioner, has been a long-time proponent of climate action, and has made clear that the IMF under her leadership will prioritise the climate emergency.
"This matters to the IMF because climate change presents huge risks to the functioning of the world's economies. The right climate policies can address these risks and also bring tremendous opportunities for transformative investments, economic growth, and green jobs – so much so that our board recently approved proposals to include climate change in our regular country economic surveillance and our financial stability assessment programme," the IMF said in a blog accompanying the proposal.
---
New Modular Green Hydrogen Fuel Station Keeps It Above Ground
Look ma, no leaking underground storage tanks: Australia launches new green hydrogen and fuel cell electric vehicle refuelling station.
By Tina Casey
Green hydrogen fans have lots to cheer about these days as one huge mega-project after another takes shape, but there is also some interesting activity bubbling up on the small end of the scale. With that in mind, let's check out a new modular, off-grid, above-ground, rainwater harvesting, solar powered hydrogen fuel station over in Australia. Wait, doesn't the US have one of those, too?
Keeping It Above Ground
Above ground is the keyword here. Electric cars get props for having nothing coming out of their tailpipes, and they also have this extra benefit of not contributing to the LUST problem, which for some reason nobody talks about. However, people should be talking about it, because LUST is a big problem — for gasmobiles, that is.
That's LUST, as in Leaking Underground Storage Tanks. When you pull into your local gas station, all of your gas does not come out of that little thing sticking up out of the ground. It comes from a storage tank below the surface. Not all of them leak, of course. However, there are a lot of them, and some of them leak into the ground, potentially impacting people who depend on underground aquifers for drinking, which EPA estimates includes about half the US population.
Here in the US, in 1984 Congress finally passed a law requiring corrective action for old leaking underground tanks for petroleum and other hazardous liquids, setting standards for new ones, and tasking EPA with creating a program to deal with the whole mess. Since then the law has been strengthened and expanded, but the problem persists.
Though EPA calculates that 37 states closed about 90% of their problem sites over the past 20 years, 544,000 underground storage tanks remain. They require constant monitoring, correction, and removal if necessary, and a quick stroll through the Intertubes reveals plenty of holes in the program.
"Addressing the LUST sites remaining to be cleaned up continues to be a high priority for EPA and our state, territorial, and tribal partners," EPA recently wrote, by way of introducing the idea that a backlog of cases remains, even as new ones pop up.
Above-Ground Modular Green Hydrogen Refuelling Station To The Rescue
One obvious solution to the LUST problem is to store your hazardous liquids above ground, where you can keep an eye on them. Another part of the solution is to store only the minimum necessary to fulfill near-term needs, and that's where green hydrogen comes in.
For those of you new to the hydrogen topic, most of the world's supply of hydrogen is produced by pulling it out of natural gas, which is why hydrogen fuel cell cars get the stink-eye from advocates for climate action. They have zero tailpipe emissions, but they drag a long tail of fossil energy baggage behind them.
Green hydrogen from renewable resources could solve that problem. It used to be a pie in the sky idea, until recent years when the cost of wind and solar power began to sink like a stone. That set the stage for electrolysis, which refers to systems that apply an electrical current to water, and out bubbles the green hydrogen.
That opens the door for hydrogen fuel stations that can store green hydrogen in above-ground tanks. Add a water storage tank and perhaps throw in a battery for additional energy storage, and everything you need is out in the open air.
That finally brings us to the latest news about green hydrogen fuel stations. The firm Hydrogen Fuels Australia has just dropped word that plans for a new hydrogen fuel station are under way for the Melbourne suburb of Truganina, which will give it bragging rights to the first ever off-grid modular green hydrogen production and fuel station in all of Australia.
"Founded on environmentally sustainable and 'low impact' concepts, H2FA's operation uses its own electrolysis assets (in island mode) to convert renewable power into green hydrogen," explains the company, emphasizing that this is a modular, off-grid system and not a grid-connected system.
The sustainable element includes rainwater harvesting to supply the electrolysis system.
---
Howden to deliver hydrogen storage compression solution for HYBRIT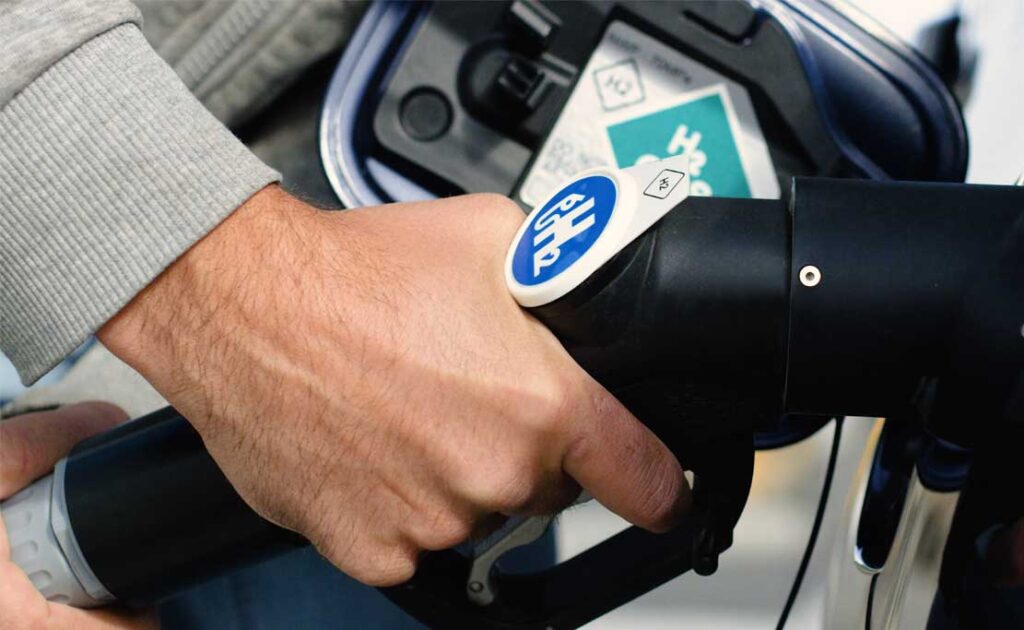 Howden to deliver hydrogen storage compression solution for HYBRIT.
[Mining International] Howden says it has been selected to deliver a hydrogen storage compression solution for HYBRIT, the world's first fossil-free steel plant, in Svartöberget, Sweden.
A joint project between Sweden's SSAB, LKAB and Vattenfall, HYBRIT is the deployment of a unique pilot project for large-scale hydrogen storage. This initiative leads the development of the world's first fossil-free value chain for the iron and steel industry, to address renewable hydrogen storage.
Howden has been contracted to supply a high-pressure diaphragm compression package to seamlessly integrate the storage cycle of the hydrogen production. The hydrogen compression includes installation and commissioning of a packaged three stage diaphragm compressor.
The storage facility consists of a 100 cu.m hydrogen storage built in an enclosed rock cavern approximately 30 m below ground. This offers a cost-effective solution, with the necessary pressure required, to store large amounts of energy in the form of hydrogen, Howden said.
The reliability, efficiency and safety delivered by Howden's compression solution matches with the large-scale hydrogen storage requirements, relative to the storage conditions and the evaluation of the amount of time during which the compression pressure remains at the desired level, it added.
HYBRIT supports the European Union's Hydrogen Strategy and its ambition to install at least 6 GW of renewable hydrogen electrolysers in the EU by 2024 and at least 40 GW by 2030.
Salah Mahdy, Global Director – Hydrogen at Howden, said:
Our partnership with HYBRIT demonstrates Howden's capabilities in developing and delivering state-of-art hydrogen compressor solutions, based on our long-standing compression expertise.
"We have over 100 years of experience in the compression of hydrogen, which is ideally placed to support the transition to a fossil-free energy system.
"We're thrilled to be working on this ground-breaking project, which has the potential to reduce Sweden's total carbon dioxide emissions by at least 10%. The steel industry currently accounts for about 7% of the world's global carbon emissions, so the creation of a zero-emission steel is revolutionary, and may, in the future, help to reduce emissions from iron and steel production worldwide."
Mikael Nordlander, Head of R&D Portfolio Industry Decarbonisation, Vattenfall, adds:
Fossil-free hydrogen is central to the HYBRIT process. Hydrogen can be produced cost-effectively through the electrolysis of water using fossil-free electricity.
 "The hydrogen produced by the electrolysers can be used immediately or stored for later use. One of the key aspects of our storage facility relies on the hydrogen compression to be deployed in a contamination-free manner. Based on their proven technology, expertise and references, we are delighted to cooperate with Howden on the integration of a reliable compression solution for storage."
Howden says it is focused on helping customers increase the efficiency and effectiveness of their air and gas handling processes enabling them to make sustainable improvements in their environmental impact. It designs, manufactures and supplies products, solutions and services to customers around the world across highly diversified end-markets and geographies.
I hope you have enjoyed the read and if you would like to discuss on how to invest in the market, please do give me a call,
Have a great week
Chris Hagan,
Head, Fixed Interest and Superannuation
JMP Securities
Level 1, Harbourside West, Stanley Esplanade
Port Moresby, Papua New Guinea
Mobile (PNG):+675 72319913
Mobile (Int): +61 414529814