August 16, 2021
Welcome to this week's JMP Report.
It was a quiet week on the PNG bouse as CCP lead the volume with 2,335 shares exchanging hands closing up 0.01 toea to K1.70 followed by BSP with 1,850 shares trading closing unchanged at K12.30. OSH traded 73 shares and closed higher 0.09 toea to close at K10.60. Our trading book shows buying interest in most stocks.
Many of our investors are focused on profit of their share investments through capital growth. But many are unaware of the income that share ownership produces. How many of our readers are aware what the final BSP dividend was for 2021?
Refer details below;
WEEKLY MARKET REPORT 09.08.21 – 13.08.21

STOCK

QUANTITY

CLOSING 

CHANGE

% CHANGE

BSP

1,850

 12.30

–

0.00

KSL

–

 3.25

–
0.00

OSH

73

10.60

0.09
0.86

KAM

– 

 1.00

–
0.00

NCM

–

75.00

–

0.00

CCP

2,335

 1.70

–
0.00

CPL

–

 0.80

–

0.00
BFL (BSP ASX) BID $5.45. Offer $5.55
On the Fixed Interest Market, rates in the short end remain driven by excess liquidity in the market. This week's 364 day TBill auction result was unchanged at 7.20% and Finance Company money is around the 5.50%. BPNG has met the markets oversubscription to soak up this liquidity, issuing more stock than was originally on offer. The long end remains positive and we have buyers looking for stock in the 6 to 10yr areas. 
---
What we have been reading this week
Japan proposes $10 bil in finance for ASEAN renewables, LNG to aid energy transition
Author: Takeo Kumagai 
Offer seeks to formulate carbon neutrality roadmaps
Carbon neutrality declarations, roadmap needed for transition finance
Japan also seeks energy transition with Australia, US, Middle East
Japan has offered ASEAN energy ministers $10 billion in public finance for renewables and LNG projects, as part of a package of measures aimed at helping the group of 10 Southeastern Asian economies accelerate their moves toward energy transition.
The offer, made during an extraordinary ministerial meeting June 21, comes at a time of increasing pressure in the financial sector to restrict finance for fossil fuel projects.
"For us in Asia, we should not miss this trend on board and see this an opportunity to seek both transition to cleaner society system and sustainable growth," Japan's Minister of Economy, Trade and Industry Hiroshi Kajiyama told the online meeting.
"In particular in Asia, where energy demand will grow hereafter, it is essential to seek diverse and realistic energy transition, by utilizing possible energy sources and technology, while taking into account each country's peculiarity of difference in geographic characteristics and development phase," Kajiyama said.
Japan's move came after Prime Minister Yoshihide Suga's pledge during the recent G7 summit to provide comprehensive support to developing countries' realistic transition to decarbonization based on individual countries' situations.
Support
Japan's package of actions, dubbed the Asia Energy Transition Initiative (AETI) and set to include a wide range of support measures for energy transition in ASEAN countries, was welcomed by ASEAN energy ministers, according to a joint statement issued following the meeting.
The members of the ASEAN union are Brunei, Cambodia, Indonesia, Laos, Malaysia, Myanmar, the Philippines, Singapore, Thailand and Vietnam.
As part of the package, Japan has proposed to help ASEAN members formulate individual roadmaps for energy transition toward carbon neutrality, with regional and individual carbon neutrality outlooks for 2050, 2060 and 2070 provisionally calculated by the Economic Research Institute for ASEAN and East Asia, or ERIA.
"Currently, ERIA is working on drawing roadmaps for each ASEAN country to achieve its carbon neutrality," Takeshi Soda, director for international affairs at METI's Agency for Natural Resources and Energy, told S&P Global Platts. "By using these kinds of analysis, Japan will support individual countries to formulate their roadmaps as we already have specific support requests from some countries."
Transition finance
Japan also proposed the idea of the Asia Energy Transition Finance scheme, as the region will need finance to achieve its diverse energy transition arrangements, with projects such as gas-fired power plants potentially not able to secure needed finance in the face of global headwinds against fossil fuels.
Public financial institutions such as the Asian Development Bank and the World Bank Group's International Finance Corp have been instrumental in building LNG production as well as import and distribution infrastructure in emerging Asian countries, whose low credit ratings prevent access to commercial finance.
However, this may change, with the ADB recently issuing a draft energy policy suggesting it "will not finance any coal mining, oil and natural gas field exploration, drilling or extraction activities" to support the low carbon transition in Asia Pacific, which will guide its funding strategy in the coming years.
In April, the World Bank published a report saying LNG is likely to play a limited role in the decarbonization of shipping, and recommended that "countries should avoid new public policy that supports LNG as a bunker fuel, reconsider existing policy support, and continue to regulate methane emissions."
Finance conditions
Japan's proposed energy transition finance idea would provide ASEAN countries up to $10 billion in financial support for projects that form part of their carbon neutrality roadmaps, following individual declaration of carbon neutrality, Soda said.
"In order to secure overseas funds, we are asking [ASEAN countries] to declare carbon neutrality without a specific time frame, and we are asking the countries to draw roadmaps toward carbon neutrality," Soda said. "Japan will provide finance for projects, activities and technology that are part of the roadmap."
The $10 billion financial support aims to help ASEAN countries introduce renewables and energy conservation as well as LNG to transit away from coal. Japan also suggested that ASEAN countries could share its technological development and deployment support for offshore wind power generation, fuel ammonia and hydrogen, among other fields.
Japan now aims to reach agreement to seek realistic energy transition beyond ASEAN members at its maiden ministerial-level meeting on the Asia green growth partnership on Oct. 4, with countries such as India, Bangladesh, Pakistan, as well as with Australia, the US, Canada and the Middle Eastern countries, Soda said.
---
Crude prices drop but hold steady near $70/b threshold
Author: Jordan Blum
Crude oil prices fell Aug. 13 but still held steady near the $70/b threshold as fears of economic and supply-chain slowdowns bubbled up as a result of China closing a major port terminal.
While global crude demand remains on an uneven upswing, the rapid spread of the coronavirus delta variant has dented most demand projections for the rest of 2021, and now Asian outbreaks, especially in China, are triggering new economic restrictions. Most notably, China's zero-tolerance approach to COVID-19 led to the closure of its Meishan terminal at the world's third-busiest port — the Ningbo-Zhoushan port — which is expected to disrupt supply chains globally.
Front-month NYMEX WTI lost 65 cents, down to a $68.44/b settlement for the week, while front-month ICE Brent traded lower by 72 cents to $70.59/b.
As for products, NYMEX September RBOB dropped 1.28 cents to settle at $2.2626/gal, while September ULSD dipped 2.60 cents to $2.0779/gal.
"China has made it perfectly clear that it will take all measures — no matter how seemingly extreme — to contain any breakouts," said Craig Erlam, senior market analyst for OANDA. "What that means for the rest of the world is more supply disruptions in the months ahead, which could mean more bottlenecks and higher costs."
Erlam noted that even a small outbreak in China is enough to put downward pressure on crude prices. "Should we see more evidence of these kinds of strict measures being imposed, we could see that [crude oil] support come under significant pressure," he added.
S&P Global Platts Analytics said Aug. 13 that — if volatility remains contained — front-month ICE Brent should hold above the $70/b support level, which is the most likely expectation. Traders have tested support for the $70/b threshold while assessing the impact of rising coronavirus cases on crude oil demand.
"This makes the market somewhat vulnerable to a downshift in expectations and rise in volatility, but for now, the key support levels have held," Platts Analytics noted.
The spread of the delta variant has caused front-month NYMEX WTI to plunge from the nearly $74/b level seen at the end of July down to a recent low of about $66/b, but prices have since rebounded on optimism that the global vaccine rollout will ultimately prevent the strictest of economic lockdowns around the world.
Still, the International Energy Agency Aug. 12 lowered its estimate of 2021 demand growth to 5.3 million b/d from 5.4 million b/d, and cut its second-half 2021 demand estimate by 600,000 b/d to 98.15 million b/d. The IEA pointed to a 120,000 b/d drop in July demand because of the coronavirus resurgence in China, Indonesia and elsewhere in Asia.
From Russia with crude love
At the same time, global crude production is rising. While most of the focus on growing OPEC+ production is on Saudi Arabia and the core OPEC nations, Russia also is expected to hit all-time highs in crude and condensate production in the coming months, according to a new report Aug. 13 from Rystad Energy.
Russia is on track to hit a new crude and condensate high of 11.6 b/d of oil equivalent in July 2022 — above the December 2018 record of 11.5 million boe/d — and then grow to a new peak of 12.2 million boe/d by mid-2023 with Rosneft leading the way, Rystad said.
Counting crude oil alone, Russia should match its record high of 10.7 million b/d from April 2020 by May 2022 and keep rising to 11.3 million b/d by mid-2023, Rystad said, before declines in mature production trigger small dips.
Fred takes aim at Florida and vicinity
In the near term, offshore Gulf of Mexico oil and gas producers are keeping an eye on Tropical Depression Fred, which is expected to strengthen into a tropical storm later Aug. 13 and head into the eastern Gulf and near Miami on Aug. 14, according to the National Hurricane Center.
The far-western projected path of Fred cuts near the edge of Shell's Appomattox field, a 175,000 boe/d large platform that began production in 2019. The hub is the first to have produced from the emerging Norphlet play where Shell has been a leader in recent years with a handful of discoveries.
Shell said Aug. 13 it is monitoring the storm, but has not made any changes to its operations or offshore personnel.
Also, due south from the Alabama-Mississippi area — the western edge of Fred's "cone of uncertainty" — are two Occidental Petroleum-operated production hubs, Marlin and Horn Mountain. Fred is projected to make landfall in the Florida panhandle as a tropical storm, which could have winds of up to 73 mph.
---
Saudi Arabia's first wind farm begins generating electricity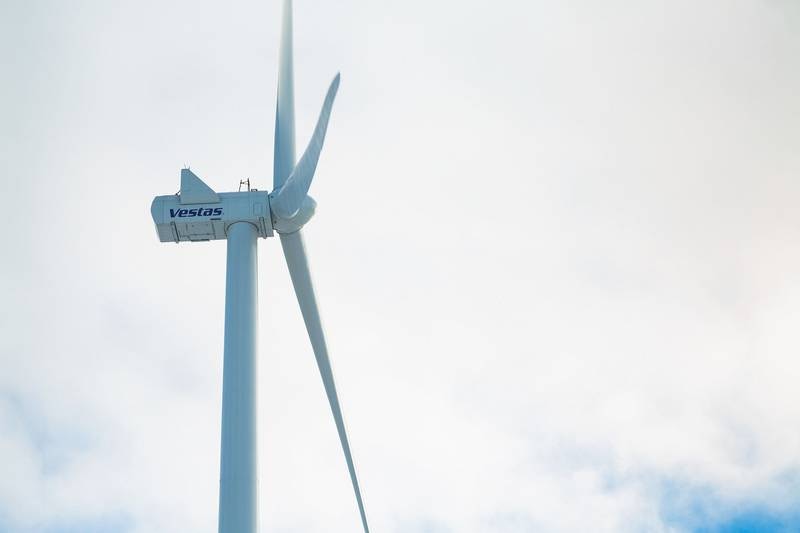 The Middle East's largest wind farm, developed by a consortium led by Masdar and EDF Renewables, will power up to 70,000 Saudi households
The Dumat Al Jandal wind farm will supply electricity under a 20-year power purchase agreement with the Saudi Power Procurement Company, a subsidiary of the Saudi Electricity Company. Courtesy Masdar and EDF Renewables
Saudi Arabia's first wind farm, the biggest in the Middle East, has started producing electricity after connecting to the grid as the kingdom plans to account for almost half of the region's wind capacity additions by 2028.
Dumat Al Jandal, which is being developed by France's EDF and Abu Dhabi's Masdar, has produced its first carbon-free megawatt-hours (MWh) of energy and will help bolster Saudi Arabia's network during the hot summer months when electricity consumption is at its peak, the companies said.
"We are now looking forward to successfully reaching, with our partners and contractors, the full commissioning of the project in the months to come," Olivier Marchand, project director of Dumat Al Jandal Wind Co for Energy, said.
When complete, the 400MW wind farm will generate carbon-free energy to power up to 70,000 Saudi households, while saving 988,000 tonnes of carbon dioxide per year, as part of the kingdom's plans to turn green its power mix.
Saudi Arabia, the world's largest exporter of oil, plans to generate 50 per cent of its energy from clean sources as the country seeks to diversify its economy and reduce its reliance on hydrocarbons.
The Dumat Al Jandal wind farm consists of 99 wind turbines from supplier and EPC contractor Vestas, each with a power output of 4.2 MW.
Construction began in September 2019 and the wind turbine erection works are "near completion", the companies said.
"The successful connection of the project to the electricity transmission grid marks an important milestone for this landmark project in the kingdom and we look forward to project's completion in the near future," Osama Al Othman, country representative for Saudi Arabia at Masdar, said.
The wind farm project created more than 600 local jobs during the construction phase, the companies said. Saudi Arabia's economic diversification agenda is focused on creating new jobs for young Saudi nationals.
The Dumat Al Jandal wind farm will supply electricity under a 20-year power purchase agreement with the Saudi Power Procurement Company, a subsidiary of the Saudi Electricity Company, which is the Saudi power generation and distribution company.
In April, the kingdom's Crown Prince Mohammed bin Salman said the country plans to add gas and renewables capacity equating to one million barrels of oil per day by 2030.
If you would like to speak with us in regard to your Financial Planning needs or would like to find out more on how you can maximise your Superannuation, please do give me a call. 
We hope you have enjoyed this week's read and we thank our friends at Ashurst for the attached article.
Low Carbon Pulse - Latest Edition
Have a great week and we look forward to assisting you meet your financial goals,


Chris Hagan,
Head, Fixed Interest and Superannuation
JMP Securities
Level 1, Harbourside West, Stanley Esplanade
Port Moresby, Papua New Guinea
Mobile (PNG):+675 72319913
Mobile (Int): +61 414529814