August 09, 2021
Welcome to this week's JMP Report.
Last week on the local bourse, four stocks had trading activities. BSP traded 111,099 shares closing unchanged at K12.30 followed by KSL with 6,121 shares trading and also closing unchanged at K3.25.  CCP traded 508 shares and closed lower down-0.01 toea to K1.69 along with NCM which saw 153 shares trading, closing unchanged at K75 per share.  
Refer details below;
WEEKLY MARKET REPORT 02.08.21 – 06.08.21

STOCK

QUANTITY

CLOSING 

CHANGE

% CHANGE

BSP

111,099

 12.30

–

0.00

KSL

6,121

 3.25

–
0.00

OSH

–

10.51

–
0.00

KAM

– 

 1.00

–
0.00

NCM

153

75.00

–

0.00

CCP

508

 1.69

-.0.1

-0.59

CPL

–

 0.80

–

0.00
Below you will find Fridays snapshot of BFL (BSP) ASX shares. The stock opened at $5.00 in July and JMP was responsible for transferring the first PNGX listed BSP shares to the ASX.
WATCHLIST EQUITIES DETAILS

CODE

 
 

LAST
PRICE ($)

BID – OFFER ($)

BID

OFFER

TODAY'S
CHANGE

TODAY'S PRICE CHANGE

TODAY'S CHANGE (%)

52 WEEK RANGE

VOLUME

QTY

CURRENT
VALUE ($)

TOTAL GAIN
/ LOSS ($)

ACTIONS

BFL

 

 

5.600

5.400 – 5.600

5.400

—

$0.000
(0.000%)

0.00%

—

0

—

—

—

 
 
JMP Alerts
Over the last few days I have sent you updates on the Santos merger with Oil Search. The Shareholders have accepted the revised merger offer after initially rejecting the offer. The main points of the merger are;
Oil Search receives Revised Merger Proposal from Santos following rejection by the Oil Search board.
Oil Search board confirms to unanimously recommend the Revised Merger Proposal subject to completion of due diligence and shareholders best interests.
Santos to acquire OSH shares for a consideration of 0.6275 new Santos Shares for each OSH shares held under Revised Merger Proposal
Oil Search shareholders to hold approx. 38.5% of the merged group compared to Santo's earlier proposal of 36.9% approx.
Revised merger proposal implies a transaction price of A$4.29 per OSH share based on the closing price for Santos and OSH as at 19th July
On the interest rate there has been very little change. 364 day bills still trading at 7.20% and the long end still well sort after in the Secondary Market.
---
What we have been reading this week
Legal experts worldwide draw up 'historic' definition of ecocide
Draft law is intended to prosecute offences against the environment
Polly Higgins led a decade-long campaign for ecocide to be recognised as a crime against humanity before her death in 2019. 
Haroon Siddique Legal affairs correspondent
Legal experts from across the globe have drawn up a "historic" definition of ecocide, intended to be adopted by the international criminal court to prosecute the most egregious offences against the environment.
The draft law, unveiled on Tuesday, defines ecocide as "unlawful or wanton acts committed with knowledge that there is a substantial likelihood of severe and widespread or long-term damage to the environment being caused by those acts".
The Stop Ecocide Foundation initiative comes amid concerns that not enough is being done to tackle the climate and ecological crisis.
If adopted by the ICC's members, it would become just the fifth offence the court prosecutes – alongside war crimes, crimes against humanity, genocide and the crime of aggression – and the first new international crime since the 1940s when Nazi leaders were prosecuted at the Nuremberg trials.
Prof Philippe Sands QC, of University College London, who co-chaired the panel that spent the past six months hammering out the definition, said: "The four other crimes all focus exclusively on the wellbeing of human beings. This one of course does that but it introduces a new non-anthropocentric approach, namely putting the environment at the heart of international law, and so that is original and innovative.
"For me the single most important thing about this initiative is that it's part of that broader process of changing public consciousness, recognising that we are in a relationship with our environment, we are dependent for our wellbeing on the wellbeing of the environment and that we have to use various instruments, political, diplomatic but also legal to achieve the protection of the environment."
An ecocide law has been mooted for decades, with the late Swedish prime minister, Olof Palme, pushing the concept at the 1972 UN environmental conference in Stockholm. More recently, ecocide was considered for inclusion in the 1998 Rome statute establishing the ICC before being dropped. The Scottish barrister Polly Higgins led a decade-long campaign for it to be recognised as a crime against humanity before her death in 2019.
The members of the panel, which also included experts from Samoa, Ecuador and the US, are hopeful that now is the right time for agreement.
The other co-chair, Dior Fall Sow, a UN jurist and former prosecutor from Senegal, said: "The environment is threatened worldwide by the very serious and persistent damage caused to it, which endangers the lives of the people who live in it. This definition helps to emphasise that the security of our planet must be guaranteed on an international scale.
"In the current context, where serious damage to the environment is increasingly important and affects a large number of states, their support could be gained for this new definition of the crime of ecocide. One can think, among others, of island developing states that are subject to ecological ecocides committed by corporations."
Several small island nations, including Vanuatu, in the Pacific, and the Maldives, in the Indian Ocean, called for "serious consideration" of a crime of ecocide at the ICC's annual assembly of states parties in 2019.
The French president, Emmanuel Macron, has championed the idea, as has the Pope, and other European countries have expressed an interest.
The ICC has been criticised for not investigating major environmental crimes. In 2016, it said it would assess existing offences, such as crimes against humanity, in a broader context to include environmental destruction and landgrabs.
Sands said some panel members had pushed for the definition to explicitly mention climate change but that was rejected because of a desire to make it more difficult for countries – and corporations – to oppose the proposed new law. Instead, it created "a definition that catches the most egregious acts but doesn't catch the kinds of daily activity that so many of us, myself included, and regions and peoples and countries are involved in which cause significant harm to the environment over the long term".
He cited transboundary nuclear accidents, major oil spills and Amazon deforestation as potential examples of ecocide but, on a smaller geographical scale, also the unlawful killing of a significant protected species such as the two remaining northern white rhinos.
Jojo Mehta, from Stop Ecocide Foundation, said it was a "historic moment", adding: "The resulting definition is well pitched between what needs to be done concretely to protect ecosystems and what will be acceptable to states. It's concise, it's based on strong legal precedents and it will mesh well with existing laws. Governments will take it seriously, and it offers a workable legal tool corresponding to a real and pressing need in the world."
---
Goldman Boosts S&P 500 Target on Earnings Growth, Low Rates
Goldman strategists raise year-end target to 4,700 from 4,300
New target implies 7% gain in benchmark from current level
Goldman Sachs Group Inc. strategists lifted their outlook for the S&P 500 Index as robust earnings growth and low interest rates fuel optimism that stocks can continue rallying despite record high levels.
David J. Kostin and his colleagues raised the end-2021 target to 4,700 after the benchmark U.S. index surpassed their earlier prediction of 4,300 about a month ago, according to a note. This implies a return of about 7% from current levels for the remainder of the year and is now the highest forecast along with Oppenheimer & Co's in the monthly Bloomberg survey of Wall Street strategists from July.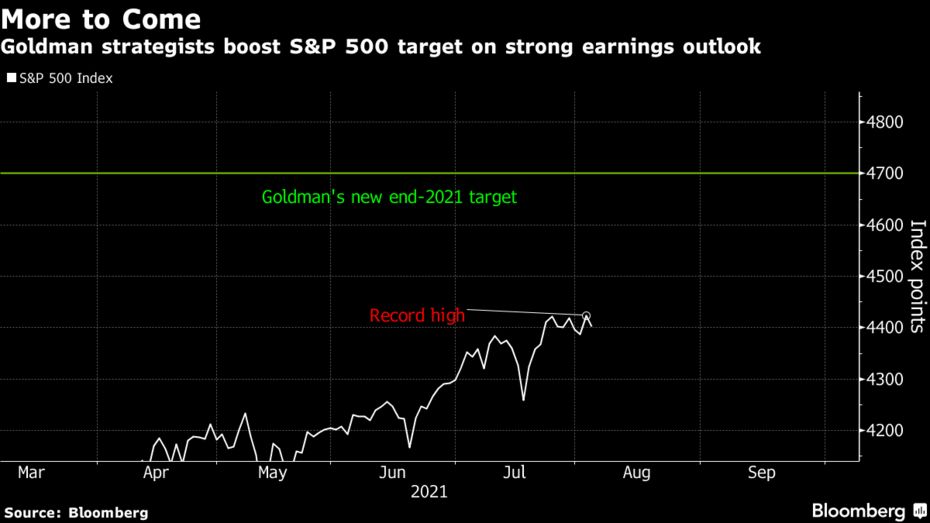 Goldman's upgrade follows that by Oppenheimer on Aug. 2, when Chief Investment Strategist John Stoltzfus lifted the S&P 500 year-end target to 4,700.
The strong earnings season has been driving U.S. stocks to all-time highs, outweighing concerns about the delta variant, China's crackdown and possible scaling back of monetary stimulus. Goldman strategists today boosted their earnings-per-share estimates to $207 from $193 for this year, implying a whopping 45% annual growth.
"The combination of higher-than-expected S&P 500 earnings and lower-than-expected interest rates drive our upgraded price targets," the Goldman strategists said. "Relative to consensus, we expect stronger revenue growth and more pre tax profit margin expansion as firms successfully manage costs and as high-margin tech companies become a larger share of the index.
Corporates and households will be the largest buyers of U.S. stocks, thanks to surging buybacks and elevated cash holdings, according to Goldman. Investors should balance their portfolios with long-term growth stocks allocations and short-term tactical bets in virus-exposed sectors, according to the note.
The Goldman strategists also increased their end-2022 S&P 500 target to 4,900 from 4,600. This signals more limited upside for the benchmark, with a return of about 4.3% for the year. The increase in earnings is also expected to slow down next year, with 2% annual EPS growth, they said
---
World on brink of climate catastrophe, says Cop26 talks chief
Ella Glover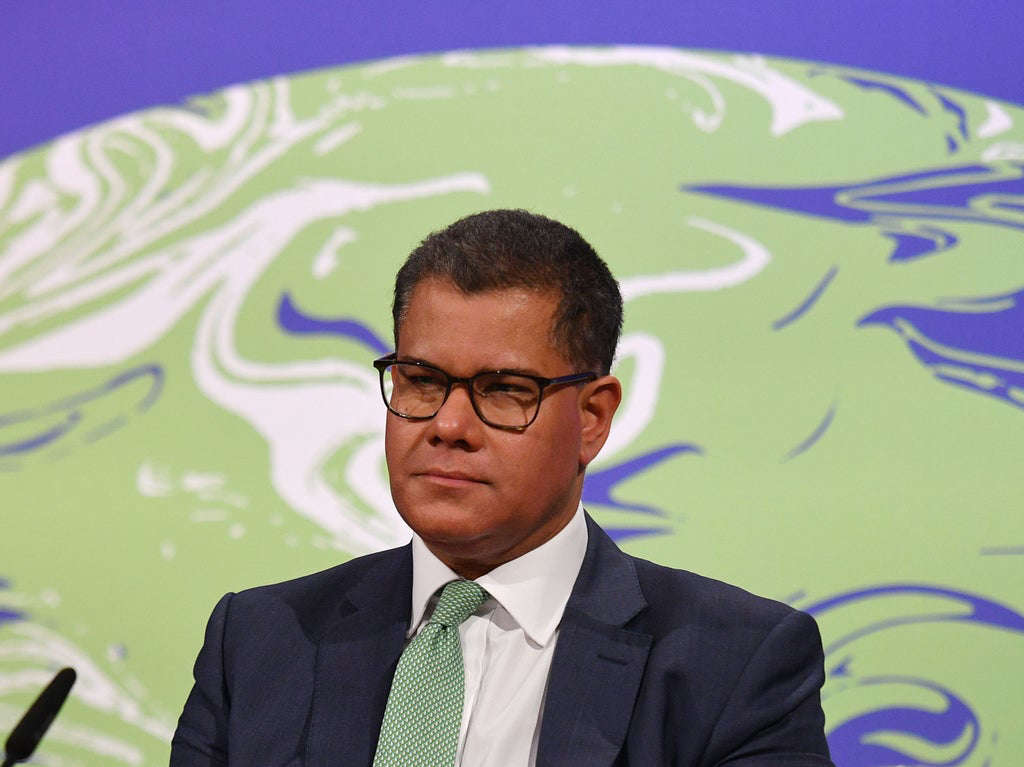 The world is "dangerously close" to running out of time to prevent a climate "catastrophe," Cop26 president Alok Sharma has warned.
As president of the 26th United Nations Climate Change Conference, Mr Sharma said a lot is riding on the upcoming summit
But the minister refused to condemn plans for a new oilfield, despite saying "we can't afford to wait" to act on global warming.
Mr Sharma, president of the upcoming Cop26 summit being held in Glasgow, spoke to The Observer ahead of a report by the Intergovernmental Panel on Climate Change (IPCC) being published on Monday.
The report he said, will be the "starkest warning yet" about what the future could hold.
He said: "This [IPCC report] is going to be a wake-up call for anyone who hasn't yet understood why this next decade has to be absolutely decisive in terms of climate action. We will also get a pretty clear understanding that human activity is driving climate change at alarming rates."
He said the conference "has to be the moment we get this right", adding: "We can't afford to wait two years, five years, 10 years – this is the moment."
He added: "I don't think we're out of time but I think we're getting dangerously close to when we might be out of time."
"Every fraction of a degree rise [in temperature] makes a difference and that's why countries have to act now," he said.
Mr Sharma pointed to recent extreme weather events, such as the UK's record heatwave, floods in western Europe and recent wildfires across central Europe and the Middle East.
However, the minister recently came under fire over the number of flights he has taken since the new year and failed to condemn plans for a new oilfield off the coast of Shetland.
In response to the criticism, Mr Sharma said: "I have every week a large number of virtual meetings, but I can tell you that having in-person meetings with individual ministers is incredibly vital and actually impactful.
"It makes a vital difference, to build those personal relationships which are going to be incredibly important as we look to build consensus."
The Cambo oilfield, that could see a further 150 to 170 million barrels extracted, could be approved before Glasgow, and potentially be in operation as far into the future as 2050.
The government has also refused to rule out new licences for oil and gas in the North Sea or a new coal mine in Cumbria.
The International Energy Agency said in May there must be no new investment in oil and gas projects and coal power plants from this year to have a hope of limiting warming to 1.5C.
Mr Sharma said failing to limit warming to 1.5C would be "catastrophic".
But he refused to criticise the UK government's plans for further fossil fuel extraction, saying: "Future [fossil fuel] licences are going to have to adhere to the fact we have committed to go to net zero by 2050 in legislation."
He added: "There will be a climate check on any licences."
While Mr Sharma focuses on building international support for action, at home the government faces tough decisions over how to meet its net zero pledge – and who pays.
Boris Johnson has promised that householders will not have to pay "unreasonable" costs as old gas boilers are ditched in favour of cleaner heating systems, but a Treasury review meant to be published in the spring has been delayed.
In a sign of disquiet among Tory MPs, a new net zero scrutiny group of backbenchers is being formed to examine the plans.
The group's chairman, Craig Mackinlay, warned that spending vast sums on subsidising green schemes would be seen by the public as "aping" some of Jeremy Corbyn's pledges at the 2019 election.
He told the Sunday Telegraph: "The Conservatives' strongest hand has always been credibility: credibility to deliver good economics and good governance. To ape the failed policies of an extreme Labour politician does not seem to be the way of electoral success."
He added: "I'm very pleased the Treasury are actually thinking of this with a financial head on rather than just a warm feeling."
---
Australia's biggest renewables owner plans huge wind and storage projects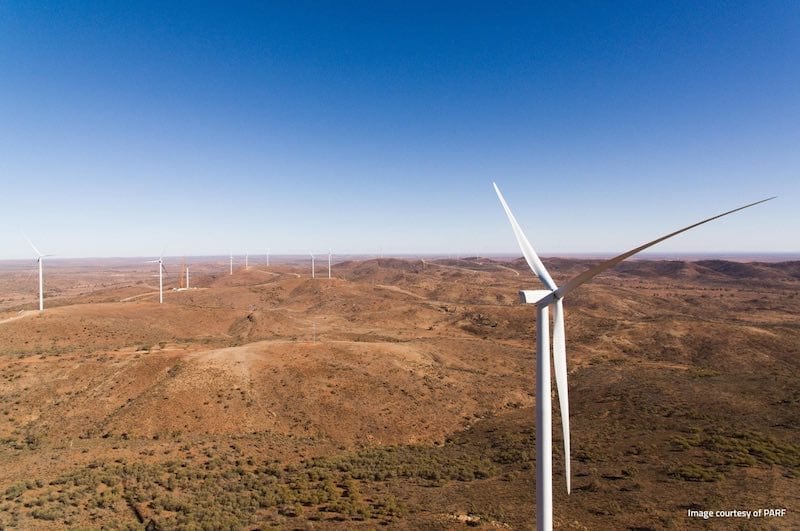 Australia's largest renewable energy operator is planning major investments in massive wind farms in New South Wales, and is also looking at a handful of big battery and other storage projects.
Powering Australia Renewables on Monday completed the takeover of Tilt Renewables' Australian assets, delivering it a 50 per cent boost in operating wind and solar farm capacity and a development portfolio of more than 2.2GW.
CEO Geoff Dutaillis expects the first major investment decision – on the 396MW Rye Park project north of Yass in NSW – to occur within the next month or two, given that the project already has a deal with Newcrest Mines to take much of the output.
Rye Park will be the biggest in NSW to date, but an ever bigger project – the 1.3GW Liverpool Plains wind farm in New England – could follow, and will also likely include a hybrid element such as solar and storage.
"We're keen to get (Rye Park) over the line," Dutaillis told the latest edition of RenewEconomy's Energy Insiders podcast
"It's no secret that New South Wales is an attractive region within the National Electricity Market," given the need to replace the state's ageing coal fleet and the state government's renewable infrastructure roadmap.
"We don't necessarily need the roadmap to get Liverpool across the line, but it gives us optionality to bring it forward in a different way and make it bigger.
"We are very focused on it not just being in a big wind farm. We need to get storage and flexibility capability into the portfolio."
PowAR is also considering its first move into Western Australia, with the 108MW Waddi wind and solar farm, and it has a 410MW wind project at Palmer, about 50kms east of Adelaide in South Australia that it is also looking to get across the line.
Dutaillis says storage is also a key focus. "We want to move into supplying firm green electrons at a cost competitive price. So that brings with it the need to get storage into the portfolio, we need to get flexibility capability in portfolio."
Potential battery storage investments include a range of battery storage possibilities in Victoria, and in Queensland next to the Coopers Gap wind farm, as well as at Liverpool Plains.
However, a proposed "behind-the-meter" battery next to the Snowtown wind farm in South Australia is on the back burner because the market rules make it too complex and difficult to be competitive.
But PowAR is also looking at tapping into other storage technologies, including solar thermal and compressed air storage that is currently subject to regulatory investment test at Broken Hill, and could help support its Broken Hill solar farm and Silverton wind farm, both of which have been held back by the limitations of the transmission network at various times.
PowAR is 40 per cent owned by 40 per cent owned by the Queensland Investment Corporation and 40 per cent by the Fund, and AGL owns a 20 per cent stake.
Its operation assets also include the country's biggest operating wind facility, at Coopers Gap in Queensland (working up to 453MW), and from Tilt it also gets the 336MW Dundonnell wind project in Victoria, which is also working to full capacity.
Dutaillis said PowAR shared the renewable energy industry's concerns about the proposals included in the Energy Security Board's redesign of market rules, particularly the introduction of "capacity" markets that have been championed by federal energy minister Angus Taylor.
"We're already seeing that the development of renewable projects in this country has stalled," Dutaillis said.
"The evidence speaks for itself. In Q1 2021 just one project of 400 megawatts reached financial close. And I'm pretty certain that the data that comes out next week from Clean Energy Council will be close to zero megawatts being financially committed.
"That's the lowest since before 2016. So that kind of tells you that these all of these hits that the industry is taking a dent in investor confidence."
Transmission and connections were also a key issue, and needed new links to be built and the connections process to be improved.
"One of my really big concerns, from a system perspective, is that we're not going to get there quick enough with that transmission and the new renewables (needed) to replace the coal retiring coal fleet," Dutaillis said.I hope you have enjoyed this weeks read. Some homework for you this week, what was the closing price of CCP as at 31.12.2020 and what was the 2020 dividend?
If you would like to talk to us in regard to your financial planning or superannuation requirements, you can do so by emailing chris.hagan@jmpmarkets.com
Have an awesome week,   
Chris Hagan,
Head, Fixed Interest and Superannuation
JMP Securities
Level 1, Harbourside West, Stanley Esplanade
Port Moresby, Papua New Guinea
Mobile (PNG):+675 72319913
Mobile (Int): +61 414529814