1 November 2021
Welcome to this week's JMP Report.
JMP Articles
Recently, our Managing Director, Lars Mortensen authored the attached article, PNG LNG Project – An educated guess at performance
The link to Lars's article – Click here to see article in Linkedin
Market Alerts;
For your reference I have attached the following;
On the equity front,
Last week on the POMX we saw BSP, KSL, OSH , KAM, NCM, CCP and CPL do the heavy lifting. BSP traded 350,193 shares unchanged at K12.30, OSH saw 1,306 shares trade at K10.60, KSL traded 65,500 shares at K3.20, NCM traded 412 shares at K75.00, CCP traded 5,798 shares at K1.69 while CPL traded 204,534 shares at K0.95. Refer details below
WEEKLY MARKET REPORT 25.11.21 – 29.11.21

STOCK

 

QTY

CLOSING

CHANGE

% CHANGE
2020 Final Div
2021 Interim

Yield %

Ex Date

Record Date

Payment Date
DRP

BSP

350,193

12.30

–

0.00

K1.0500

K0.39000

11.61%

Fri 24 Sept
Mon 27 Sept
Mon 18 October
No

KSL

65,500

3.20

–
0.00
K0.1690
K0.08250
7.74%
Wed 01 Sept
Thurs 02 Sept
Fri 01 Oct
No

OSH

1,306

10.60

–
0.00
K0.0000
–
0.00%
Mon 30 Aug
Mon 20 Sept
Thur 20 Oct
 

KAM

965

1.00

–
0.00
K0.0400
K0.06000
10.00%
Wed 15 Sept
Mon 20 Sept
Thurs 20 Oct
Yes

NCM

412

75.00

–

0.00
K0.0000
–
0.00%
Thu 26 Aug
Fri 24 Sept
Mon 01 Nov
 
NGP
–
–
–
0.00
K0.0000
–
0.00%
Fri 17 Sept
Fri 24 Sept
Mon 01 Nov
 

CCP

5,798

1.69

– 0.01
 – 0.01
K0.1800
0.04600
6.19%
Fri 1 Oct
Fri 8 Oct
Fri 26 Nov
Yes

CPL

204,534

0.95

– 0.05

– 0.05
K0.0000
–
0.00%
 
 
 
 
On the ASX dual listed stocks
              BFL (BSP) – 5.00/04
              OSH – $4.36/37
              KSL – 0.84/855
On the Interest Rate front, the system remains very liquid and 364 day TBill auction still averaging 7.20%. Finance company money no change at 5.50 for 12mths.
In 2021 our bond clients have been dealt a double edged sword, in both returns and reinvestment opportunities. This has meant when stock was available through the GIS auctions, investors have found their projected returns having dropped significantly. Additionally, when reinvesting the income stream from coupon payments, clients are finding it very difficult to reinvest the coupons further along the curve than 364 day TBills. If you are experiencing the same Investment issues, please contact our Funds Management and Fixed Interest team to discuss strategies to minimise the impact on your portfolio.
---
What we have been reading this week
What are we reading
Driving Investment performance through a focus on wellness
By Chris Nunn
There is little doubt the COVID pandemic has profoundly changed the way we think about work and wellness. Before COVID, flexible working meant taking an hour off for a medical appointment or ducking out to pick up children from school. Working from home required approval from a manager.
Early in the pandemic lockdowns, even serious journals were discussing how managers could best maintain productivity among a remote workforce that could not be directly supervised. It seems an age ago.
Now many leaders have taken to a new ethos – caring for the mental and emotional wellbeing of their people, managing stress, balancing the needs of life and work, understanding and accommodating family responsibilities and allowing flexibility in how a business's goals are met.
This new focus on workplace wellness is a driving force behind the best businesses.
The world has discovered that the best outcomes derive from allowing people to bring their whole selves to work and creating workplace cultures of not just tolerance but genuine acknowledgement, acceptance and support of difference.
And while there is no doubt remote working is here to stay, workplace wellness is a much broader phenomenon.
So what does this mean for real estate?
Now more than ever, the real estate industry has a critical role to play in workplace wellness. After all, we spend 90 per cent of our lives indoors – and some 90,000 hours of our lifetimes at work . The quality of our indoor environments has an outsized impact on our wellbeing, productivity, and comfort.
In our view, landlords that genuinely embrace wellness as a driver of design and operational decisions will reap benefits. Post-COVID, this seems somewhat axiomatic – but until now, the academic basis for this view has been wanting.
That is why, in 2020 – and before the pandemic was upon us – AMP Capital commissioned researchers at the University of Sydney to investigate the link between workplaces and wellness.
The result is a newly released landmark study titled Wellness in Corporate Real Estate – a report that reviews a decade of academic research across the world to investigate how workplaces affect wellness.
It is a seminal work for the real estate industry because it is the work of independent academics and not associated with a rating tool, product or service. It genuinely and objectively seeks to understand the most important links between our work environment and our health, wellbeing and productivity.
We hope this research will support investors, developers, landlords and tenants as a framework to focus design, fit-out and operational decisions on the interventions that genuinely improve wellbeing. Over 100 pages of research, the report makes 85 actionable recommendations for landlords, tenants, designers and building managers.
The research shows that wellness is an outcome that can be achieved only if landlords and tenants work together.
Among the key findings:
Prolonged sitting is associated with higher levels of mortality2 but yet many Australians spend 10 hours a day sitting while at work.
Dissatisfaction with the physical work environment has an immediate cost to business – either through direct absenteeism or the more insidious decreased productivity known as presenteeism, where people turn up but are not functioning at their best. The financial loss of this phenomenon is estimated to be around $33 billion per year in Australia.
Work-related problems like stress, depression and anxiety are estimated to cost the global economy US $1 trillion per year in lost productivity. In Australia, more than half a billion dollars is paid in workers' compensation for work-related mental health conditions every year.
The report summarises the findings under three pillars of wellness – physical, environmental and emotional:
Workplaces can help improve physical health through encouraging incidental physical activity enabling more frequent movement using 'Move More, Sit Less, Stand Up' framework.
Fit out decisions like central staircases can encourage occupants to take the stairs instead of lifts. Common areas and breakout spaces located some distance from working areas could promote physical activity.
Building location is critical to wellness. The best workplaces are well-connected to public transportation or walking and cycling routes. They provide exercise and sport facilities.
Proper ergonomics and the provision of adequate facilities that allow people to make healthy food decisions also matter.
Indoor environmental quality is linked to satisfaction, productivity and health. This includes the temperature inside a building, noise levels and air quality.
A connection to views and daylight improves productivity, satisfaction and health.
The Wellness in Corporate Real Estate report is a clarion call to landlords and tenants alike to put wellness at the centre of the way the buildings of the future are designed, constructed and run.
The COVID pandemic has put workers through what is effectively the biggest experiment in living memory in the sudden shift to remote working.
And while it is too early to judge the impact of the pandemic on the future of how people will work, it is clear that health and wellness are now front and centre, and we believe that more than ever, landlords and tenants need to be focused on wellness so employees enjoy their return to the office and ensure assets are well-positioned to deliver long-term sustainable performance.
In our view, the way the real estate industry rises to this challenge will define the next decades.
To view an abridged version of the full report called Working on Wellness, click here
---
Saudi Arabia to set up investment fund for carbon capture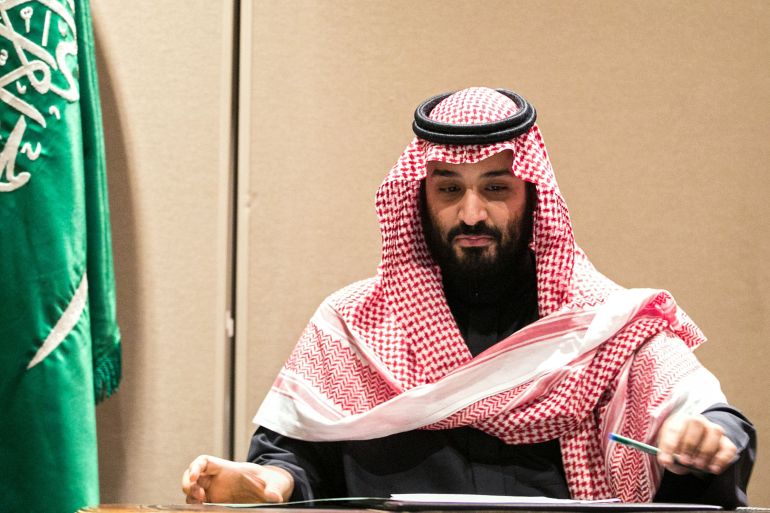 The kingdom will also back a plan to feed hundreds of millions of people by providing clean cooking fuels, Crown Prince Mohammed bin Salman said in Riyadh on Monday at a forum attended by heads of state.
Reducing emissions will create jobs and strengthen innovation in the region, Saudi Arabia's Crown Prince Mohammed bin Salman told attendees at a high-level conference in country's capital on Monday [File: Bloomberg]
By Vivian NereimBloomberg
Saudi Arabia said Middle Eastern economies will be boosted by efforts to cut planet-warming gases and announced a fund to invest in carbon-capture technology.
"Climate change is an economic opportunity for individuals and the private sector," Crown Prince Mohammed bin Salman said in Riyadh on Monday at a forum attended by several heads of state. Reducing emissions will "create jobs and strengthen innovation in the region."
The kingdom will establish a fund to improve carbon sequestration and back a plan to feed hundreds of millions of people by providing them clean cooking fuels, Prince Mohammed said. The two initiatives will cost 39 billion riyals ($10.4 billion) and Saudi Arabia will contribute 15%.
The government will also open regional centres for early warning of storms, for sustainable fishing and for cloud seeding.
On Saturday, the prince pledged that Saudi Arabia would neutralize greenhouse gas emissions within its borders by 2060. It marked a seismic shift for the world's biggest oil exporter, though officials included plenty of caveats and emphasized that Saudi Arabia and others would need to pump crude for decades to come.
The kingdom will try to develop facilities that capture and store carbon emissions as part of that commitment. The technology will be used for the production of blue hydrogen, a fuel made from converting natural gas and seen as crucial to the green-energy transition.
The net-zero goal "is a major step forward," U.S. President Joe Biden's climate envoy, John Kerry, said earlier on Monday. "It's critical to have one of the world's largest producers of fossil fuels step up at a moment when all countries, no matter their circumstances, need to come together."
Other leaders at the Riyadh conference emphasized the need for governments to accelerate efforts to slow climate change.
"Just in the last two years we have seen fires in Siberia, in California, in the Mediterranean — unprecedented," Pakistan's Prime Minister Imran Khan said. "I hope that collectively we take this challenge much more seriously than we have done."
Pakistan is stopping all coal projects and wants to make renewables 60% of its energy mix by 2030, he said.
---
COP26: Climate summit must focus on ambition, finance, carbon markets: EC chief
Author: Frank Watson 
Climate talks to focus on emissions targets, increased ambition
More effort needed to achieve $100 billion/year climate aid pledge
'Rulebook' needed on international carbon markets
Success at the upcoming UN Climate Change Conference in Glasgow rests on greater ambition to reduce greenhouse gas emissions, increased climate finance and rules on an international market for carbon credits, European Commission chief, Ursula von der Leyen, said ahead of a G20 summit in Rome.
The COP26 talks must set the world on a more ambitious track to deliver on limiting global temperature increase to agreed limits, von der Leyen said in a statement Oct. 28.
Von der Leyen said a successful outcome at COP26 rests on three pillars. The first is increased ambition by countries to close the gap between where global emissions are currently headed and where they need to be to stay on track to limit warming to well below 2 degrees Celsius and as close to 1.5 degrees as possible.
The UN Environment Program issued a report Oct. 26 warning that the world needs to cut an additional 13 billion mt of CO2 equivalent greenhouse gases by 2030 to stay within a two degrees C trajectory.
The second pillar is climate finance, von der Leyen said.
Industrialized countries agreed in 2009 to provide $100 billion per year of climate finance by 2020 to help the poorest countries deal with the effects of climate change. However, COP26 host country, the UK, said Oct. 25 this deadline would not be met, with the full sum now expected to be achieved by 2023.
"And the third pillar is about the rulebook on international carbon markets," von der Leyen said.
At the climate summit in Glasgow, running Nov. 1-12, countries are attempting to hammer out agreement on the Paris Agreement's Article 6, which sets out the terms of a global market for trading emissions credits.
"So, we need to make progress on these three points mainly during COP26: It is the ambition of cutting more emissions now; it is the climate finance for the least developed and most vulnerable countries; and it is completing the rulebook," said von der Leyen. "And I expect the negotiators to do their utmost, that we really advance in those three topics."
"It is good to see that many more countries have signed up to net-zero by mid-century. But what we also need now are not only targets, but we need very concrete plans and immediate action on the ground really to show in detail how we are going to reach those targets within this decade," von der Leyen said.
The price of carbon credits has increased substantially in 2021, with interest growing as companies draw up sustainability plans as part of efforts to reach net-zero emissions — in many cases by 2050, but with some targeting an earlier time frame. Bilateral emissions reduction purchase agreements between governments are also seen adding to demand for credits.
S&P Global Platts assessed CORSIA-eligible Carbon (CEC) credits at $7.25/mt CO2 equivalent at the close Oct. 28, compared with just 80 cents/mt in January when the price assessments were launched.
Agreement on Article 6 at the Glasgow summit could also boost demand from governments as they look to trade emissions credits as a flexible way to meet national emissions reduction targets -– the so-called Nationally Determined Contributions under the Paris deal.
We hope you have enjoyed this weeks read, if you would like to more information on our Investment and Fund Management Services, please do give us a call.
Regards,
Chris Hagan,
Head, Fixed Interest and Superannuation
JMP Securities
Level 1, Harbourside West, Stanley Esplanade
Port Moresby, Papua New Guinea
Mobile (PNG):+675 72319913
Mobile (Int): +61 414529814