6 December 2021
Welcome to this week's JMP Report.
Please see attached the OSH STO Scheme Guidance and also the today's notice from OSH regarding the Merger Approval received from the PNG Securities Commission.
Download OSH -PNGSC Approval
On the equity front, last week, it was a quiet week with only BSP and NCM trading. BSP had 1,083,933 BSP shares trade, closing down 0.05% from K12.35 previous week's close to K12.30.  NCM saw only 17 shares trade closing unchanged at K75.00.  All other stocks had a quiet week with nil trades.
We have included the Market Capitalisation for the PNG listed stocks in the reports table below. I hope you find this information helpful.
WEEKLY MARKET REPORT 29.11.21 – 03.12.21

STOCK

 

QTY

CLOSING

CHANGE

% CHANGE
2020 Final Div
2021 Interim

Yield %

Ex Date

Record Date

Payment Date
DRP

BSP

1,083,933

12.30

-0.05

-0.05

K1.0500

K0.39000

11.61%

Fri 24 Sept
Mon 27 Sept
Mon 18 October
No

KSL

–

–

–
0.00
K0.1690
K0.08250
7.74%
Wed 01 Sept
Thurs 02 Sept
Fri 01 Oct
No

OSH

–

–

–
0.00
K0.0000
–
0.00%
Mon 30 Aug
Mon 20 Sept
Thur 20 Oct
 

KAM

–

–
–
0.00
K0.0400
K0.06000
10.00%
Wed 15 Sept
Mon 20 Sept
Thurs 20 Oct
Yes

NCM

17

–

–

0.00
K0.0000
–
0.00%
Thu 26 Aug
Fri 24 Sept
Mon 01 Nov
 
NGP
–
–
–
0.00
K0.0000
–
0.00%
Fri 17 Sept
Fri 24 Sept
Mon 01 Nov
 

CCP

–

–

–
0.00
K0.1800
0.04600
6.19%
Fri 1 Oct
Fri 8 Oct
Fri 26 Nov
Yes

CPL

–

–

–

0.00
K0.0000
–
0.00%
 
 
 
 
Dual Listed stocks;
BFL – $4.38 starting out at 4.64 on the 24/11 before the announcement of the monopoly levy and fell to 4.30 on the 26/11 to recover and close the week out at $4.38.
KSL – $0.81
OSH – $3.94
On the interest rate front, access to TBonds and Central Bank Bills remain on hold. In the TBill market there were no surprises with the 364 day bill auction averaging 7.20%. There have been no changes to finance company money still hovering around the 5.5% mark for 12mth money. A direct approach on our clients behalf will no doubt yield better rates. As we near the close of the 2021 year, I do not foresee any changes to the yield curve. This is likely to change if we see a late announcement from Bank PNG advising they are coming to the market with the commencement of the 2022 Budget GIS auctions. This is quite a possibility.                              
---
What we have been reading this week
What are we reading
ExxonMobil looks to lead in carbon capture – CEO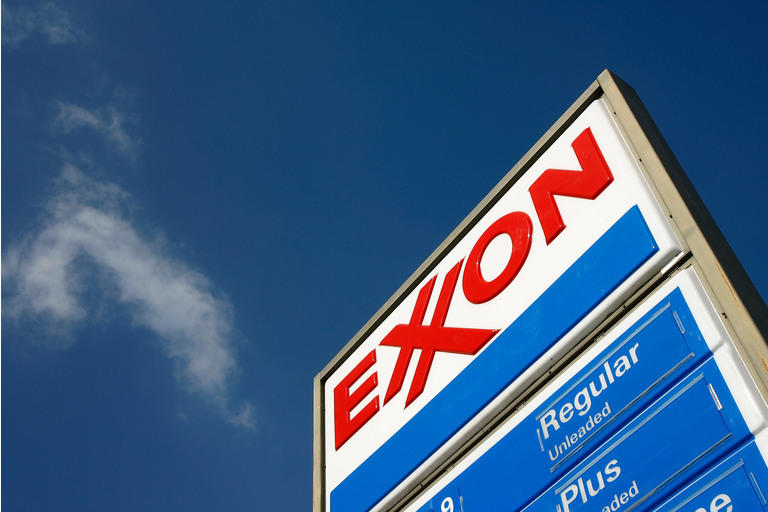 David McNew/Getty Images News
ExxonMobil CEO Darren Woods said Wednesday that the oil producer wants to lead in the field of carbon capture as the world struggles to find an energy infrastructure that can operate sustainably with the environment.
The chief executive and chairman at ExxonMobil (NYSE:XOM) told CNBC that the arena of taking carbon out of the atmosphere represents "a variation on a theme" of what the company has been doing throughout its history of "managing hydrocarbons."
Woods contended that XOM is well-positioned to lead in carbon capture because of its experience with large-scale projects, its global reach and its ability to invest heavily in the technology needed.
The remarks from the ExxonMobil CEO followed the release of CAPEX targets earlier in the day that included an accelerated program of emissions cuts.
XOM revealed plans to spend $15B total on greenhouse gas emission reduction projects over the next six years. This figure represented more than 10% of its total capital budget at the midpoint of its projected range of $20B-$25B annually. The emission-reduction investment is also 4x larger than the firm had previously budgeted.
Commenting directly on the $15B investment, Woods said the company would ramp this up even more if conditions were right.
Additionally, Woods noted that he supports a move towards more sustainable energy but has concerns about the costs involved in revamping the global energy infrastructure.
"There will be a transition cost, no doubt about it," he said.
Woods also worries about the impact on individuals if the switch to alternative energy happens in an unorganized way. As a result, he stressed that global leaders "have to be thoughtful" about their energy policies.
XOM advanced about 2.5% in Wednesday's early intraday action, climbing to $61.36 at about 10:15 AM ET.
Shares have generally held to a broad range since March. Still, with gains posted early in the year, XOM has outperformed the broader market for 2021.
The stock has climbed 45% compared to a 23% advance in the S&P 500:

---
Suntory introduces 100% plant-based PET bottle prototypes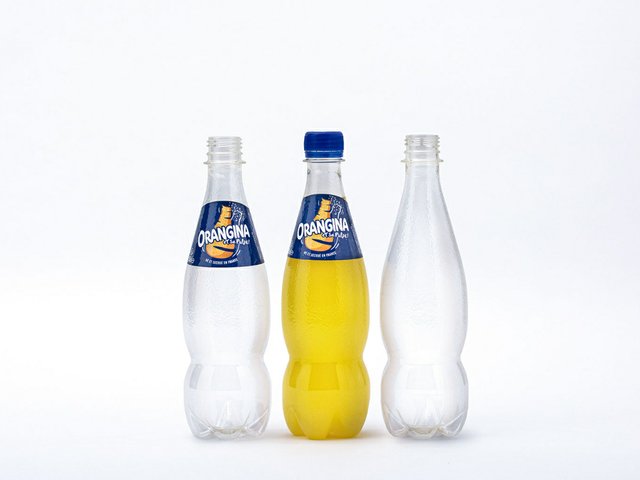 Orangina 100% plant-based PET bottle prototype, excluding cap and label
Tokoyo, JAPAN, December 3, 2021 – Suntory Group today announced that, as a crucial step toward its aim to use 100% sustainable PET bottles globally by 2030 and eliminate all petroleum-based virgin plastic from its global PET supply, the company has successfully created a prototype PET bottle made from 100% plant-based materials. The prototype has been produced for the company's iconic Orangina brand in Europe along with its best-selling bottled mineral water brand in Japan, Suntory Tennensui. This announcement marks a breakthrough after a nearly decade-long partnership with the US-based sustainable technology company Anellotech.
PET is produced using two raw materials, 70% terephthalic acid (PTA) and 30% mono ethylene glycol (MEG). Suntory's prototype plant-based bottle is made by combining Anellotech's new technology, a plant-based paraxylene derived from wood chips, which has been converted to plant-based PTA, and pre-existing plant-based MEG made from molasses which Suntory has been using in its Suntory Tennensui brand in Japan since 2013.
"We're delighted with this achievement, as it brings us one step closer to delivering this sustainable PET bottle to the hands of our consumers," said Tsunehiko Yokoi, Executive Officer of Suntory MONOZUKURI Expert Ltd. "The significance of this technology is that the PTA is produced from non-food biomass to avoid competition with the food chain, while MEG is also derived from non-food grade feedstock."
This innovation is an additional step towards achieving Suntory Group's ambition to eliminate use of all petroleum-derived virgin PET plastic bottles globally by transitioning to 100% recycled or plant-based PET bottles by 2030. The fully recyclable prototype plant-based bottle is estimated to significantly lower carbon emissions compared to petroleum derived virgin bottle.
"This achievement is the result of over ten years of thorough and painstaking development work by Anellotech's dedicated employees, together with Suntory and other partners," said David Sudolsky, President and CEO of Anellotech. "The competitive advantage of Anellotech's Bio-TCat generated paraxylene is its process efficiency (it uses a single-step thermal catalytic process by going directly from biomass to aromatics (benzene, toluene and xylene)), as well as the opportunity it creates for a significant reduction in greenhouse gas emissions as compared to its identical fossil-derived paraxylene in the manufacture of PET, especially as it generates required process energy from the biomass feedstock itself."
This technology is one of the latest investments from Suntory in the company's long history of addressing the social and environmental impacts of containers and packaging. In 1997, Suntory established its "Guidelines for the Environmental Design of Containers and Packaging." For plastic bottles specifically, it has used its 2R+B (Reduce/Recycle + Bio) strategy to reduce the weight of containers, including labels and caps, and actively introduce recycled or plant-based materials in its plastic bottles used globally. Most significantly, it has created the lightest bottle cap, the thinnest bottle label, and the lightest PET bottle produced in Japan to date.
"Suntory has been entrenched in the work to create sustainable packaging solutions since 1997. This plant-based bottle prototype honors our historic dedication while shining a light, not only on our path to achieving our 2030 fully sustainable PET bottle goal, but also towards our ambition to net-zero greenhouse gas emissions across the entire value chain by 2050," said Tomomi Fukumoto, COO of Sustainability Management at Suntory Holdings.
This milestone amplifies the great momentum of Suntory's continuous work on promoting a plastic circular economy, through the development of sustainable materials, adoption of circular processes, investment to pioneer advanced technologies and promotion of behavioural change for consumers. Suntory aims to commercialize this 100% plant-based bottle as soon as possible to meet its 2030 fully sustainable PET bottle goal.
---
The Investment Case For Floating LNG
Floating liquefied natural gas (FLNG) technology is back as surging natural gas prices and a focus on a coal-to-gas switch in the world's key gas import market, Asia, seem to have renewed demand for offshore LNG facilities to tap remote or currently stranded gas assets.  FLNG is just a small part of the growing global LNG market, accounting for around 5 percent of it. Yet, record-high LNG prices in recent months, expectations of continuously rising gas demand—especially in Asia—for decades, and efforts to reduce power generation emissions are giving a new life to floating LNG technology. 
FLNG projects have much lower capacity than onshore liquefaction facilities, but they can be flexible and can move to various locations to process gas in remote offshore sites or process gas from oil projects that is sometimes flared. 
Some technical challenges also exist with the mobile LNG units. Yet, FLNG projects have lower capital investment costs than huge onshore plants and offer earlier returns on investment at a time when companies are sticking to capital discipline in light of increased volatility on the commodity markets. 
Before the pandemic, FLNG projects faced difficulties obtaining the necessary partners, buyers, and financing against huge high-capacity projects, Wood Mackenzie said back in 2019.
"The lack of economy of scale is likely to limit FLNG projects to small scale and remote developments as it competes for buyers, financing and partners in a busy LNG marketplace. However, FLNG has established itself as a credible development option and – with further experience and cost reduction – further projects may quickly appear in an otherwise quiet FLNG FID outlook," WoodMac said a year before COVID upended all commodity markets and demand projections. 
LNG Demand Set For Continuous Growth
The pandemic didn't upend the forecast that LNG demand would continue to grow as power and industrial demand rises and countries look to use more gas in the power mix at the expense of coal, especially in the fastest-growing gas market, Asia. 
Asia's natural gas demand is set to nearly double by 2050, Wood Mackenzie said last week, noting that the region needs incentives and investments in domestic supply if it is to avert the next gas crisis and cater to its energy security. 
At the same time, spot LNG prices in Asia are holding at levels close to the October records, at $36.10 per million British thermal units (MMBtu) as of last week, industry sources told Reuters. 
FLNG is popular again
Thanks to high prices and demand, as well as the benefits of gas compared to coal in terms of emissions in power generation, floating LNG projects are attractive again and could play an important role in filling in a niche on the LNG market in coming years, analysts tell Houston Chronicle's Marcy de Luna. 
"There seems to be renewed interest in FLNGs," Rystad Energy analyst Kaushal Ramesh told Houston Chronicle. 
Currently, there are five operational FLNG projects globally, and at least three more are expected to come on stream over the next two years. FLNG developers are optimistic that the current strong LNG prices could drive momentum for potential new floating projects. 
Shell's Prelude off western Australia became in 2019 the first operational FLNG facility, although it took Shell and its partners eight years to bring it online. 
Golar LNG, which operates the Hilli Episeyo FLNG offshore Cameroon, put the project into production in three years. Earlier this year, Golar LNG, Perenco Cameroon, and Cameroon's state firm Société Nationale des Hydrocarbures (SNH) decided to raise the utilization of the FLNG unit by 200,000 tons to 1.4 million tons in 2022. 
In the Q3 results release in November, Golar LNG said that "The current strength of LNG prices and favorable price outlook further increases the attractiveness of our FLNG solutions. This is driving momentum for potential new FLNG projects." 
More FLNG Coming Within Two Years 
Golar LNG is also working on an FLNG project for BP, FLNG Gimi, expected to be deployed offshore Mauritania. The unit is now around two years from the scheduled start-up date for the 20-year lease and operating agreement with BP, Golar said this month. 
Eni expects to start production from the Coral-Sul FLNG—part of the Coral South Project in the Rovuma basin offshore Mozambique—in the second half of 2022, the Italian major said in November. 
New Fortress Energy announced earlier this year a final investment decision on what it calls "Fast LNG"—a modular liquefaction facility with a capacity of 1.4 million tons per year.  
"This technology can be installed quickly and cheaply to access stranded, low-cost natural gas at a fixed price to meet the global demand for more affordable, reliable and cleaner energy. Alongside our terrific partners, we look forward to deploying one of the world's lowest-cost LNG production facilities by 2022," NFE chief executive and chairman Wes Edens said in March 2021. 
We hope you have enjoyed this weeks report. If you would like to have a confidential chat regarding financial planning including a discussion on whether you should be making additional voluntary superannuation contributions, please feel free to give me a call.
Have an awesome week.
Chris Hagan,
Head, Fixed Interest and Superannuation
JMP Securities
Level 1, Harbourside West, Stanley Esplanade
Port Moresby, Papua New Guinea
Mobile (PNG):+675 72319913
Mobile (Int): +61 414529814