14 June, 2022
Welcome to this week's JMP Weekly Report
Trading in the local bourse last week saw good activity across the exchange. BSP traded 2,154,711 shares closing up 0.10 toea to K12.40 on Friday, KSL saw 940,109 shares closing unchanged at K3.00, STO traded 9,105 shares closing unchanged at K19.00 per share along with CPL with 1,004,735 shares trading at K0.95 per share.  CCP saw 609,057 shares trade at K1.85 toea, while NCM traded 5,645 at K75.00 and KAM saw 40 shares trade unchanged and K1.00.
WEEKLY MARKET REPORT | 6 June, 2022 – 10 June, 2022
| | | | | | | | | | | | | |
| --- | --- | --- | --- | --- | --- | --- | --- | --- | --- | --- | --- | --- |
| STOCK  | QUANTITY | CLOSING PRICE | CHANGE | % CHANGE | 2021 FINAL DIV | 2021 INTERIM | YIELD % | EX-DATE | RECORD DATE | PAYMENT DATE | DRP | MARKET CAP |
| BSP | 2,154,711 | 12.40 | 0.1 | 0.81 | K1.3400 | – | 11.61 | THU 10 MAR | FRI 11 MAR | FRI 22 APR | NO | 5,270,833,466 |
|  KSL | 940,109 | 3.00 | – | – | K0.1850 | – | 7.74 | THU 3 MAR | FRI 4 MAR | FRI 8 APR | NO | 67,057,337 |
| STO | 9,105 | 19.00 | – | – | K0.2993 | – | – | MON 21 FEB | TUE 22 FEB | THU 24 MAR | – | – |
| KAM  | 5,645 | 1.00 | – | – | – | – | 10.00 | – | – | – | YES | 49,891,306 |
| NCM  | 40 | 75.00 | – | – | USD$0.075 | – | – | FRI 25 FEB | MON 28 FEB | THU 31 MAR | – | 33,774,150 |
| NGP | – | 0.70 | – | – | – | – | – | – | – | – | – | 32,123,490 |
| CCP | 609,057 | 1.85 | – | – | K0.134 | – | 6.19 | THU 16 JUN | FRI 24 JUN | THU 28 JUL | YES | 569,672,964 |
| CPL | 1,004,735 | 0.95 | – | – | – | – | – | – | – | – | – | 195,964,015 |
Last week we saw CCP announce a final dividend of 13.4t for 2021, which gives investors a total of 18t for the full year including an interim dividend of 4.6t equating to an approximate 7% ROR.
Our trading book has us as nett buyers of most stocks.
Dual Listed Stocks – PNGX/ASX
BFL – 4.79 -27c
KSL – .84 -3c
NCM – 23.43 – $1.22
STO – 8.53 +14c
and for something a little different;
Gold Standard $US60.33 ( Up $0.94 / 1.58%) $AU85.81 ( Up $2.16 / 2.58%)

Silver Standard $US0.70 ( Up $0.01 / 1.44%) $AU0.99 ( Up $0.02 / 2.06%)

Bitcoin $US26,984 ( Down $3027 / 10.08%) $AU38,384 ( Down $3890 / 9.20%)

Ethereum $US1460 ( Down $326 / 18.25%) $AU2076 ( Down $439 / 17.45%)

Litecoin $US49.47 ( Down $10.73 / 17.82%) $AU70.36 ( Down $14.44 / 17.02%)

Ripple $US0.34 ( Down $0.06 / 15.00%) $AU0.483 ( Down $0.08 / 14.20%)

Bitcoin Cash $US156 ( Down $21 / 11.86%) $AU221 ( Down $28 / 11.24%)

Theta $US1.10 ( Down $0.3 / 21.42%) $AU1.564 ( Down $0.408 / 20.68%)

Tron $US0.07 ( Down $0.01 / 12.50%) $AU0.099 ( Down $0.013 / 11.60%)

Cardano $US0.50 ( Down $0.12 / 19.35%) $AU0.711 ( Down $0.162 / 18.55%)

Stellar $US0.12 ( Down $0.01 / 7.69%) $AU0.170 ( Down $0.013 / 7.10%)

Chainlink $US6 ( Down $3 / 33.33%) $AU8 ( Down $4 / 33.33%)

Matic $US0.50 ( Down $0.12 / 19.35%) $AU0.71 ( Down $0.16 / 18.39%)
On the interest rate front, the TBill market was heavily bid again with the 364 day bills averaging 2.55%. We are starting to see a shift with some investors leaving the low yields in the interest rate market and moving to other asset classes, particularly equities. If interest rates are a must in the portfolio at the moment, I would be very short and therefore providing the opportunity for the investor a possible opportunity to reinvest at higher rates in the coming months.
In the second tier depo market, FIFL rates have also dropped to the following terms and rates
30 days @ 0.60, 60 days @ 1.00, 90 days @ 1.10, 180 days @ 1.15 364 days @ 2.00
---
What we've been reading this week
A cool head in times of upheaval – a clear-thinking checklist for directors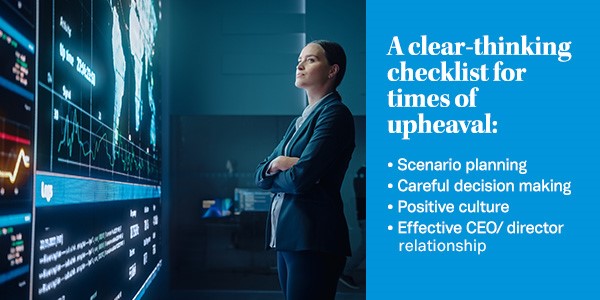 Floods – and the pressing issue of climate change, anxiety around international conflict, and the ever-evolving impact of COVID-19: There's no doubt that 2022 is dialling up the upheaval and uncertainty to new heights.
As organisations grapple with the latest series of risk events, it's essential that boards and senior managers lead proactively – and calmly – from the top.
To help ensure stability and good decision making during these times of change and challenge we have outlined a clear-thinking checklist for directors and senior managers.
Get up to date with scenario planning and crisis management
Before the pandemic hit, Governance Institute's Risk Management Survey found that almost 40 per cent of businesses were not regularly testing their risk and crisis plans — leaving them exposed and under-prepared for major crisis. Just 11 per cent were regularly running scenarios around risk events to test how the organisation and employees will respond.
So, if these gaps in your organisation's crisis management and business plans haven't yet been filled, this must now become an immediate priority.
The broader task of scenario planning is also imperative. Think through what might happen, what might not, and how your organisation is currently tracking against these various scenarios.
Check your risk register is up to date – but plan for your plans to change.
Careful, calm decision making and communication by the board
That well-known Rudyard Kipling quote, "If you can keep your head when all about you are losing theirs…" has certainly come into its own recently.
As staff look to their leaders in times of turbulence, it's important to keep the panic at bay.
Key ways to calmly make effective decisions in the boardroom, as outlined in Governance Institute's Effective Director Course, include: 
| | |
| --- | --- |
| Have (and show) respect | Respect for yourself, for the views of others and for the board conversation itself.  |
| Diffusion of responsibility usually means no responsibility | Responsibility ultimately rests with the board as a whole. Directors should be cautious about seeking to divide responsibilities among directors. |
| Silence can be a good thing | Sometimes, it is more important to listen than to speak. |
| Silence can be a bad thing | If you believe that something needs to be said, say it (constructively). |
| Remember (and use) the Ladder of Inference | Know (and explain) where you are on the ladder and encourage others to do the same. |
| Be brief, structured and clear | Say what you mean clearly (and only once).  |
| Diversity of perspectives and diversity of views can improve the quality of the conversation | Apply the Covey principle of 'seek first to understand, then to be understood.' |
| Listen, think, speak, and act rationally, rather than emotionally | Be (and remain) aware of your emotional state.  |
| Shouting is not conversing, it's just shouting | When you display uncontrolled emotion, that is about all that you are communicating.  |
| As a board, your shared goal is (or should be) to reach a shared understanding, even if directors have different views | Ultimately, it is the board's views, not the individual director's views, which is paramount. |
Source: Effective Director Course
Reinforce a positive workplace culture
During times of uncertainty, workplace culture will either hold the organisation up – or pull it down.
A strong, respectful and ethical organisational culture is essential to maintain employee stability and it's important boards ensure culture is reflective of the purpose and values.
The board's role in maintaining oversight and monitoring culture is also essential.
Build effective CEO/ director relationships
While it is the role of the board to oversee the organisation's risk management framework, the board is also responsible for appointing and managing the CEO.
But at all times, and particularly during times of crisis, there needs to be a clear distinction between the roles with the board only stepping in only when needed.
The board is there to provide oversight, insight and strong support to the organisation. But if there is a crisis that includes a breakdown of the executive team, then the board must have the capability to step in until that is resolved.
Now is a good time to look at the channels of communication and delineation of roles to ensure your organisation is benefitting from the most effective relationships.
We thank the Governance Institute of Australia for this article
---
The results are in: How five types of diversity performed in Australia's top 300 boardrooms

The findings of the latest Board Diversity Index are in, providing a snapshot of Australia's top 300 boardrooms in 2022.
And while some types of diversity continue to improve (more women are moving into director roles – 667 in 2022 compared to 633 last year), others are stagnating (90% of directors continue to be from an Anglo-Celtic background, despite Australia's growing multiculturalism).
Released today by Governance Institute of Australia and Watermark Search International, the 2022 Board Diversity Index is a comprehensive investigation of the ASX 300 examining five types of diversity: gender, cultural background, skills/experience, age, and tenure & independence.
The eighth in the series, and the only report in Australia to examine five types of diversity, this year's Index found:
While more women are moving into director roles, just 19% of female directors hold 48% of female-occupied seats, reversing the gains of last year when 29% of women directors held about 51% of female-occupied board seats
Cultural diversity is stagnating: 90% of directors are from Anglo-Celtic backgrounds (same as last year)
Directors are getting older: The number of those over 70 years has increased from 16% to 22%
There is a higher proportion of women directors with additional qualifications: PhDs, governance qualifications and master's degrees in particular
Tenure is changing: This year for the first time there are female directors with 15+ years tenure. 
Governance Institute of Australia Chair Pauline Vamos said the mixed findings from this year's Board Diversity Index send a clear message to those in the upper echelons of power – in both the boardroom and government – that diversity needs to stay firmly on the agenda or it is at risk of stalling.
'Diversity is not just a "nice to have" or a simple box ticking exercise,' Ms Vamos said.
'Creating a fair and even playing field – across all types of diversity – is an ongoing challenge that needs to be proactively managed from the top down, whether at government or boardroom level.
'We hope the incoming federal government takes heed of the findings from this latest Index and puts diversity action firmly on their agenda.'
More women on boards is one of the key improvements that continue to be made on gender diversity, Watermark Search International Managing Partner David Evans said. However, the Board Diversity Index highlights cultural diversity as an area in need of some serious attention.
'Our projections show there are likely to be an equal number of men and women on ASX boards by 2030,' Mr Evans said. 'Also, the total number of board seats occupied by women has increased by nearly 70% since 2016. And boards with zero or one woman have fallen to 69 this year, compared to 82 last year.
'This is all great news. However, cultural diversity in the boardroom is currently stagnating with our boards continuing to be dominated by those of Anglo-Celtic and European ethnicity. Given Australia is increasingly multicultural, this is an indicator that our boardrooms are becoming less representative of our communities.'
Mr Evans said boards need to lead change on cultural diversity from the top down.
We thank the Governance Institute of Australia for this article
---
European Union Offshore Wind Strategy
Oxford Institute for Energy Studies Energy Insight: European Union Offshore Wind Strategy by Elin Akinci and Siddharth Iyer
 
Key points:

Europe is not just in a race to meet its medium- and long-term climate targets and to enable the energy transition. For #geopolitical and #energysecurity reasons, it is now also in a race to end its dependence on imports of Russian oil refined products and gas imports as quickly as possible

While the #eucommission has signalled that an all-hands-on-deck approach is necessary to encourage a range of renewable and fossil-free energy supplies in the coming years, it is increasingly evident that the main large-scale sources of energy production on the continent in the coming 5–10 years will be from #offshorewind. Other options with large-scale potential, such as #nuclearenergy, are still politically contested while also widely regarded as having longer lead times

A large-scale uptake in #offshorewind deployment in Europe is therefore one of the EU's top energy and climate priorities. Offshore wind alongside a developed hydrogen economy are viewed as the centrepieces in EU's strategy to reach its #netzero #climatetargets by 2050 and the offshore wind industry is gaining more traction both from finance institutions and future offtakers

Despite strong interest both from policymakers and market players the growth in offshore wind projects has been relatively low and is definitely too slow for the EU Commission to reach the EU's offshore wind target of 300 GW by 2050

This energy insight investigates the #policy and #regulatory challenges that the offshore wind industry is currently facing in their permitting processes, market integration steps and project cost calculations

It  looks at the current cost environment for the offshore wind industry and ends with a discussion on how businesses can manage both the challenging regulatory and cost environments at an early stage by developing projects with more holistic business solutions

I hope you have enjoyed the read, if you would like to discuss your investment strategy or just starting out, please feel free to contact me.
---
I hope you have enjoyed the read, if you would like to discuss your investment strategy or just starting out, please feel free to contact me.
Have an awesome week
Regards,
Chris Hagan.
Head, Fixed Interest and Superannuation
JMP Securities
Level 1, Harbourside West, Stanley Esplanade
Port Moresby, Papua New Guinea
Mobile (PNG):+675 72319913
Mobile (Int): +61 414529814