July 11, 2021
Welcome to this week's JMP Report.
Last week on the local bourse, five stocks saw all the activity. BSP had the largest turnover with 18,324 shares exchanging hands closing down 0.10 toea or -0.81% to K12.20. OSH on the other hand traded 1,881 shares and closed up by 0.01 toea or 0.09% to K10.61 along with KSL shares trading 1286 shares closing up 0.01 toea or 0.31% to close at K3.26. KAM saw 5,000 shares trade closing unchanged at K1.00 along with CCP with 5,882 shares trading also closing unchanged at K1.70
Refer details below;
WEEKLY MARKET REPORT 05.07.21 – 09.07.21

STOCK

QUANTITY

CLOSING

CHANGE

% CHANGE

BSP

18,324

12.20

-0.10

-0.81

KSL

1,286

3.26

0.01
0.31

OSH

1,881

10.61

0.01
0.09

KAM

5,000

1.00

–
0.00

NCM

–

75.00

–

0.00

CCP

5,882

1.70

–
0.00

CPL

–

0.80

–

0.00
On the interest rate front the 364 day TBill rates have been flat lining for several months now at 7.20%. The Finance Company money can be put away from 5.50% with CCP, Fin Corp and Moniplus offering competitive rates.
Our Order book has some nice 4 month BPNG paper on offer, please give me a call for more detail.
---
What we have been reading this week
Singapore's largest floating solar plant begins commercial operation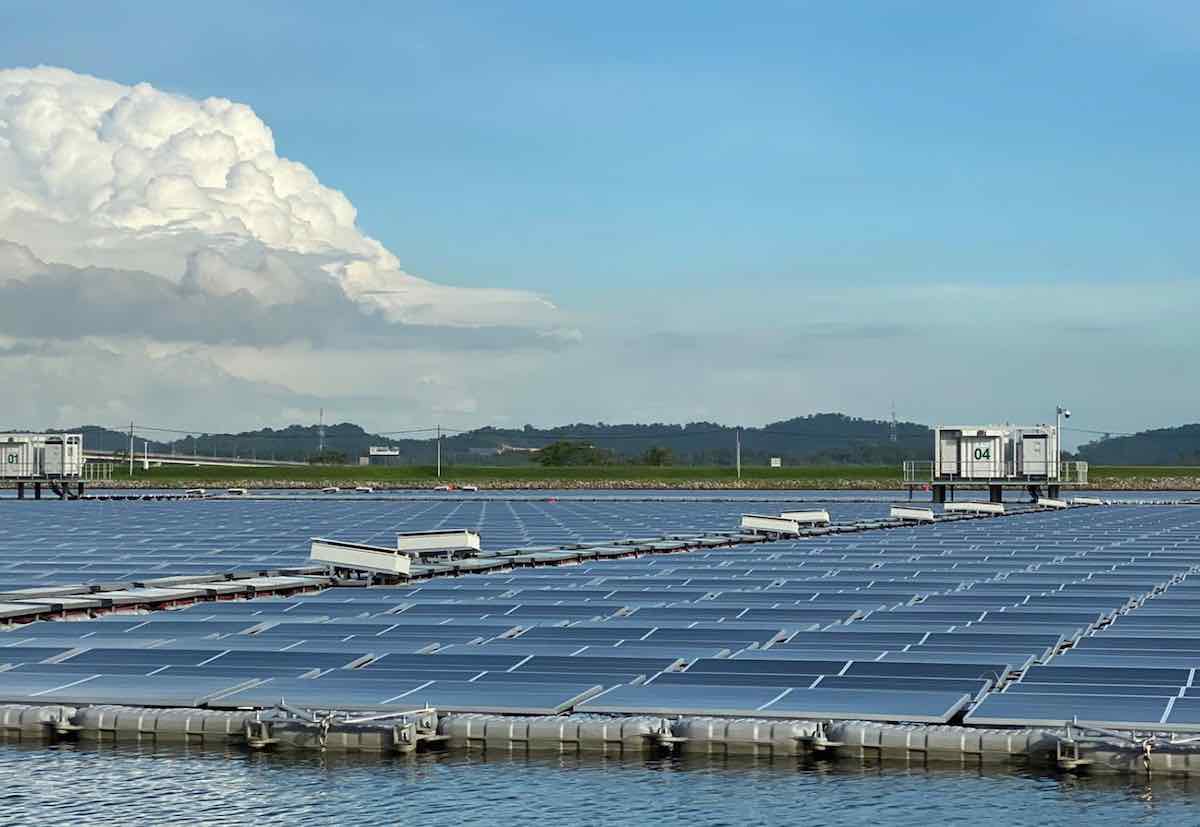 Sophie Vorrath 9 July 2021
One of the world's largest inland floating solar PV systems, the 60MW array on the Tengeh Reservoir in Singapore, has been completed and is sending power to the grid, according to Trina Solar, the supplier of modules for the project.
The project, which is also one of the first in the world to integrate green technology with water treatment, is most certainly the largest floating PV system in Singapore, where big solar development is limited by lack of free land space.
The floating solar plant was developed by Singapore's PUB (Public Utilities Board) National Water Agency, along with its subsidiary Sembcorp Industries, with construction kicking off in August of 2020.
The array will be integrated with PUB's water treatment plants, with a a 25-year power purchase agreement struck back in May of that year with Sembcorp to supply power to PUB's water treatment operations from the floating solar project.
Trina, which supplied 12,556 of its 210 Vertex dual-glass modules for the array, said on Wednesday that the competed project had been recently connected to the grid and was now in full commercial operation.
The Chinese solar giant said its modules were selected for the job according to "very strict requirements" for their functionality, safety and reliability in a water environment over an expected operational life of more than 25 years.
"Trina Solar's 210 Vertex dual-glass modules are a perfect fit for this floating project with its high-power generation and reliability in hot and humid climates, such as Singapore," a statement from the company said.
Trina also noted that the modules' higher efficiency and power meant fewer panels needed for the 60MW project, reducing its footprint on the water.
"The application of Trina Solar's 210 Vertex modules in Singapore's floating project has been a successful showcase," said the project leader of Trina's China region, Zhao Lei.
"After the Singapore project, more and more country markets show confidence and recognition of the quality of Trina Solar's 210 Vertex modules. Our brand has earned its wider reputation overseas."
Just this week, Trina also revealed that its Vertex modules had achieved a new global efficiency record, thanks to advancements made by the company's Singapore-based team of researchers at the State Key Laboratory of Photovoltaic Science and Technology (SKL).
Independently confirmed by both TÜV Rheinland and TÜV Nord, Trina said the record aperture module efficiency had been achieved by the Vertex high-efficiency p type monocrystalline silicon module, based on 66 pieces of 210 mm x 210 mm high efficiency PERC cells.
---
New Indonesia Travel Rule Prohibits 92% of Australians From Entering Bali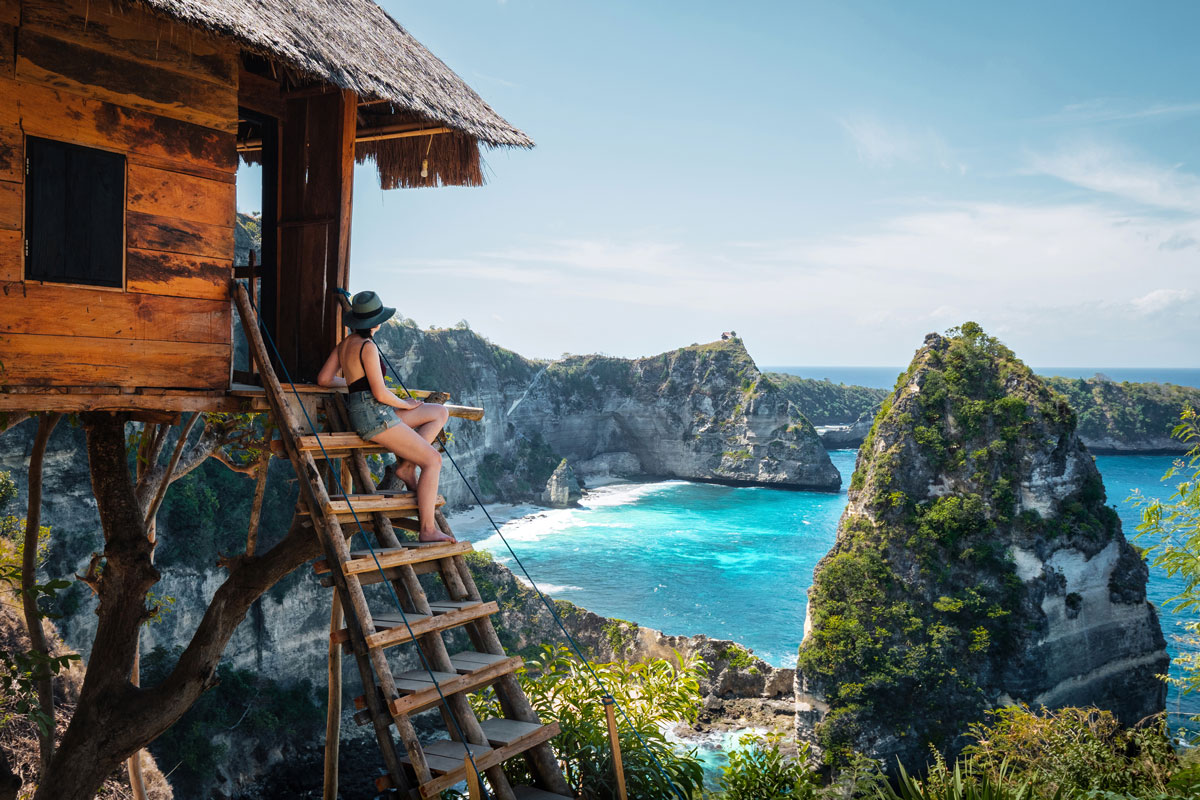 Indonesia introduces 'no vax, no fly' rule for foreign nationals wishing to enter.Twitter FacebJames Booth
Bali, Indonesia, traveler on tree house at Diamond Beach in Nusa Penida Island. Photo credit: Getty Images.
The 'Bondi, Byron, Bali' triangle has the same attraction to 'spiritual urbanites' as the Bermuda triangle has to light aircraft.
This community was dealt a Chakra-stinging blow earlier this week, however, when news broke that Indonesia would be adopting a 'no vax, no fly' policy.
Coconuts Bali reports this is sending foreign nationals in Bali "into a frenzy."
"From anti-vaxxers condemning the move, to travellers who prefer to get the COVID jab in their home countries, to those frustrated with not being able to get vaccinated even if they wanted to," the move has allegedly ruffled a lot of feathers, Coconuts Bali claims.
Here in Australia, our Beige linen wearing brethren now face a dilemma (beyond that of doing the right thing by the rest of the country) – abandon the anti-vax rhetoric (which, unfortunately, quite a few in these communities seem to subscribe to) or have their wings clipped.
With international travel tipped to resume in 2022, those looking to resume their annual pilgrimage to Mrs Sippy Seminyak will have to either get vaccinated or potentially be denied entry to Indonesia.
At the time of writing, only 8.2% of Australians have been fully vaccinated, according to The Guardian. This rules out 91.8% of Australians from entering Indonesia (and by extension, Bali) right now.
Australians can't leave Australia right now anyway due to our own government's travel ban. The big question Indonesia's new policy raises is how many of us will be fully vaccinated next year (or whenever international travel resumes) and whether this 'no vax no fly' policy for foreign nationals is going to remain in place permanently.
"The COVID-19 Task Force issued the new requirements yesterday," Coconuts Bali reported on Monday, "which mandates that foreign nationals entering Indonesia must test negative for the coronavirus and to show a card or certificate that indicates they have received their full dose of a COVID-19 vaccine."
---
Botswana unearths second huge diamond in weeks, becoming the third largest ever found
Posted Thu 8 Jul 2021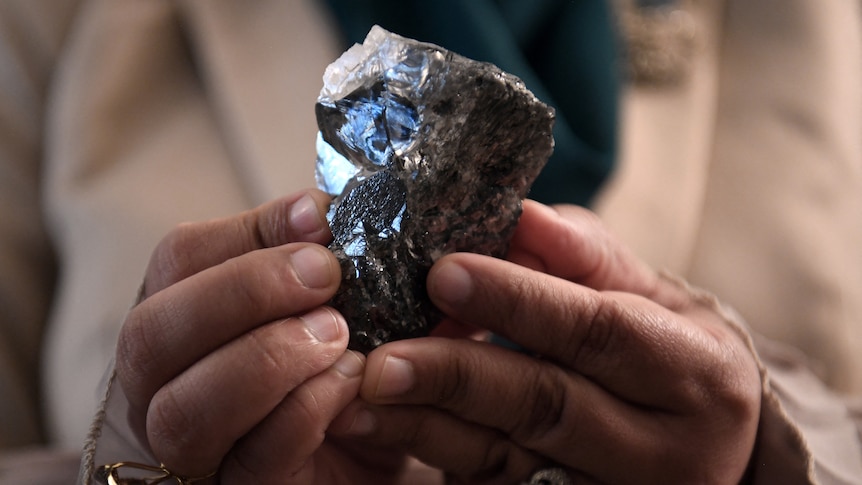 The diamond was mined in Gaborone, Botswana during an 11-day production run in June 2021. (
AFP: Monirul Bhuiyan
A 1,174-carat diamond has been unearthed in Botswana, a mining company announced on Wednesday, trumping another huge precious stone found in the country last month.
Key points:
A diamond last month was proclaimed to be the third-largest at 1,098 carats
Botswana has discovered six of the top 10 largest diamonds
The biggest in history was the Cullinan stone at 3,106 carats
The latest find, which fills the palm of a man's hand, was discovered on June 12 by Canadian diamond firm Lucara and presented to the country's cabinet in the capital Gaborone on Wednesday.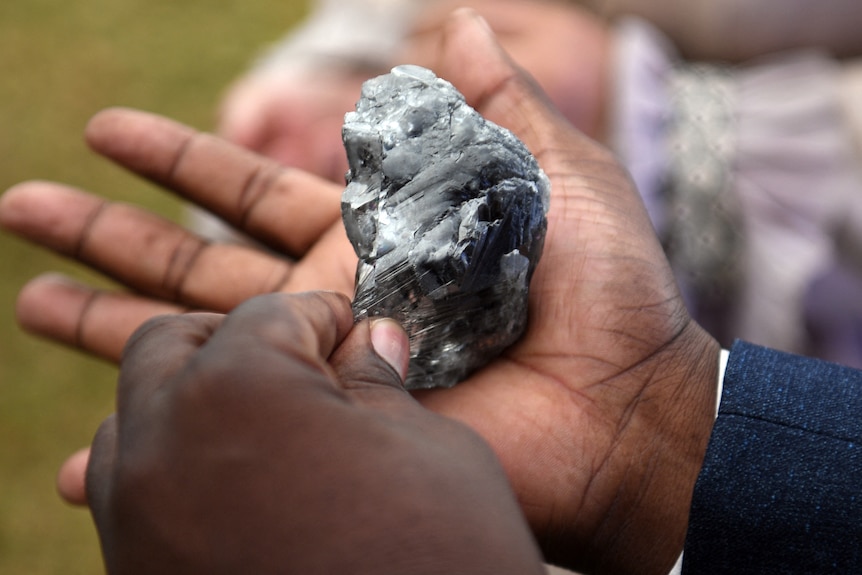 "This is history in the making, for us and Botswana as well," said managing director Naseem Lahri, adding the diamond sits in third position among the world's largest diamonds.
The diamond fills the palm of a man's hand.
Last month, Botswanan diamond firm Debswana said it had recovered the "third-largest" stone in the world at 1,098-carats on June 1.
The latest find solidifies Botswana as a leader on the world stage of the largest stones, accounting for six in the top 10 list.
The biggest diamond ever discovered in the world was the 3,106-carat Cullinan, found in South Africa in 1905.
Parts of that diamond adorn the British crown jewels.
President Mokgweetsi Masisi welcomed the "riveting moment" and the growing frequency of diamond discoveries in the country, promising that the southern African country will have a long-lasting legacy.
Botswana is Africa's leading diamond producer.
---
Biden executive order could bring more scrutiny to rising container shipping costs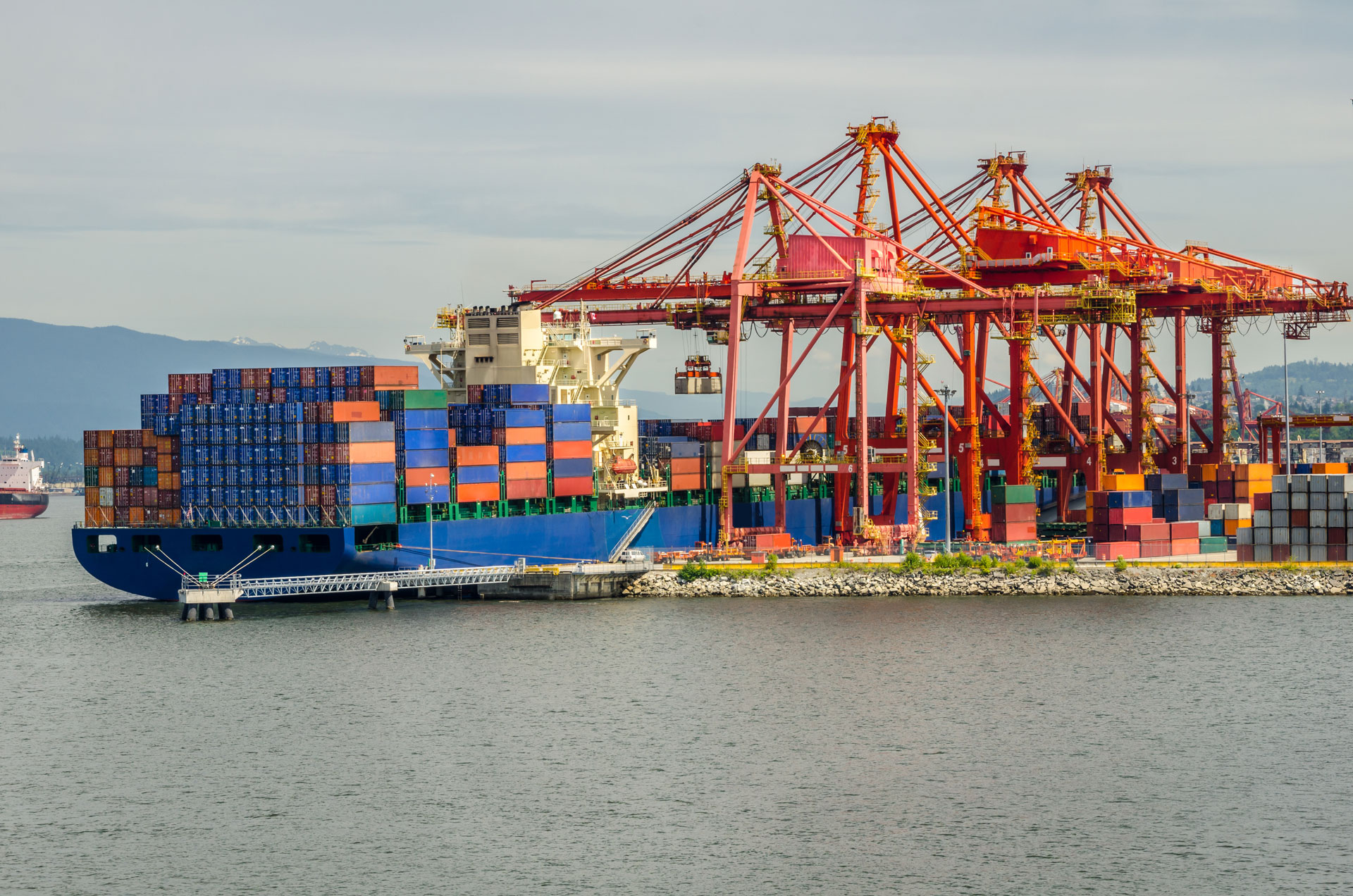 AuthorGreg Holt
Sweeping EO targets anti-competitive practices in some sectors
Also focuses on charges exporters pay to shipowners
The US government took aim at the ocean shipping industry in a sweeping executive order President Joe Biden signed July 9 that also targeted anti-competitive practices in the healthcare, internet service, and agribusiness sectors.
The executive order specifically encourages the US Federal Maritime Commission "to ensure vigorous enforcement against shippers charging American exporters exorbitant charges," according to a fact sheet the White House released July 9.
The fact sheet noted that the ocean container shipping industry has consolidated rapidly since 2000 when the 10 largest shipping companies controlled just 12% of the market.
"Today, it is more than 80%, leaving domestic manufacturers who need to export goods at these large foreign companies' mercy," the fact sheet said. "This has let powerful container shippers charge exporters exorbitant fees for time their freight was sitting waiting to be loaded or unloaded."
Although the detention and demurrage charges paid to shipowners by US exporters were the focus of this section of the executive order, it could more broadly bring attention to escalating shipping rates for US importers that have contributed to higher consumer prices.
Platts Container Rate 5 – North Asia to East Coast North America – was assessed on July 9 at $8,100/FEU, up 140% from $3,375/FEU a year ago, as shipping lines and ports were overwhelmed by unprecedented cargo volumes from Asia to the US since lockdowns and social distancing took effect during the coronavirus pandemic.
But rates, including premium service fees some priority shippers paid on the North Asia-to-East Coast North America route, have climbed even more dramatically into the $18,000-$20,000/FEU range to secure prompt loading on a ship leaving Asia, where cargo volumes have greatly exceeded carrying capacity.
The Consumer Price Index, provided by the US Bureau of Labor Statistics, showed prices for all items across the index rose 5% in the 12 months to May, the strongest one-year increase on record since the period to August 2008.
"COVID[-19] and its effects have created record demand for shipping and record freight rates as well," FMC Chairman Daniel Maffei said in June 15 testimony to the US Congress. "The demand for imports will likely not diminish until 2022. But the supply of space on ships has not increased enough to keep pace even though virtually every usable ship is in service."
The executive order could discourage container shipping lines from further increasing rates in the months ahead despite strong demand, similar to the way trans-Pacific rates were largely stable from January through April after a review by China's Ministry of Transport, a US freight forwarder said.
"The order doesn't seem to give the FMC any legal authority to regulate shipping rates, but it is definitely unwanted attention for the shipping lines," the freight forwarder said. "They might just be more cautious about the rate increases they are passing through going forward."
I hope you have enjoyed this week's read, please feel free to discuss,
superannuation compliance and market analysis
buying and selling shares, either on the POMX or International Markets
how to understand Bonds, the Gentleman's Market and how to make a return on longer term interest rates.
funds management and investment strategies
financial planning strategies
Have a great week and make it happen
Chris Hagan,
Head, Fixed Interest and Superannuation
JMP Securities
Level 1, Harbourside West, Stanley Esplanade
Port Moresby, Papua New Guinea
Mobile (PNG):+675 72319913
Mobile (Int): +61 414529814