March 29, 2021
Welcome to this week's JMP Report.
During the week we saw BSP shareholders approve the Boards proposal to continue their assessment of a possible listing on the ASX.
We are hearing intending applications for registered Banking licenses are becoming a little crowded in this area, watch that space over the coming weeks with the rumor mill cranking up a notch or two.
Last week we saw BSP, KSL and OSH make up the PNGX activity. BSP saw 219,313 shares trade unchanged at K12.00, KSL traded 976 shares at K3.20 down .05 while OSH traded 750 shares, unchanged at K10.02.  BSP still trading cum-dividend at K12.00 per share with KSL trading ex-dividend at K3.20. 
BSP shareholders also agreed at the EGM to a change in the name of the company to BSP Financial Group and positive news on them also seeking ASX listing.
With the CPL interim dividend of 1.33t per share declared on 8 March 2021 and the final dividend of a further 1.67t per share declared on 23 March 2021, CPL is currently trading at a respectable 6% dividend yield. Continued improvements in the performance of CPL's business units has the potential to lead to continued growth in dividends in the coming years and with it an improvement in the share price.
.
WEEKLY MARKET REPORT 22.03.21 – 26.03.21

STOCK

QUANTITY

CLOSING 

CHANGE

% CHANGE

BSP

219,313

 12.00

–

 

KSL

976

 3.20

-0.05

–

OSH

750

10.02

–

–

KAM

–

 0.90

–

 

NCM

–

 81.50

–

 

CCP

–

 1.70

–

 

CPL

–

 0.50

–

 
On the interest rate front, the week was much the same with 364 day bills averaging 7.20%. But, to get the interest rate market excited, we understand there has been an announcement from BPNG with regard to the 2021 GIS issuance program. We also understand stock will be offered along the curve including the 10yr.
Once we have seen the official notification I will communicate more detail. The program is expected to raise approximately K2.2bn. I can hear you are as excited as I am. If you would like to chat regarding the valuation of your existing bond holdings and how you could use a positive yield curve to increase your returns, please reach out.
---
What we have been reading this week
Alternative energy station owned by ActewAGL makes hydrogen fuel on-site and will power a fleet of 20 government vehicles.
AGL energy subsidiary ActewAGL has opened Australia's first public hydrogen vehicle refuelling station.
Located in Fyshwick just outside of the Canberra CBD, the station produces its own hydrogen gas on-site by capturing rainwater and using specialist equipment to create the fuel – powered by 100 per cent renewable energy.
The station's opening coincided with the ACT Government's arrival of 20 Hyundai Nexo hydrogen vehicles.
Hydrogen gas is sold by the kilogram, with pricing at the bowser to sit around $10-$15 per kg.
It takes just five minutes to refuel a Hyundai Nexo from empty with approximately 6kg of Hydrogen gas. The average cost of a single refuel is $90, which enables a Nexo to travel a claimed 666km. "We need to transition to zero emissions vehicles as soon as we can," Attorney-General of the ACT and Minister for Climate Change and Sustainability Shane Rattenbury told media at the Australian launch of the Hyundai Nexo.
"More than 60 per cent of emissions come from transport (in the ACT). A zero-emissions government fleet will be practical within three years."
The ACT government already has a fleet on Hyundai Ioniq electric vehicles currently in-use by public servants.
It claims its electric vehicles have seen an "80 per cent reduction" in running costs when compared to internal combustion vehicles in the same fleet.
Though the ACT was supplied 100 per cent by renewable energy in 2020, the Attorney-General expressed he would like to see the territory achieve net zero-emissions by 2045.
---
Australia's big four banks drag heels on fossil fuel finance: new report
Ketan Joshi 25 March 2021 1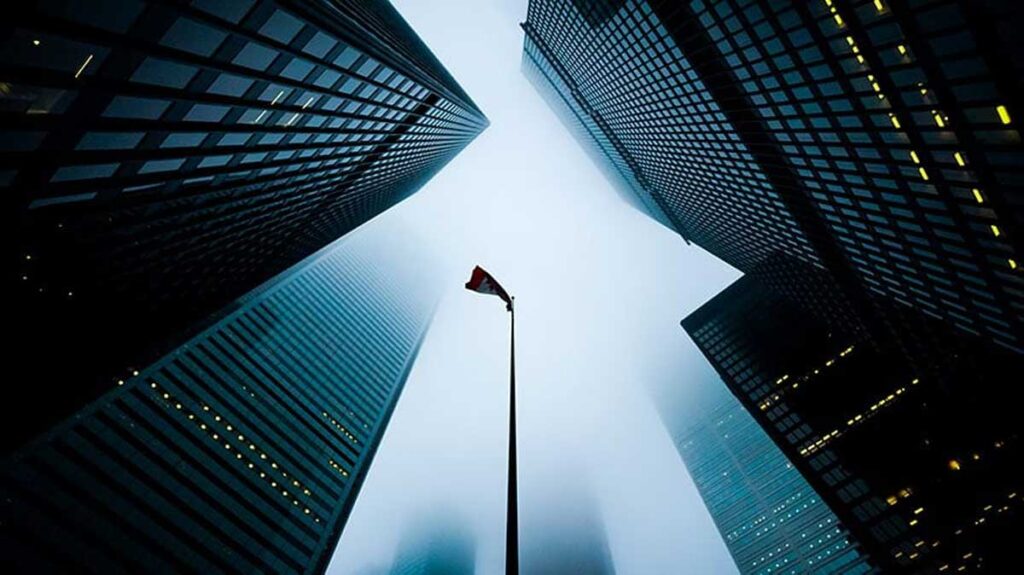 A new report released by the Rainforest Action Network (RAN) has revealed the world's 60 biggest banks have provided finance to fossil fuel companies at a total of $3.8 trillion US dollars ($4.9 trillion AUD) since the establishment of the Paris climate agreement. This lending relates to the extraction and burning of fossil fuels, along with enabling infrastructure such as ports and pipelines.
The full datasets reveal that Australia's 'big four' banks – ANZ, Commonwealth, NAB and Westpac, have contributed a total of $84 billion Australian dollars in the years since the Paris climate agreement. 2018 and 2019 were peak years, and though 2020 has seen a fall in lending to fossil projects from Australia's banks, it was still higher in amount lent than both 2016 and 2017. This is in line with the global trends.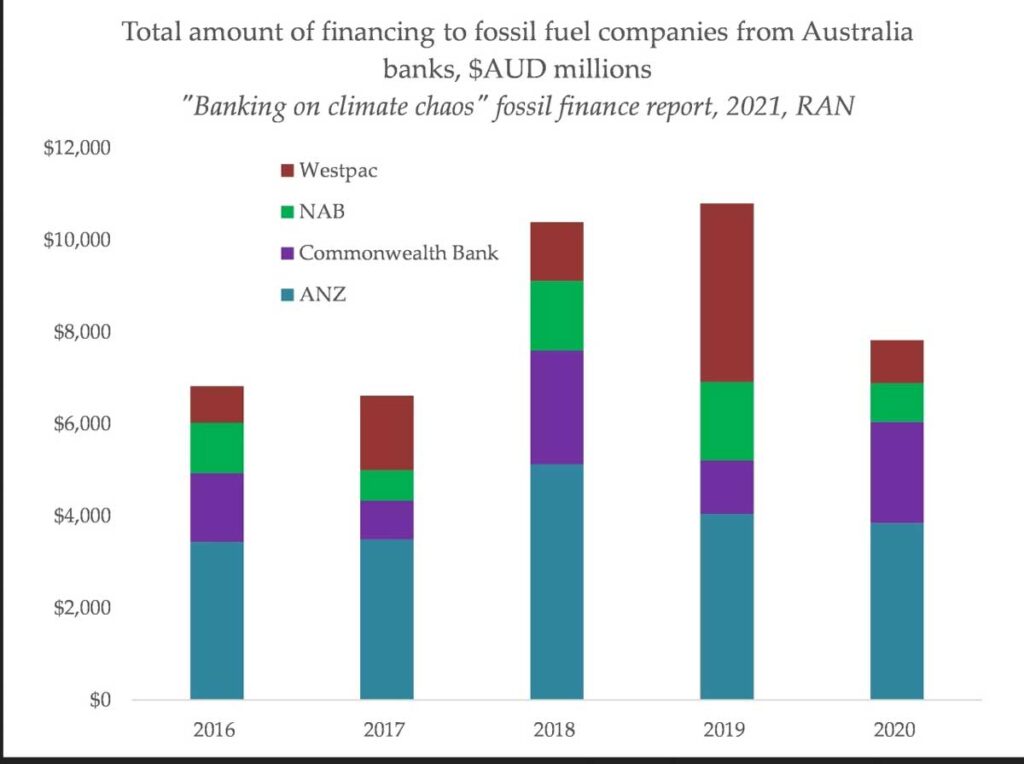 The report includes a case study on a coal mine being developed by an Australian subsidiary of Adani, recently renamed 'Bravus'. "Over 40 banks have publicly committed to refrain from financing the Carmichael mine. However, in December 2020 it was reported that State Bank of India is ready to offer Adani a loan of approximately $678 million for the project", the authors say. Several banks, such as Bank of America and Barclays, have made commitments not to fund either coal or the Carmichael coal mine specifically, but are underwriting bond assurances for the rail project that will transport coal from the mine to a nearby port.
The report also specifically names ANZ as "Australia's worst funder of fossil fuels, for five years in a row". Commonwealth Bank and NAB both have net zero by 2050 targets, and Westpac and ANZ have pledged to set targets in the short term. However, all four continue to lend money to or underwrite the projects of large fossil fuel companies. The data provided in the report show that Australia's banks are lending to several international organisations, and several domestic fossil fuel companies too: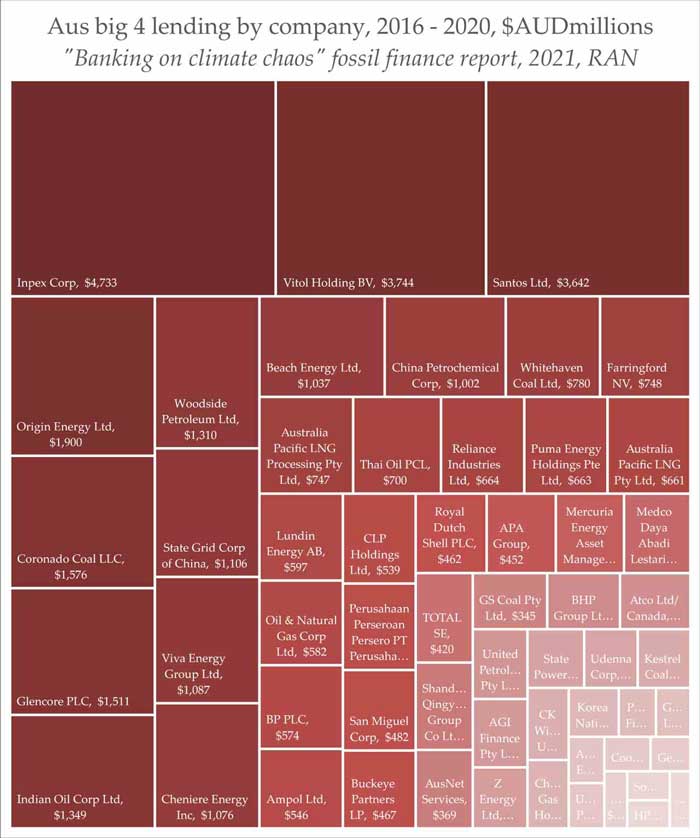 The report calls for banks to establish policies that prohibit financing of fossil fuel extraction and infrastructure along the whole value chain, and to respect human rights, and Indigenous rights in particular. "The Wangan and Jagalingou people, traditional owners of the land, have not consented to the Carmichael mine, which they've been fighting for years. In the fight to stop the project, Adrian Burragubba, spokesman for the Wangan and Jagalingou family council, was bankrupted after Adani sought reimbursement for court costs", the report says.
The lending policies of Australian banks are detail in the report, too, with points being assigned to each that positively attempts to exclude the financing of fossil projects. While some of Australia's big four banks have policies limiting coal investment, there are few that limit other fossil fuels such as oil and gas: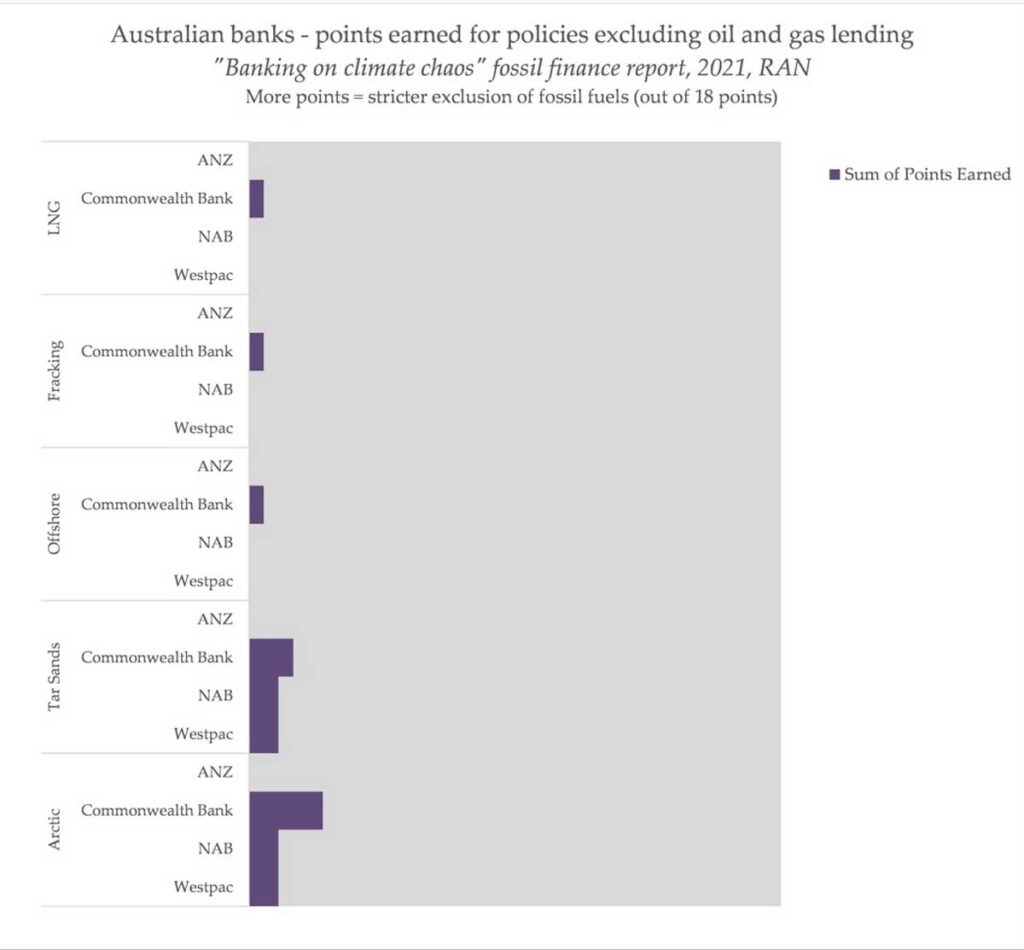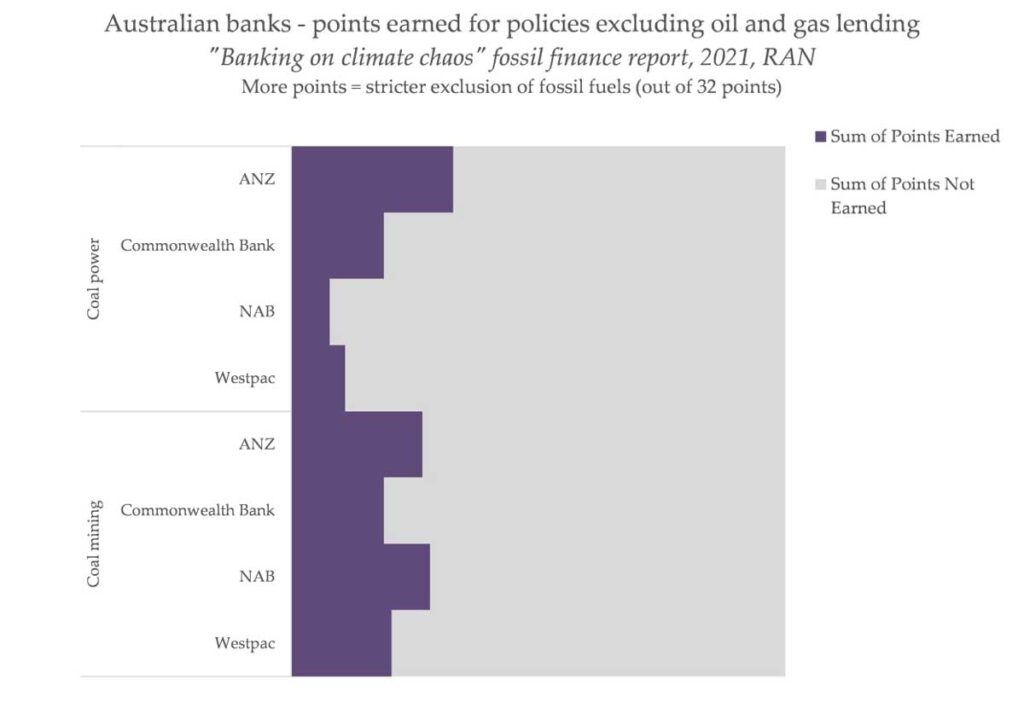 ANZ stands out among the banks for the magnitude of its lending to fossil fuel companies. It ranks high in particular for lending to offshore oil and gas companies, ranking 25th in the world among all banks in terms of quantity of financing provided to fossil fuels extracted in this way.
"These numbers expose the hollowness of banks' ever-multiplying commitments to be net-zero or align with the Paris Agreement climate targets," said Lucie Pinson, founder and executive director of Reclaim Finance. "It's clear that all banks need to replace empty promises with meaningful policies enacting zero tolerance for fossil fuel developers".
Notably, each of Australia's big four banks have joined the RE100 initiative, in addition to featuring claims of climate commitments on their site. But this new report shows that they are notable participants in a global problem of continued cash flowing to fossil fuel companies.
Microsoft: Hydrogen fuel cells will enable data centres to completely rethink electrical systems
Cloud giant Microsoft is experimenting with hydrogen fuel cells as a replacement for diesel backup and, potentially, much more
The development of hydrogen fuel-cell technology as an alternative to diesel backup will enable data center operators to completely "rework" their electrical systems, according to Mark Monroe, the principal engineer at Microsoft's Datacentre Advanced Development Group and winner of the Energy Smart Award at the DCD>Global Awards.
In particular, Monroe believes, hydrogen fuel-cells could render the UPS redundant, as well as diesel backup generators. However, it could be another decade – or more – before second generation hydrogen fuel-cell technology is able to rise to the challenge.
"If you start out with just a diesel generator replacement [program] you end up immediately looking at some of the elements of the system and say, 'Why are we duplicating this function or that function? Why don't we have a different kind of power available? How can we use that in a more efficient way?'" said Monroe, speaking at DCD's recent Towards Net-Zero event, where he was presenting Microsoft's research into the use of hydrogen fuel-cells.
Time for a rethink
– Microsoft
Microsoft's research into hydrogen fuel cells and other 'alternative' forms of power for data centres comes as the company has promised to not just be carbon-neutral by 2030, but carbon negative. This commitment is also supported by co-founder Bill Gates, who has kept a close eye on Monroe's research.
In the recent experiments conducted by Monroe and his team, the aim was purely to see whether hydrogen fuel-cells could be used for back-up. "Our goal was to scare our engineering group as little as possible by saying that this is just a drop-in diesel generator replacement, so we don't have to change any of the electrical design.
"But the real opportunity, in my opinion, is when we start getting into generation two of this and say, well, 'What would we do differently with the electrical system in a hyperscale data centre if we had reliable direct current non-polluting power available at the drop of a hat?'
"I think you'd want to start looking at different architectures and, maybe, changing the whole way the electrical system works; [examining] how it might be reworked."
Monroe was responding to questions from the audience after presenting details of the company's research into hydrogen fuel-cell technology so far, which started with a type of fuel cell called proton-exchange membrane (PEM) as an alternative to diesel backup.
The real opportunity is when we start getting into generation two of this and say, well, 'What would we do differently with the electrical system in a hyperscale data centre Mark Monroe, Microsoft
"Diesel generators are an absolute necessity for us to be able to have five-nines of availability at data centres, and a lot of data centres keep 24-to-48 hours of fuel on-site… But no-one in the industry really likes diesel generators because they are noisy, they pollute and they produce, not just carbon, but also particulates, including nitrous oxides. And they're getting more and more difficult to permit at the levels that some hyperscale companies are moving," said Monroe.
Moreover, with the advent of the hyperscale data centre, the level of diesel generator backup also needs to be scaled up accordingly. "If we go to an authority and say, 'We're going to need 200MW of diesel backup', they start to add that up and think, 'We can't allow that. That's too much load on our air quality permits.' And if we can't get the permits we can't grow to meet demand."
Alternative energy
The idea started around two years ago with an automotive fuel-cell developed with HPE and the Daimler car company. The aim of that experiment was merely to power a rack of servers with a 65kW fuel cell as a proof-of-concept.
That experiment ran in what Monroe described as a "bottomless UPS," with the fuel-cell piping in DC current to the UPS, which powered the rack. While that demo worked, the next step was to see whether it might scale, not just in terms of power output, but also durability – Daimler's fuel-cells had been designed to run for four-to-six hours before stopping for refuelling.
The only output from the fuel cells is warm water vapor after the hydrogen and oxygen combine Mark Monroe, Microsoft
In particular, Monroe's team needed to find out whether there might be, for example, overheating issues with running on hydrogen fuel-cells for an extended period of time.
That experiment involved a series of hydrogen storage trucks feeding the fuel cells for 48 hours, non-stop. "The only output from the fuel cells is warm water vapor after the hydrogen and oxygen combine," said Monroe. Fortunately, the generated steam is not scalding hot. "It cooled down very quickly as it came out and it was very quiet compared to a diesel generator."
However, there are currently a number of drawbacks to hydrogen fuel-cell technology, which means that it is by no means a 'slam dunk' that it will replace diesel backup.
One of the key ones is the fact that the safe transport and storage of hydrogen requires it to be liquefied. This means that the volatile gas needs to be cooled-down to 20 degrees Kelvin, around -250 degrees celsius or in excess of -420 degrees Fahrenheit. Storing it long-term might also present a challenge because, as Monroe admits, some will vaporize every day. And for fuel cells to provide three megawatts of power for 48 hours also requires a considerable amount of it: about 18,000 US gallons.
Nevertheless, it is still early days for hydrogen fuel-cell technology and Monroe is looking forward to conducting a 3MW test later this year. It is not the only alternative to diesel backup generation that Microsoft is researching: "We are certainly are looking at other fuels… I expect in that 2030 timeframe there will be a number of different solutions, including other liquid fuels," said Monroe.
---
NAB trains 'carbon bankers' to ease the net zero path
Ben Potter Companies editor AFR
Mar 30, 2021
National Australia Bank will train bankers to support the low carbon transition plans of its 100 heaviest emitting customers by helping them to reduce their climate risk in line with net zero by 2050 Paris agreement pledges.
Over the next two years corporate and institutional bankers will complete a course developed by Melbourne Business School in partnership with the Climate Reality Project, which was founded by former US vice-president and climate campaigner Al Gore.
There is a growing appetite from investors for renewable projects. 
The initiative comes as demand for green finance and other initiatives to ease the transition to net zero emissions is increasing rapidly from a low base, and still only a fraction of total global finance.
It will be announced at The Australian Financial Review Banking Summit in Sydney on Tuesday. The first intake of 25 will begin the course in May. In all, 75 bankers to NAB's top 100 carbon emitting customers will complete the course over the two years.
David Gall, NAB's group executive for corporate & institutional banking, who will appear at the Summit on a low carbon banking panel, said the bank was investing in the carbon transition planning skills of its top bankers to heavy industry because it knew the issue was keeping customers awake at night.
"This is a long-term investment in the capabilities of our bankers," he said. "Part of our role as a bank is making sure Australia's biggest companies can access the financial expertise and innovative thinking they need to adapt their businesses over coming years."
NAB counts itself among the world's top issuers of climate change bonds with 130 domestic and global transactions involving wind farms, solar parks and hydro financed since 2003, equivalent to 21.59 gigawatts of installed capacity. It has a goal of delivering $70 billion in environmental financing by 2025.
Pollination's Australia-based executive team: executive director Megan Flynn, co-founder Martijn Wilder and senior partner Patrick Suckling. 
But another speaker on the low carbon banking panel, lawyer and co-founder of green finance firm Pollination Martijn Wilder, will tell the Summit that Australian financial institutions and the federal government are not yet prepared to undertake the fundamental restructuring, investment and government policies required to facilitate the transition to a zero-carbon economy.
Mr Wilder said that despite a lot of talk about Australia becoming a centre for green finance the country was still a long way behind Europe in its development, with a "cocooned" debate, timid financial institutions and governments and "no government plan" to drive investment.
Though the Australian government had championed a "high-level technology road map" and a "gas-led recovery" backed by gas industry representatives, the Green Bond Initiative based in Europe and headed by an Australian, Sean Kitney, had decided that liquefied natural gas and liquefied petroleum gas would no longer qualify for "transition bonds".
"Things are moving really fast and Australia is a long way behind and we are going to miss out," Mr Wilder said.
Investors such as French bank Natixis had anticipated the potential application of carbon penalties to fossil-fuel energy intensive assets by central banks and prudential regulators by "green weighting" investment.
He cited the decision of the federal and Victorian governments to subsidise the continued reliance of Alcoa's Portland aluminum smelter on Victorian brown coal power as a "massive" wasted opportunity.
Mr Wilder said the government had a good technology road map but it could go further and underwrite investment in the infrastructure for building and operating electric and hydrogen buses, large-scale hydrogen production facilities and new transmission lines such as the second Basslink and others to maximise the use of renewable power.
"The government has an enormous opportunity to drive this investment," he said.There was also an opportunity for Australia to encourage the issuance of green bonds to protect its rainforests and the Great Barrier Reef, which suffered from run-off of nitrogen-based fertilisers from coastal Queensland farms, and hasten the transition out of coal.
I hope you enjoy the read, have a great week.
Cheers,
Chris and the team
Head, Fixed Interest and Superannuation
JMP Securities
Level 1, Harbourside West, Stanley Esplanade
Port Moresby, Papua New Guinea
Mobile (PNG):+675 72319913
Mobile (Int): +61 414529814