20 September, 2022
JMP Securities join in commemorating the reign of Queen Elizabeth II, may she rest in eternal peace.
Welcome to this week's JMP Report.
On the trading front we had a short week last week due to the PNG Independence Day Public Holiday celebration. Three stocks did the heavy lifting on the local bourse, BSP, KAM, and STO. BSP saw 708,488 shares trade closing unchanged at K12.41, KAM traded 5,261 shares closing 5t down to 95t while STO saw 393 shares trade at K19.10. Refer details below
WEEKLY MARKET REPORT | 12 September, 2022 – 15 September, 2022
| | | | | | | | | | | | | |
| --- | --- | --- | --- | --- | --- | --- | --- | --- | --- | --- | --- | --- |
| STOCK  | QUANTITY | CLOSING PRICE | CHANGE | % CHANGE | 2021 FINAL DIV | 2021 INTERIM | YIELD % | EX-DATE | RECORD DATE | PAYMENT DATE | DRP | MARKET CAP |
| BSP | 708,488 | 12.41 | – | – | K1.3400 | K0.34 | 11.61 | FRI 23 SEPT | MON 26 SEPT | FRI 14 OCT | NO | 5,317,971,001 |
|  KSL | 0 | 3.00 | – | – | K0.1850 | K0.0103 | 7.74 | MON 5 SEPT | TUE 6 SEPT | TUE 4 OCT | NO | 64,817,259 |
| STO | 393 | 19.10 | – | – | K0.2993 | K0.26760 | – | MON 22 AUG | TUE 23 AUG | THU 22 SEPT | – | – |
| KAM  | 5,261 | 0.95 | -0.05 | -5.26 | – | – | 10.00 | – | – | – | YES | 49,891,306 |
| NCM  | 0 | 75.00 | – | – | USD$0.075 | K0.70422535 | – | FRI 26 AUG | MON 29 AUG FEB | MON 29 AUG | – | 33,774,150 |
| NGP | 0 | 0.70 | – | – | – | – | – | – | – | – | – | 32,123,490 |
| CCP | 0 | 1.85 | – | – | K0.134 | – | 6.19 | THU 16 JUN | FRI 24 JUN | THU 28 JUL | YES | 569,672,964 |
| CPL | 0 | 0.95 | – | – | K0.04 | – | – | THU 5 APR | THU 14 APR | FRI 29 APR | – | 195,964,015 |
Dual Listed PNGX/ASX stocks
BFL -$5.10 -10c
KSL – 88c flat
NCM – $16.78 -72c
STO -$7.84 -1c
Our order book has us as nett buyers of BSP, CCP and STO
On the interest rate front we saw the 364day TBill average rate drop a little to 3.94% with the results leaving the market oversubscribed by 70mill.
In the long end, the Bank of PNG came to market with another GIS auction offering stock from 2yr to 10yr to the wholesale market and I will bring you those results in next week's report.
The returns on GIS has dropped significantly and we are seeing much better returns in some equity stocks.
---
Market Alert
Please find attached Credit Corporation (PNG) Limited (code: CCP) announcement; "Credit Corporation appoints new Chairman of the Board".
Download - CCP Market Announcment
---
What we've been reading this week
As airlines eye SAF for blue skies, used cooking oil in demand
Author Andre Agapi Loren Puette
Fossil fuels' exclusive use in the aviation industry is being challenged by worldwide efforts to decarbonize the industry. The first mandates were introduced in Europe in January 2020 to re-allocate a small share of requirements from jet fuel/kerosene to sustainable aviation fuels, commonly known as SAF. Most SAF is produced through the HEFA process, which uses hydrogen to transform vegetable oil into fuel for airplanes. The use of virgin oil is not allowed in most markets, therefore SAF producers are turning to waste products like used cooking oil. By 2050, the aviation sector has a goal to reduce CO2 emissions by 50% from the 2005 level, using SAF and other forms of emissions reduction and offsetting. Used cooking oil, as the main waste oil, is primed to benefit from that increase in demand.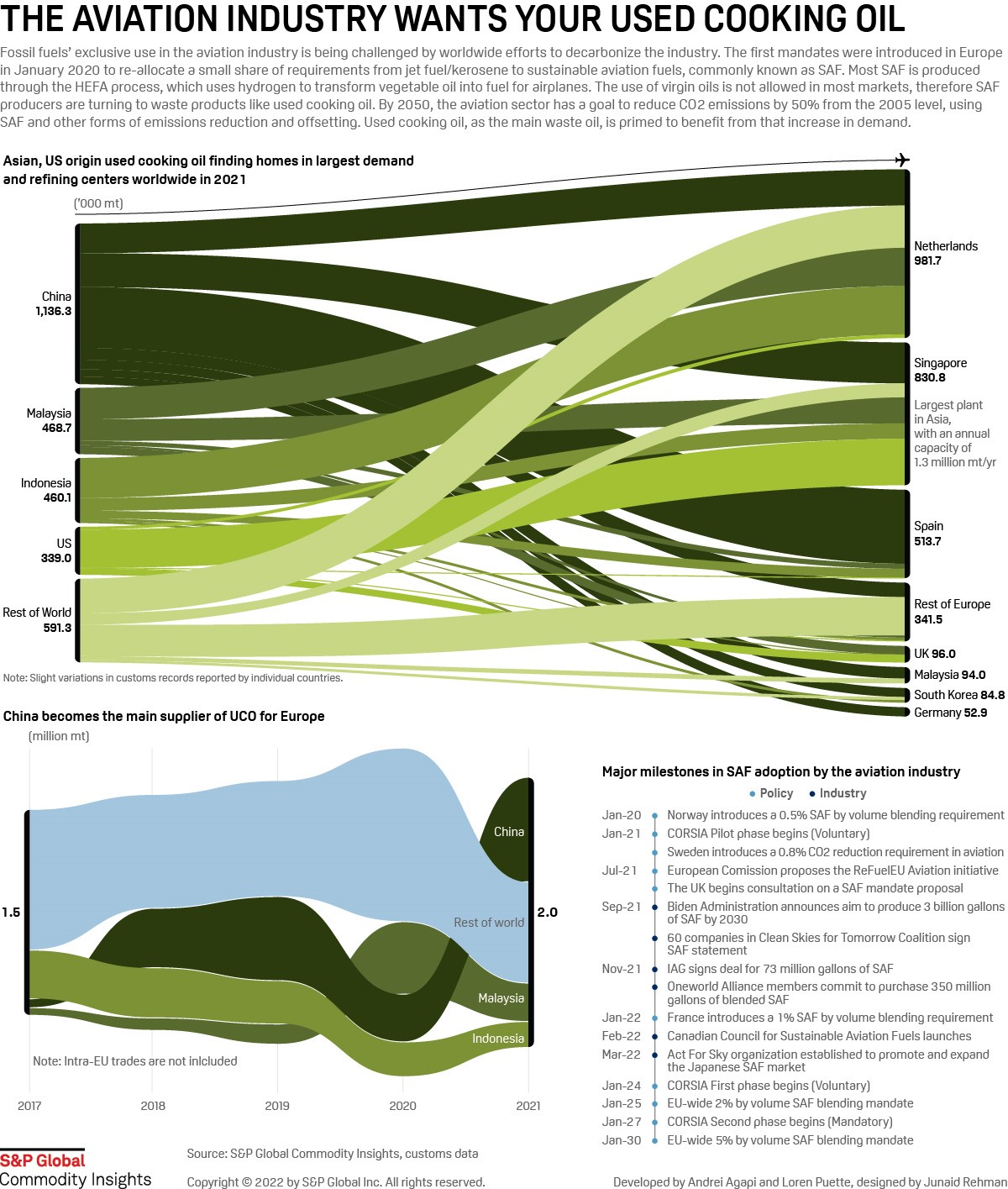 ---
Trio to develop 'first offshore floating CCS hub project in Asia Pacific
Melisa Cavcic
CARBON CAPTURE USAGE & STORAGE
Three companies – Technip Energies, deepC Store and Mitsui O.S.K. Lines (MOL) – have joined forces to develop a floating, carbon capture and storage (CCS) hub, which is described as "the first large-scale offshore multi-user hub" in the Asia Pacific region.
As disclosed on Tuesday, the trio executed a Letter of Intent (LOI) for the engineering, procurement and construction (EPC) and operations of the CO2 floating storage and injection (FSI) hub facility scope for the CStore1 project.
Commenting on this, Yasuchika Noma, Executive Officer of Mitsui O.S.K. Lines, remarked: "As a provider of social infrastructure service in addition to traditional shipping, MOL is honoured to have an opportunity to expand our involvement in CStore1 project. We are also delighted about another collaboration with deepC Store and T.EN in this project for further development."
This project is described by Technip Energies as "the first large-scale offshore multi-user hub" and has a planned CO2 injection capacity of between 1.5 and 7.5 million tonnes per annum, supporting industry and community goals towards decarbonisation and transitioning to a sustainable future.
Furthermore, the CStore1 project covers the entire CCS value chain and consists of capturing and liquefying CO2 from multiple industrial sources in Australia and potentially the Asia Pacific region. It entails shipping liquid CO2 from industrial sources to CStore1's FSI hub located offshore Northern/Western Australia. In addition, the project includes offloading and temporarily storing liquid CO2 at the FSI hub prior to injection and injecting and storing CO2 in a permanent subsurface geological formation near the FSI hub.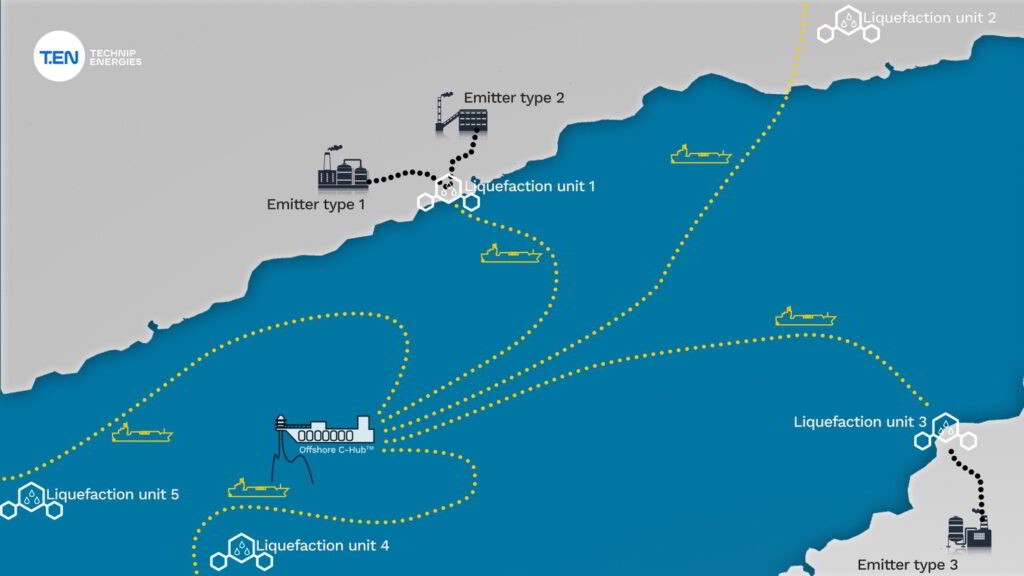 Offshore C-Hub for CStore1 project; Source: deepC Store
Jack Sato, Chairman of deepC Store, stated: "The FSI hub is a key facility within the overall CStore1 project for unlocking a range of remote offshore CO2 injection sites. The LOI with MOL and T.EN ensures technical confidence to develop CStore1 as the first offshore floating CCS hub project in Asia Pacific region."
Moreover, based on the agreement between the three firms, Technip Energies will provide FEED and EPC services for the FSI hub using its Offshore C-Hub technology, while Mitsui O.S.K. Lines will provide operation and maintenance services for this FSI hub.
Additionally, Genesis, Technip Energies' wholly owned subsidiary, will support the delivery of the FSI hub by providing engineering of the subsea umbilicals, risers and flowlines (SURF) component of the facility, including architecture selection, flow assurance, engineering for risers and flowlines, and christmas trees.
Paul Browne, Australia Country Manager of Technip Energies, said: "Working with our development partners deepC Store and MOL, and advisory subsidiary Genesis, we look forward to creating a cost-effective and sustainable option for the receiving and handling of carbon in the region."
This announcement comes less than two weeks after Woodside and its joint venture partners – BP, MIMI, Shell, and Chevron – were awarded acreage off the northwestern coast of Western Australia, which they intend to evaluate for the establishment of a large-scale, multi-user CCS hub.
---
Building ESG: How to evaluate your fashion brand – Is it Sustainable/Greenwashing?
Narendra Tiwari• 3rd+ESG | Fintech | Digital Transformation | Supply Chain Finance | Policy | Product | Risk Rating | Credit Underwriting
The fashion industry emits about the same quantity of greenhouse gases per year as the entire economies of France, Germany, and the United Kingdom combined.
According to global management consulting firm, McKinsey & Company by 2030, it will need to cut its emissions by about half—or else it will exceed the 1.5 degree pathway to mitigate climate change, set out by the Intergovernmental Panel on Climate Change and ratified in the 2015 Paris Agreement.
With the world now waking up to the realities of climate change, consumer preferences are changing. In what is sure to be an upward trend, in 2020 McKinsey & Company research revealed that 67% of consumers consider sustainable materials to be a factor in purchasing a fashion item.
As one of the most competitive market sectors, it's perhaps no surprise that fashion brands are clambering to make more sustainable products in what is a win/win for them and the environment. But, are their products as green as they say they are? Well, the short answer is, not always. And sometimes, not at all and how to evaluate if they are sustainable or greenwashing?
How to evaluate these fashion brand?
1. Look for 3rd-party certifications
– B Corp
– Fairtrade
– 1% for the Planet
– World Fair Trade Organization (WFTO)
– SA8000
– Bluesign
– Global Organic Textile Standard (GOTS)
– Oeko-Tex (Standard 100)
2. Check the company's website.
You should find these things in their website
-Eco-friendly materials
-Specific measures for sustainability and labor ethics
-Factory transparency
-Supply Chain Transparency
-Logistics details
-Diversity and inclusion
3. Go to Good On You.
They're a directory of popular clothing brands, and they rate each brand based on 3 categories: People, Planet, and Animals.
4. Evaluate their social media & marketing campaigns.
5. Check recent news related to the company
6. Read reviews of the products
7. Contact brand directly
A company doesn't need certifications to be sustainable, but it can be an extra reassurance. While we do understand that no company is perfect, but we should try to support those who are making a real and genuine effort, are transparent about their shortcomings, and have a plan to transition towards sustainability.
Please feel free to add your views, in case you want to share this article please feel free to share
(Disclaimer: Views are personal, should not be related to organisations view)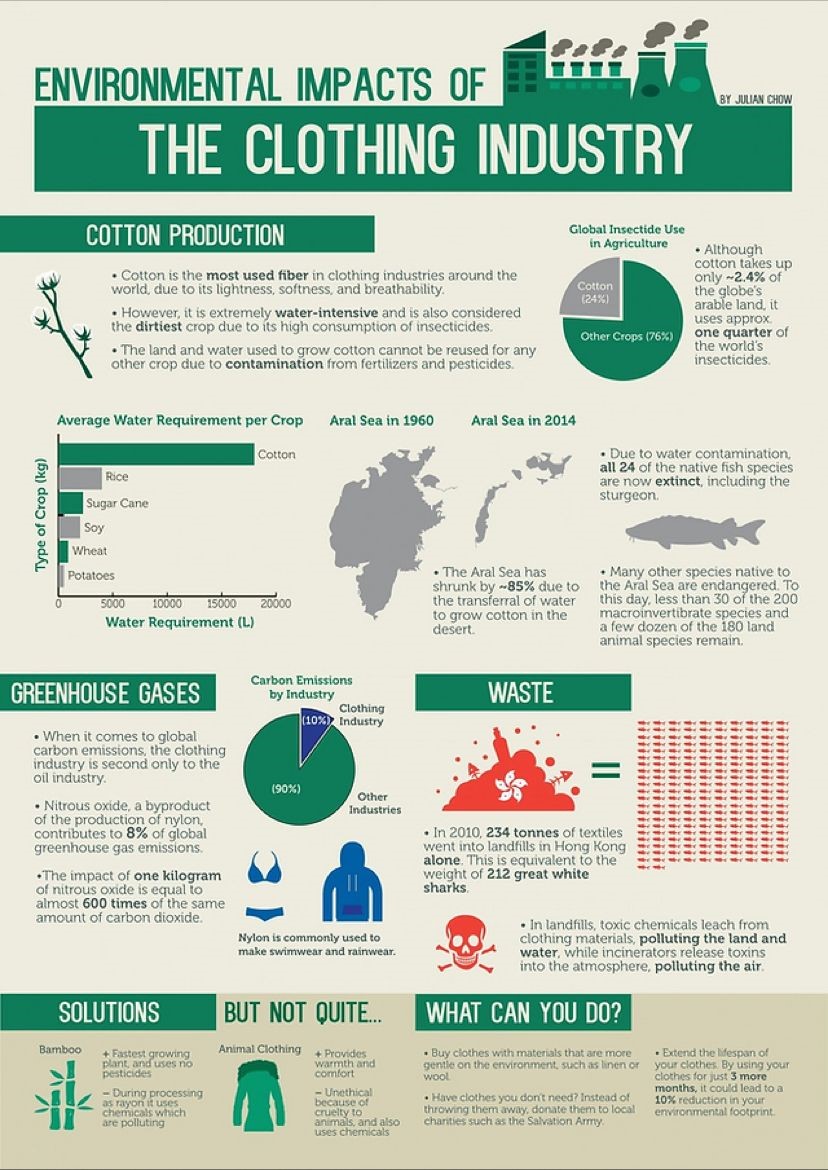 ---
I hope you have enjoyed the read this week, thank you for considering JMP Securities for your investment needs,
Regards,
Chris Hagan.
Head, Fixed Interest and Superannuation
JMP Securities
Level 1, Harbourside West, Stanley Esplanade
Port Moresby, Papua New Guinea
Mobile (PNG):+675 72319913
Mobile (Int): +61 414529814